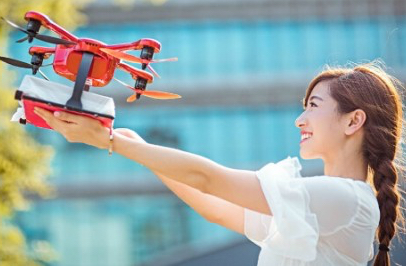 Chinese Internet search engine giant Baidu Inc. has decided to end a food-delivering drone project to focus on artificial intelligence, according to remarks made by a company executive in Beijing reported by Chinese media.
Lin Yuanqing, senior director at Baidu's Deep Learning Laboratory, said during the China Artificial Intelligence Conference last week that Baidu plans to focus on six areas in the deep learning space going forward.
They include deep learning aggregation platform, basic image recognition technology, fine-grained image recognition, video analysis, augmented reality (AR) technology and medical image recognition.
At the same time, Lin revealed that Baidu had canceled its drone project, which was originally designed to deliver food to users.
"The drone project was a very promising one, but we didn't figure out how we could compete with DJI as we do not produce the product," Lin acknowledged.
Baidu once considered whether drones could be used to help its map division to draw maps, especially for regions where cars and people could not reach. It ultimately decided that the potential market value was not big enough for the effort.
Going forward, Baidu will use its drone technology on other applications, Lin said without offering details.
The transition to focus more on artificial intelligence may be a good decision, as Baidu has one critical advantage in the space: data.
Deep learning requires enormous amount of valid data for machine training. Lin said that Baidu plans to open up several artificial intelligence projects to the public in September, following the footsteps of Google and Facebook.
"Artificial intelligence requires collaboration among each and everyone of us. Opening up our OCR (optical character recognition) technology, for example, will allow peers to utilize our existing technology to explore upgrades and future applications," Lin said.
Baidu will place an increasing importance on AR this year. As Baidu develops its self-driving vehicles, its AR technology will be able to develop rapidly, said Lin.
He expects Baidu's AR unit to produce a profit this year, without providing more details, according to Chinese media reports.
In terms of basic image recognition technology, Baidu's OCR (Optical Character Recognition) technology was able to achieve mobile terminal ID recognition accuracy rate of 99% or above.
For fine-grained image recognition, Baidu's Nuomi unit is to launch a new feature in September to allow its mobile app recommend restaurants within a five-kilometer radius to users after reviewing and learning pictures stored on their phones.
"After returning to China from the U.S., I feel the development of Internet, especially artificial intelligence in China, is super fast. There are strong demand for artificial intelligence, but how to turn those demand into business is the key challenge," Lin said.