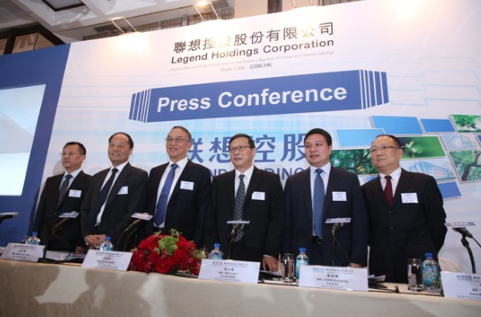 Hony Capital has raised its eighth private equity fund with US$2.2 billion in total commitments, lower than previously reported US$2.7 billion, according to parent Legend Holdings Corporation's interim report.
At the same time, the report revealed that Legend Capital, the venture and growth capital investment division of parent Legend Holdings, raised RMB3.3 billion (US$495 million) in total across two funds: its seventh U.S. dollar fund and one RMB healthcare fund.
The report also showed that during the first half, Hony Capital's private equity funds completed four new projects and additional investment on existing projects, its mezzanine funds completed three investments.
Hony Capital, which focus on state-owned enterprise reforms, private enterprises, as well as cross-border mergers and acquisitions, fully or partially exited five projects, contributing cash inflow of over RMB500 million for Legend Holdings in total.
Meanwhile, two of its portfolio companies were listed in domestic and overseas capital markets, including Rongzhong Financial and Giant Interactive.
Hony Capital, which actively manages eight private equity funds and two mezzanine funds, has fully withdrawn from its investments in 33 companies to achieve a mid-point internal rate of return of over 20%, the reports revealed.
As to Legend Capital, the report said that the firm raised RMB1.8 billion for its seventh U.S. dollar fund and RMB1.5 billion for a healthcare focused RMB fund during the first six months this year.
The firm plans to complete fundraising for its seventh U.S. dollar fund, and start fundraising for its fourth comprehensive RMB fund.
During the first half, Legend Capital, which manages seven U.S. dollar funds and five RMB funds in total, completed investing in 27 new projects.
The investments ranged from early stage to growth stage deals in TMT, modern services, healthcare, culture and sports sectors.
Legend Capital fully or partially exited ten projects, contributing cash inflow of over RMB300 million for Legend Holdings.
Among its portfolio companies, two companies were listed on China's New Third Board, including Meiyi Online and Tianji New Materials.
As of June 30, 2016, Legend Capital achieved an average internal rate of return for their exit projects ranging between 35% and 40%, said the report.
Legend Star, Legend Holding's wholly-owned angel investment unit, managed RMB1.5 billion (US$225 million) as of June 2016.
Legend Star has cumulatively invested in over 150 projects, while it made 23 new investment projects and 19 projects have gone on to raise another round of financing during the first half, according to the report.