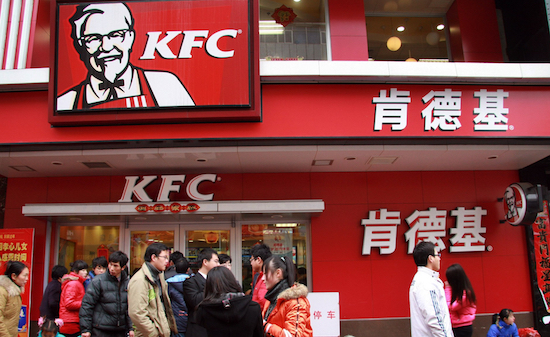 Chinese private equity firm Primavera Capital Group and Ant Financial Services Group have agreed to invest a total of US$460 million in Yum China, as Yum! Brands completes a spinoff of its China Yum division, according to a company announcement.
The spinoff and concurrent completion of the Primavera and Ant Financial investments are expected to occur on October 31, with Yum China to commence trading on the New York Stock Exchange as an independent company on November 1 under the ticker symbol YUMC.
Under the terms of the agreements, Primavera and Ant Financial will invest US$410 million and US$50 million, respectively, in Yum China.
The final number of shares issued to Primavera and Ant Financial will be subject to a post closing adjustment, in order to make the effective price equal to an 8% discount to the volume-weighted average trading price of Yum China's share price during the period commencing 31 days and ending 60 days following completion of the spinoff.
Primavera and Ant Financial will also receive two tranches of warrants to acquire shares of Yum China's shares reflecting approximately 2% stake in each tranche to be exercisable in the five-year period following the issuance of those warrants, with strike prices correlating to equity values of US$12 billion and US$15 billion.
Founder of Primavera Capital, Fred Hu, will become a non-executive chairman of the board of Yum China.
"Yum China is an established leader in the retail and restaurant industry which we believe is poised for continued strong growth and unit expansion as cities across China invest in new transportation hubs, shopping malls and other physical and electronic infrastructure that will support consumption," said Hu of Primavera, in a statement.
"Through this collaboration, we aim to help Yum China provide world-class mobile payment services for tens of millions of customers across its brands. These services include hassle-free Alipay for customers to help shorten queues at the cashier as well as membership solutions for Yum China designed to help manage their customer relations and promotions," said Eric Jing, president of Ant Financial Services Group.
An investor consortium including China Investment Corp., KKR & Co. and Baring Private Equity Asia were among previously reported investors looking to acquire Yum China.
Primavera is an investor in Alibaba Group Holding Ltd. and Ant Financial, Alibaba's financial services affiliate.
Yum China Hwill become a licensee of Yum! Brands in mainland China, with exclusive rights to KFC, Pizza Hut and Taco Bell, which has not yet entered China.
KFC and Pizza Hut have more than 7,200 restaurants in over 1,000 cities in China and generated over US$8 billion in system sales and approximately US$1 billion in earnings before interest, tax, depreciation and amortization (EBITDA) in 2015.