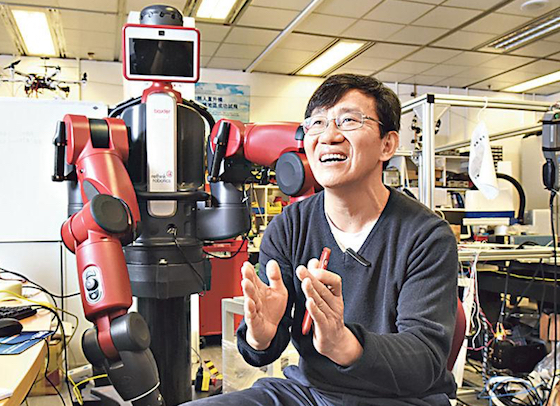 Prof. Li Zexiang (pictured) counts Chinese drone giant DJI as the most successful project incubated by him. But the Hong Kong University of Science and Technology professor has a much bigger dream: To incubate many more DJIs and make China a world leading nation for technology.
Prof. Li, who specializes in computer science and engineering, is an early investor in DJI. He also takes the role of chairman at the world's largest drone maker, a company started by his student Wang Tao ten years ago and currently valued at roughly US$10 billion.
Taking a page from Stanford University, the 55-year-old professor has funded a number of student-led projects, including electric boat engine maker ePropulsion and robotics start-up Quotient Kinematics Machine, both went on to raise venture funding.
Prof. Li also launched a campus robotics competition to encourage hands-on experiment among students. He co-founded a venture capital fund focused on early stage investments in Chinese robotics start-ups, especially those founded by tech students.
Under a partnership with the local government in Dongwan city, Prof. Li, DJI and others established an international robotics industrial park in the city, with an aim to incubate ten publicly listed robotics companies.
In July, Prof. Li, Sequoia Capital's Neil Shen and Tencent Holdings Ltd.'s founder Pony Ma announced a Hong Kong X-Tech Startup Platform to help nurture the Hong Kong, Shenzhen and Dongwan region to become a leading smart hardware and robotics innovation hub.
Born in 1961 in Hunan province, Li Zexiang went to attend Carnegie Mellon University on a scholarship funded by Alcoa as a freshman at China's Central South University. After completing a graduate program at the University of California Berkeley, Li joined Hong Kong University of Science and Technology as a professor in 1992.
Wang Tao, founder of DJI, was a student of Prof. Li at the University in a class for robotics design. Wang's graduation project was a control system for helicopters, from which DJI's products evolved to be what they are today.
During those early days, Prof. Li provided personal money and helped source capital to DJI. He even helped DJI sell its products to the University to allow DJI book some of its earliest revenues.
China's Pearl River Delta, after decades of serving as original equipment manufacturers (OEMs) for Western companies, has the world's best manufacturing base for the robotics and smart hardware industry.
In China, it takes only one tenth to one third of the time required in Europe or the U.S. to buy components, design and make any type of molds, an incredible advantage for start-ups bringing products to market faster than competitors.
What Prof. Li is trying to do is to bring the software – or talent – to the mix. China's educational system is too exam-centric and students generally lack the abilities to "make" things. As a result, Prof. Li had to encourage his students or convinced overseas-educated talent to join him in China.
Last year, Prof. Li persuaded a U.S.-educated robotics expert Zhang Yanliang to become the vice president of a robotics research institution housed in the robotics industry base in Dongwan.
Zhang's job is to find and bring top robotics talent around the world back to Dongwan. With government support and venture capital, these robotics experts will be able to put their best ideas to test.
"We need at least 4,000 Wang Tao to catch up with Japan," Prof. Li told Chinese media, recognizing that China's robotics industry lags far behind world leaders such as Germany and Japan.
Just because of this, the tireless professor has started yet another project: To establish an education company.
In his vision, the new concept school will provide practical and hands-on education from kindergarten to produce entrepreneurial spirited technology talents. Only they can help leap China into a technology giant, he believes.