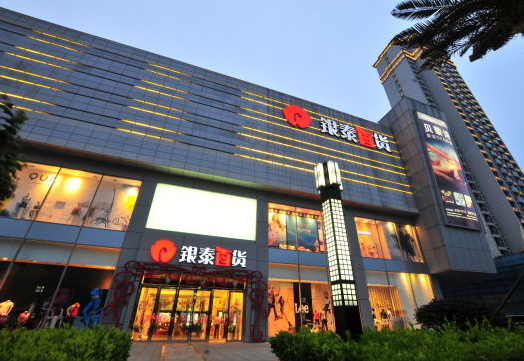 Alibaba Group has offered to privatize Intime Retail, a Chinese department store and mall operator, a deal the e-commerce giant says will help pave the way for the digital transformation of old-school retailing.
The proposal, announced on Monday, calls for an Alibaba subsidiary to team up with an entity wholly owned by Intime Retail founder Shen Guojun to buy out Intime shareholders and take the Hong Kong-listed company private.
Under the proposal, the buyers will pay HK$10 per share for Intime stock, a 42% premium over the closing price of HK$7.03 on December 28, 2016, before trading of Intime shares was suspended.
The total value of the offer was not disclosed, but estimated the maximum amount of cash required for the deal is about HK$19.8 billion (US$2.6 billion).
Alibaba currently owns 28% of Intime following an initial investment in the retailer in 2014. If shareholders approve the deal, Alibaba would become the controlling shareholder of Intime with an expected stake of approximately 74%.
The Intime bid is Alibaba's latest move to integrate its vast e-commerce assets and ecosystem with brick-and-mortar retailers, part of the company's strategy to merge online and offline shopping into an "omni-channel" consumer experience centered around mobile-Internet technology. 
In November, Alibaba Group announced plans to invest RMB2.1 billion (US$305 million) in Zhejiang province-based supermarket chain Sanjiang Shopping Club Co.
"Our combination with Intime will enable us to tap into the long-term growth potential of a new form of retail in China powered by internet technology and data," said Alibaba Group CEO Daniel Zhang in a statement announcing the Intime proposal.
Intime operates 29 department stores and 17 shopping malls mainly in China's major cities, and has a strong presence in Zhejiang province, where Alibaba is headquartered.
Chinese consumers increasingly use their mobile phones to shop, a trend that Alibaba says can help conventional retailers create a new shopping paradigm while improving operating efficiency.
As of the quarter ended September 2016, 78% of the gross merchandise volume on Alibaba's China retail marketplaces was generated from mobile, and mobile monthly active users reached 450 million in September.
Alibaba's bid for Intime comes at a time when traditional retailers, and particularly department stores, are under pressure around the world due to shifting consumer behavior and the loss of market share to online merchants.
The move to mobile creates opportunities for some brick-and-mortar retailers to improve the shopping experience by, for example, allowing customers to pay electronically at cash registers, enjoy targeted e-promotions while shopping in stores, and buy merchandise online but pick up orders in physical shops if they don't want to wait for delivery.
In China, online shopping in 2016 represented 18.4% of the country's total retail sales, a proportion that is expected to increase to 34% in 2020, according to market research firm eMarketer.
"We don't divide the world into real or virtual economies, only the old and the new," Zhang said. "Those who cling on to the old ways of retailing will be disrupted, and brick-and-mortar businesses will be able to create value for consumers if they are integrated with the power of mobile reach, real-time consumer insights, and technology capability to improve operating efficiency."
Zhang elaborated on this strategy in an October 13 letter to Alibaba shareholders, writing that "From our perspective, the most important opportunity on the horizon is not growing online sales in isolation but rather helping traditional retailers upgrade into a brand new retail model."