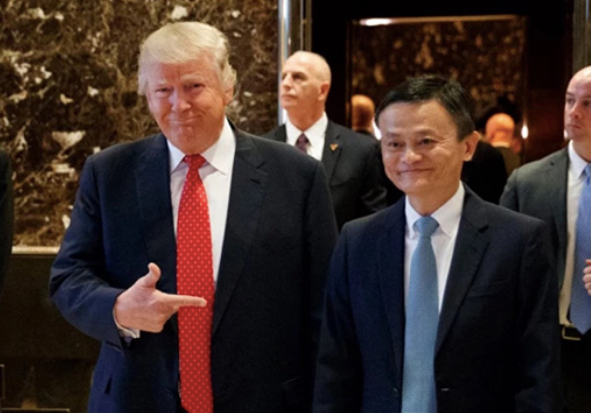 Alibaba said Monday it would create one million jobs in the U.S. in five years by helping small businesses sell products and services to China, the world's largest consumer market, and across the rest of Asia.
The pledge from Alibaba executive chairman Jack Ma came during a 40-minute meeting with U.S. President-Elect Donald Trump in New York. Speaking to reporters afterwards, Trump said, "we had a great meeting…and (he's) a great, great entrepreneur, one of the best in the world, and he loves this country, and he loves China."
The U.S. Chamber of Commerce estimates trade with China already supports over 40 million jobs in the U.S. According to the U.S. Department of Commerce, the U.S. has exported over US$500 billion of goods to China in the past five years. A recent eMarketer report noted Chinese consumers are expected to spend more US$150 billion on foreign goods by 2020.
The meeting came after Alibaba was put back on a U.S. counterfeits blacklist over counterfeit goods sales in December, after being taken off that list four years prior.
Ma said the two shared ideas about how they can improve trade. "We talked about supporting one million small businesses to sell on our platform to China and Asia, especially Southeast Asia, where we are pretty big," Ma remarked.
China's markets should be attractive to small U.S. companies, as China's consumption is rising and there's an increasing fondness for American products among the country's young and growing middle class of over 300 million consumers. The company already enables approximately 10 million merchants to sell to Chinese consumers.
Providing Chinese consumers with access to goods made outside of China has long been a key strategy for Alibaba and Ma. Last year, Ma said he envisions 40% of the company's business will come from outside China in the next 10 years. In 20 years, he expects Alibaba to serve two billion consumers globally and support 10 million profitable businesses.
"We want to help U.S entrepreneurs, small business owners, and brands and companies of all sizes sell their goods to the growing Chinese consumer class. Chinese consumers will get to buy the American products they want," Ma wrote in a 2015 opinion piece.