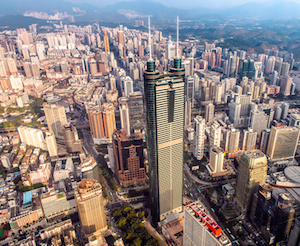 Chinese ride share giant Didi Chuxing has entered a strategic partnership with the Shenzhen Municipal Transportation Commission (MTC) to build an open, big data-enabled smart transportation system, according to an announcement.
The platform will use DiDi's machine-learning algorithms and data analytics to provide new public transportation management tools and more flexible mobility options to citizens in Shenzhen. It will also empower city managers for forward-looking civil planning and infrastructure development.
The city will enable DiDi's access to urban bus, subway, taxi, bicycle and road infrastructure data, in order to build an integrated, data-driven smart transportation system for the city using the company's artificial intelligence-based dispatching, routing and payment technologies.
The system, which will combine anonymized and aggregated public and ride-share transportation data from DiDi Chuxing and the MTC, also extends to collaboration in identifying and developing standards and procedures for smart public transportation systems.
In addition, the Shenzhen Municipal Bus Group entered into a joint venture with DiDi to provide real-time bus information, digital center and service management assistance. This is the first partnership of its kind with public bus service providers.
DiDi continues to expand its public-private collaboration program as China's new ride-share rules go into effect across cities to grant the industry full legal status.
In 2016, DiDi launched transportation management support programs with Shenyang, Guiyang, Chengdu and other major cities, setting up newly designated DiDi pick-up areas, waiting areas and lanes at airports and transportation hubs in Shenzhen, Guangzhou and other cities to help speed up passenger turnover.