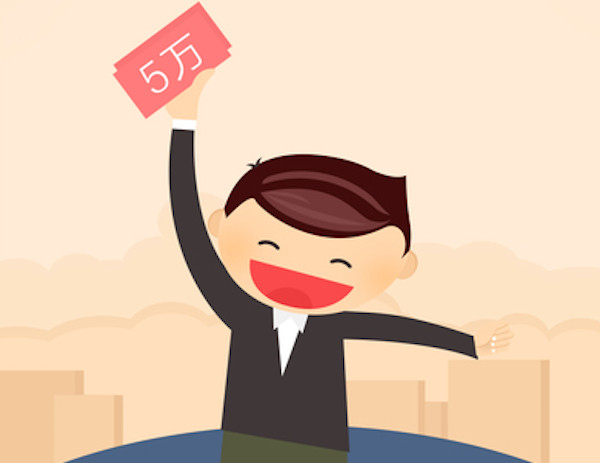 Chinese investors continued aggressively investing in financial technology (fintech) last year, despite a slowdown in other major markets around the world. Fintech investments in China doubled during the first nine months of 2016 year-on-year, driven by major funding rounds completed by China's Lufax, Ant Financial and JD Finance.
Global fintech investments reached US$18 billion in the first three quarters of 2016, close to the US$19 billion dollars in deals recorded in all of 2015. China accounted for over 50% of the 2016 year-to-date total, according to a report released by Citi Asia Pacific.
By contrast, venture investments in fintech declined 38% in the U.S. and 27% in Europe during the period. Asia ex-China experienced an almost three-quarters decline in venture fintech deals due to slower funding activity in India, which was a big driver in 2015.
China's fintech deals were also bigger in size. Seven of the top ten fintech venture rounds in the first nine months of 2016 were Chinese. Three Chinese fintech companies, including Lufax (also known as Lu.com), JD Finance and Qufenqi, were at the top of the global league table with venture rounds that raised US$1.2 billion, US$1.0 billion and US$0.45 billion respectively.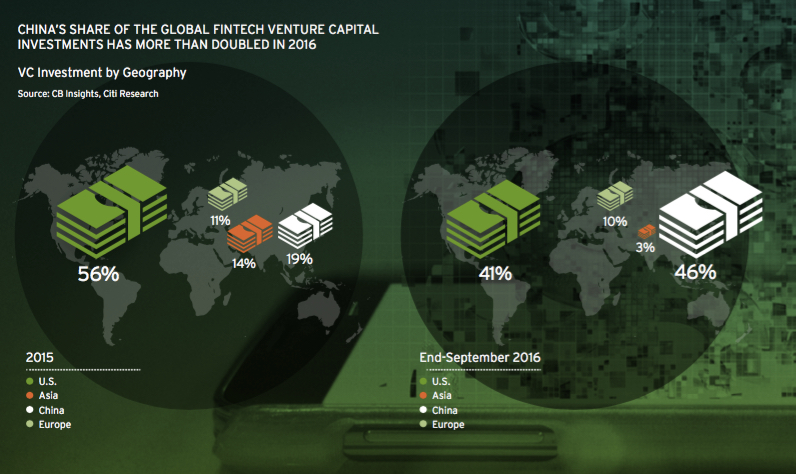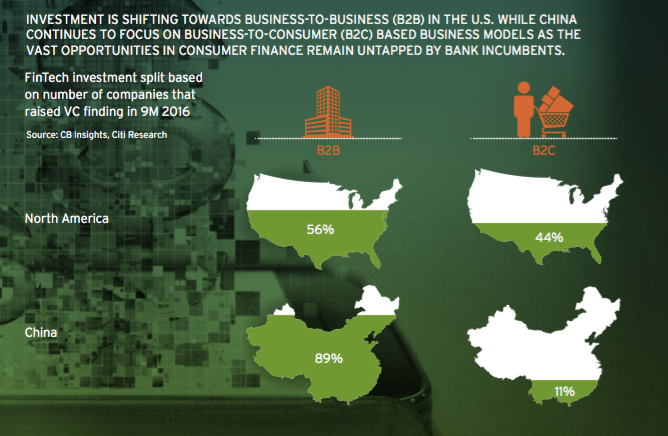 Of the 27 fintech unicorns, or private companies valued at US$1 billion or more, globally, eight were born in China. While the U.S. still has the largest number of such companies, the biggest fintech private companies by total value, as well as cumulative funding raised, are now found in China. The two largest, Ant Financial and Lu.com, were valued at US$60 billion and US$18.5 billion respectively in their most recent private funding rounds.
China has becoming increasingly important to the global fintech story as it is has the highest level of consumer adoption as measured by client numbers. Tencent's WeChat, which provides a full suite of financial services, has over 800 million monthly active users. Alibaba's Alipay has over 400 million. The number of mobile wallet users in China now exceeds or rivals retail customer numbers of the largest Chinese banks, the report said.
In addition, the mix of major funding sources in China is expanding beyond venture capital firms, to include private equity, mutual funds, hedge funds and corporations. Ant Financial's US$4.5 billion funding round in the second quarter of 2016, the largest private sector technology funding round ever, was led by Chinese insurance companies, China Post Group, private equity firm Primavera Capital and China Development Bank Capital. This round was not considered venture funding as investors were not venture firms, says Citi.
As the geographic focus of fintech investments shifted from the U.S. to China in 2016, the product focus also changed. The 2016 product picture was split between lending, which dominated Chinese venture funding, and insurance, a key sector for U.S. funding. Lending dominated venture investing with two-thirds of global funds invested last year. However, if Ant Financial's round is included in the total, payments would account for about 50% of 2016 global fintech investments.