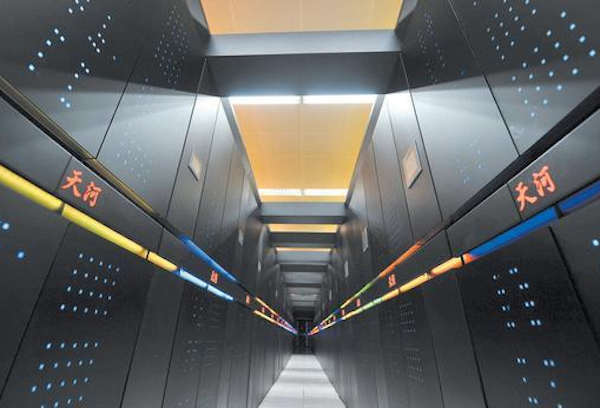 The Tianhe supercomputer located at China's National Supercomputer Center in Tianjin has been operating at full capacity, reaching a level of processing power unmatched by peers in the U.S. and Europe, China's official Xinhua News Agency said today.
The first phase of Tianhe supercomputer was built in 2009 with a theoretical peak speed of 1,206 teraflops, a way of measuring the power of a processor to calculate one trillion floating-point operations per second. The supercomputer achieved a result of 563.1 teraflops, marking the birth of the first petaflop supercomputer in China, the fastest in Asia and fifth fastest in the world at the time.
It also made China the second country with a petaflop supercomputer research and development capabilities besides the U.S., according to government websites. Petaflop is a measure of a computer's abilities to process a quadrillion, or a thousand trillion, floating point operations per second.
The upgraded version of Tianhe-1A was completed in 2010 with a theoretical peak speed of 4,700 teraflops. It achieved a test result of 2,566 teraflops, in what the National Supercomputer Center claims to be the first in the world, according to its website.
The supercomputer in Tianjin now performs tasks in support to China's oil exploration, high-end equipment manufacturing, bio-pharmaceutical, aerospace, new energy and new materials projects.
"Supercomputer is a key indication of a country's technology capabilities. The U.S. used to take half of the world's top 50 supercomputers, in reflection of its technology powers," an anonymous user commented on the Xinhua article. "Decades ago, Dr. Qian Xuesen and his team spend years calculating for the atomic bomb and hydrogen bomb tests, now it takes minutes with supercomputers."
Dr. Qian is a MIT graduate and a Chinese engineer who contributed to aerodynamics and rocket science in China, leading to the country's first successful atomic bomb test and hydrogen bomb test in the 1960s.
The National Supercomputer Center in Tianjin also announced plans last year to develop a new generation supercomputer before 2020 that will have computing powers as much as 200 times faster than the current Tianhe-1A.