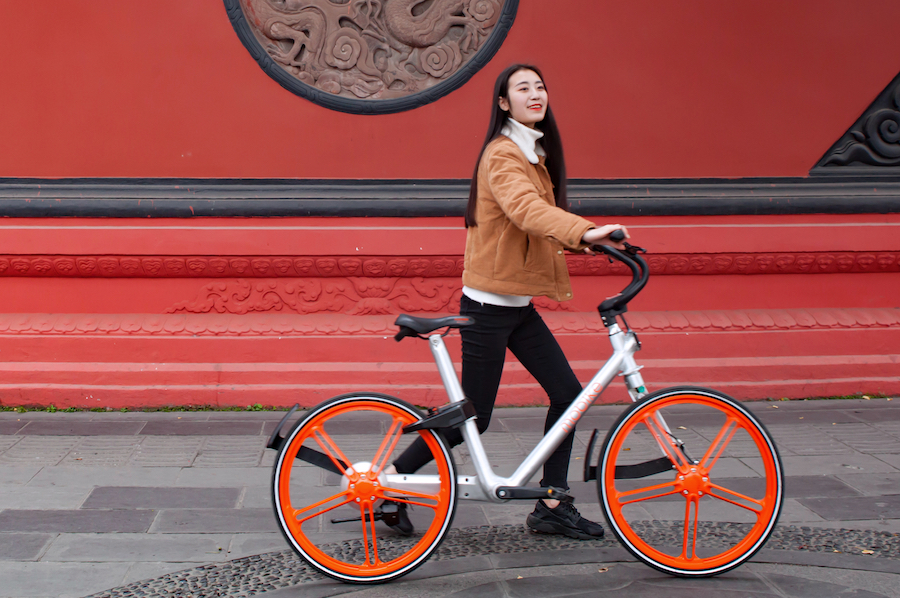 Chinese bike sharing company Mobike has received new strategic investment from Singapore's state investment firm Temasek Holdings and existing investor Chinese investment firm Hillhouse Capital to raise a total of over US$300 million since the start of 2017, a tremendous feat for a start-up with actual operation time of less than one year.
In January, Tencent Holdings Ltd. and Warburg Pincus led a US$215 million series D funding round in Mobike, with participation from new strategic investors including China's largest travel company Ctrip, global private equity major TPG and Chinese hotel operator Huazhu Hotels Group.
A few weeks later, the company said that Foxconn Technology Group had invested an undisclosed amount in a strategic investment.
The company is not disclosing the financing totals for the latest capital injection from Temasek and Hillhouse, but states that the three funding listed above add to over US$300 million combined.
"While we recently concluded a hugely successful series D fundraising round that made Mobike the best-capitalized company in our industry, we are delighted to be able to welcome Temasek as a strategic investor and to deepen our engagement with our long-term partner, Hillhouse Capital," said Davis Wang, co-founder and CEO of Mobike, in a statement.
"In 2017, we will continue to invest in enhancing our technology, increasing our production capacity, recruiting top talent to our team, and in promoting Mobike's innovative model internationally," Wang added.
Temasek is investing in Mobike for the first time as a new investor. Hillhouse Capital has invested twice previously, as it participated in the company's series C round in late 2016, which it jointly led with Warburg Pincus, and also joined the series D round last month.
"In all of our investments, we take a long-term partnership approach and we are pleased to deepen our partnership with Mobike," said Zhang Lei, Hillhouse Capital's founder and CEO. "The Mobike team is leading the industry…In particular, we believe that Mobike has huge potential for growth internationally, and we look forward to leveraging our global network and resources to help Mobike bring its innovative urban transportation solution to cities around the world."
Mobike's rivals, Ofo and Bluegogo, are also eyeing to expand internationally, with some ofo and Bluegogo bikes spotted by users in Silicon Valley recently.
Mobike's mobile app had 5.849 million weekly active users, excluding users of the WeChat MicroApp, during the first week of 2017, according to data from iResearch. The number is the highest in the industry in China and 4.2 times higher than its closest competitor, the company said in its announcement.
Mobike was officially launched in Shanghai in April 2016, and has rapidly expanded to 21 cities across China, including Beijing, Shanghai, Guangzhou and Shenzhen.
Unlike public service bikes seen around the world, Mobike distributes its own specially designed bikes equipped with GPS and smart-locks, which enables users to easily find a bike nearby and uses a mobile app to borrow and return the bikes.