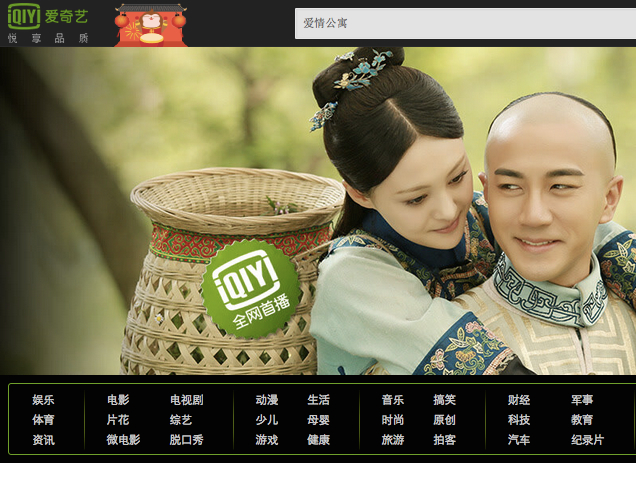 Chinese online video platform Qiyi.com Inc., a majority-owned subsidiary of Baidu Inc., has completed the issuance of convertible bonds worth US$1.53 billion to its parent and a group of investors, according to a company announcement.
Baidu invested US$300 million in Qiyi.com, while Hillhouse Capital Management, IDG Capital and Sequoia Capital, Boyu Capital and others subscribed to the remaining portion of the bond issuance.
The capital raised from the bond issuance will help Qiyi.com maintain and expand its lead over rivals in China's fiercely competitive video and entertainment sector.
As of June 2016, Qiyi.com was ranked as number one in China in terms of both usage and time spent on its platform in an iResearch survey that combines both web and mobile traffic.
Other strong competitors include Alibaba-owned Youku and Tencent's own video platform, Tencent Video. Qiyi.com had 70 million average daily users while Youku had 56 million average daily users last June.
Qiyi.com has been expanding its entertainment offerings to grow its user base. Last November, it agreed to obtain exclusive rights from U.S. movie production and distribution firm Lionsgate to stream its existing and new movies in China.
Two months earlier, it invested RMB150 million (US$23 million) in Coocaa, a smart TV unit owned by consumer electronics producer Hong Kong Skyworth Digital Holdings, indicating a potential move into the hardware sector.
Last year, Baidu's founder and chief executive Robin Li proposed to buyout Baidu's majority stake in Qiyi.com in a deal that would value it at around US$2.8 billion. He later dropped the proposal after investors voiced concern that the deal would greatly benefit Li at the cost of Baidu shareholders.