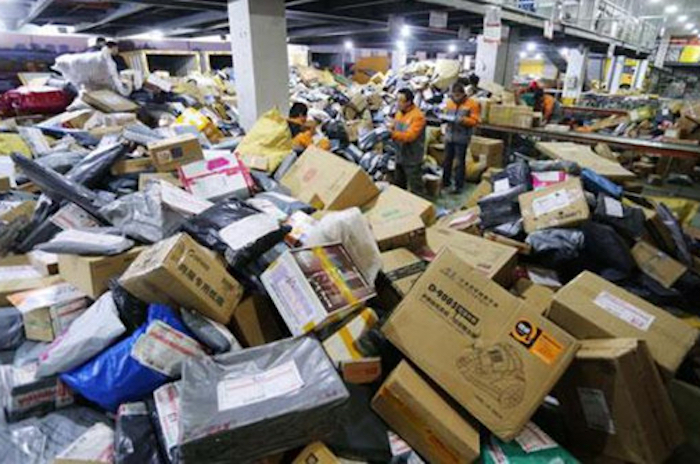 A total of 31.3 billion packages were delivered in China in 2016, up 51.7% year-on-year and taking a 43% share of all package deliveries globally. The astonishing growth in deliveries has been matched by an astonishing amount of packaging waste clogging landfills.
According to the latest available data, a total of 9.9 billion packaging boxes, 8.2 billion plastic bags, 16.9 billion meters of tape and 20.7 billion sheets of address forms were used in 2015. The resulting waste could cover nearly 200,000 football fields and the tapes used could circle the equator 425 times.
Cainiao Network, a logistics alliance launched by Chinese e-commerce giant Alibaba Group Holding Ltd. in 2013, has therefore teamed up with six of China's largest courier delivery companies to promote environmental protection by making tens of billions of packages delivered annually in the country "greener".
The effort will focus on promoting the use of environmentally friendly packaging, the adoption of clean energy delivery vehicles, and applying big data in logistics to optimize resources and minimize energy usage.
Cainiao Network, Alibaba Foundation, China Environmental Protection Foundation, and the six largest logistics companies in China, YTO Express, ZTO Express, STO Express, Yunda Express, Best Logistics and TK Express, have established Cainiao Green Alliance Foundation in Beijing to manage the effort.
The foundation will invest RMB300 million into research to provide the input for promoting green logistics, consumption and supply chain.
"Cainiao Network, as the largest big-data logistics platform, and Alibaba Group, holding the largest e-commerce ecosystem in China, have a responsibility to take the lead in promoting environmental protection and green logistics," said Judy Tong, Cainiao Network Chairwomen and Alibaba Group Chief People Officer. "This effort can only be achieved by joining hands with other partners in the industry as well as contribution from the entire ecosystem that includes the government, logistics companies, merchants and customers."
Cainiao Network previously launched the green logistics initiatives "Go Green Project" with 32 Chinese and international partners in June 2016, with a target of making 50% of all packaging materials renewable in 2020.
A number of green initiatives were launched, together with enhancements in logistics efficiency. This included 100% bio-degradable envelopes, tape-less boxes, e-shipping labels and new energy delivery vehicles.