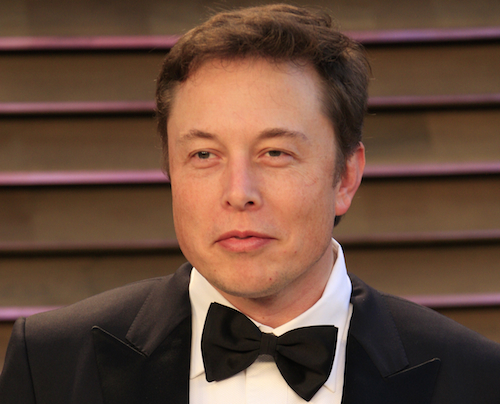 Chinese tech giant Tencent Holdings Ltd. has bought a 5% stake in U.S. electric vehicle maker and renewable energy firm Tesla for US$1.78 billion. This is a deal that gives investors much to anticipate as the two could potentially partner in many areas.
The combination is welcomed by investors, as Tesla's shares were up 6.54% to reach US$276.76 in morning trading on Tuesday.
Tencent bought about 8.17 million shares of Tesla, making the Chinese company one of its biggest shareholders. Tesla's founder Elon Musk has the largest shareholding of 21% in the EV maker as of December 31, 2016.
Tencent, a Chinese technology conglomerate with broad assets in online gaming, social media and online entertainment, has been pushing into artificial intelligence.
It established an AI Lab last year, and has been focused on computer vision, voice recognition, natural language processing and machine learning. Tencent would be eager to learn from Tesla on the technology front.
In fact, Tencent has shown great interest in Tesla before. Last September, it notified Tesla of a security vulnerability it discovered on Tesla vehicles, with a few engineers at Tencent's research lab gleefully displaying how they can take control of a Tesla vehicle under certain conditions in a short video. Tesla rolled out a patch to fix the bug immediately.
In addition, Tencent has invested in two Chinese EV start-ups, including NIO, formerly known as Next EV, and Future Mobility, a start-up founded by two veteran automobile executives from BMW and Infiniti. Both companies may be potential competitors to Tesla, but could also cooperate, especially in the Chinese market.
Some have compared the future autonomous driving vehicles as the next mobile phone, where people will be consuming content, playing games and engaged in entertainment activities. It's clear that Tencent intends to get a front seat in this upcoming distribution channel for its massive content, gaming and entertainment assets. Tencent acquired 84% Of Finnish games giant Supercell For US$8.6 billion last year.
Tencent is also the operator of China's most popular social networking mobile app, Wechat, with over 800 million users. Wechat could be a powerful marketing platform for Tesla, and with its popular payment solutions, users can book and purchase Tesla vehicles. This will in turn further solidify Tencent's leading position in digital payments and fintech.
There are potentially many more areas for the two giant technology companies spanning the Pacific Ocean to cooperate, and this may be the beginning of a much deeper partnership.