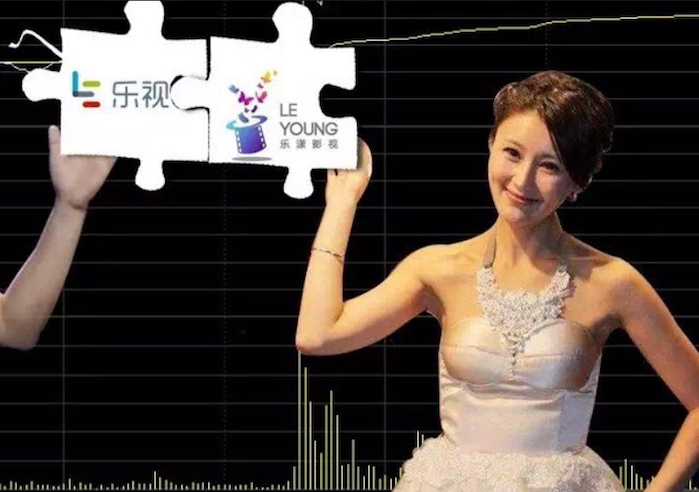 It was a good day for Jia Yueting, a controversial billionaire and founder of Chinese technology conglomerate LeEco. After months of being on the brink, he was finally able to breath a sigh of relief after around RMB15 billion life-saving capital were transferred to LeEco's various subsidiaries to ensure their continued operations.
But it was a far better day for Jia's wife Gan Wei (pictured), an actress-turned-entrepreneur. As LeEco's listed entity Leshi Internet Information & Technology Corp. announced plans to acquire Gan's web TV production firm, the young founder is set to see her initial investment of RMB9.3 million turn into RMB286 million, achieving a return of over 30 times during a 21-month period, a spectacular performance for a first-time entrepreneur.
Leshi is buying all of Gan's 47.8% stake in the web TV and film studio Le Young Pictures at a 50% discount of its current valuation, according to a disclosure documented submitted by Shenzhen-listed Leshi. The purchase is to resolve an inquiry from the Shenzhen Stock Exchange on if Leshi had breached securities regulations that prohibit connected persons to engage in businesses closely linked to those of the listed entity.
Once the transaction is completed, Gan Wei will not hold any interests in Le Young Pictures. Third party investors will continue to own the remaining shares of the studio behind popular web TV series in China Go Princess Go, which premiered in December 2015 and had recorded over 2.4 billion views and generated over US$1.5 million in profit.
Leshi did not disclose how Le Young Pictures will be valued for the transaction, but based on the RMB1.2 billion valuation Le Young Pictures raised its first venture round last month, Gan's stake could be worth RMB573.6 million. A 50% discount of that price is RMB286 million.
Le Young does not have other major productions or revenue, except the one TV series Go Princess Go. Based on the profits generated from its only productions, the company could be valued at potentially 800 times of profit, an indication of how frothy the entertainment business is in China right now.
Last month, Gan Wei hosted a press conference to announce that Le Young had raised a series A financing round from a number of Chinese investment funds, whose identity China Money Network is unable to confirm. The company did not disclose how much it raised and only said it was valued at RMB1.2 billion.
The widespread news coverage of the fundraising attracted the attention of the Shenzhen Stock Exchange, which immediately asked Leshi to examine if it had properly disclosed connected person transactions and if Gan's company competes with Leshi's own video business.
Le Young Pictures is currently working with Twenty-First Century Fox Inc and Korean Broadcasting System to produce a Korean version of the Go Princess Go series, an adaptation of a novel telling a story of a modern playboy traveling back in time 1,000 years to find himself in the body of a royal princess.