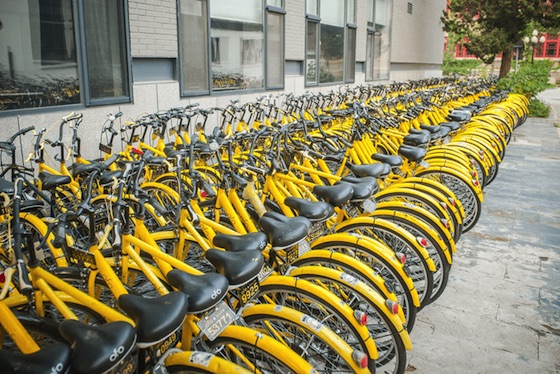 A week after Chinese bike sharing company Mobike said it would allow users to rent bikes via Tencent's Wechat app, rival ofo confirmed that it would be incorporated into Didi Chuxing's platform.
The move signifies the kind of cut-throat competition and fast movements in China's technology industry. Less than a year after bike sharing became popular in major Chinese cities, the battle ground has now shifted to one among the country's most powerful tech giants.
Ofo's founder Dai Wei confirmed this week the previously rumored incorporation of ofo's bike sharing service into the platform of Didi Chuxing, an ofo investor and China's largest ride share company. But he said that there will not be a merger of the two companies.
There is currently no timetable on when this will take place.
Didi has previously invested in ofo as one of its earliest investors and currently among the biggest shareholders with a rumored 30% stake.
In September 2016, Didi invested tens of millions of U.S. dollars in ofo, before the bike sharing company went on to raise funds from investors including CITIC Private Equity Funds Management Co., Ltd, New York-based Coatue Management, London-based technology investment company Atomico and China's Macrolink Group.
DST Global, an investment firm founded by Russian venture capitalist Yuri Milner, led a US$450 million round in ofo in March.
Mobike, ofo's key rival, counts Tencent Holdings Ltd., Wechat's creator, as its main investors. The Chinese Internet giant teamed up with Warburg Pincus to lead a US$215 million series D funding round in Mobike in January. It also participated in Mobike's earlier funding rounds as well, but no specific details were disclosed.
Other major investors in Mobike include Singapore's state investment firm Temasek Holdings, Chinese investment firm Hillhouse Capital, China's largest travel company Ctrip, global private equity giant TPG, Chinese hotel operator Huazhu Hotels Group, and Foxconn Technology Group.