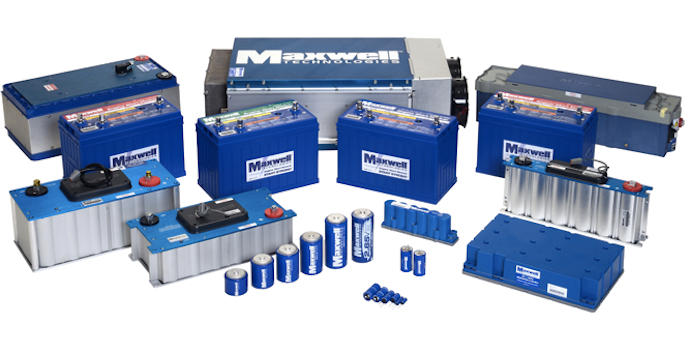 SDIC Fund Management Co., Ltd., a RMB50 billion (US$7.4 billion)-under-management private equity unit majority owned by China's State Development & Investment Corporation (SDIC), has agreed to acquire 19.9% of U.S. energy storage and power delivery solution provider Maxwell Technologies, Inc. for approximately US$46.6 million in cash.
SDIC Fund, which has significant investments in China's energy storage industry, including top battery makers, new-energy market system integrators and OEMs in the China automobile and power grid industries, has agreed to purchase shares of NASDAQ-listed Maxwell for US$6.32 per share, a 16% premium over the stock's most recent closing price.
"This strategic investment by SDIC Fund Management greatly strengthens our position in multiple areas," said Dr. Franz Fink, Maxwell's president and chief executive officer. "SDIC Fund Management's investment allows us to sufficiently invest in strategic technology development as well as expand our collaboration in Asia, targeting China as one of the largest and fastest growing energy storage markets."
"Their expertise and resources in the new energy market in China will assist us in accelerating several of our strategic initiatives to make us a much stronger global competitor," Fink added. "The funding will also help foster significant partnerships with industry leaders in automotive and energy storage and positions us to capitalize on the unprecedented upside in dry electrodes. This is a great win for our shareholders, partners, customers, and employees,"
As part of the Agreement, the parties have agreed that SDIC Fund Management will be subject to an 18-month lock-up period following the closing of the transaction and will have the right to appoint a representative to Maxwell's board.
The closing of the transaction is subject to approval by the Committee on Foreign Investment in the United States (CFIUS) and, if required, relevant Chinese governmental authorities. The transaction is expected to close in the third quarter of 2017.
"We are delighted to partner with Maxwell Technologies," said Gao Guohua, chairman of SDIC Fund Management. "We conducted comprehensive diligence, concluding that Maxwell has a world-class team with the vision and sound strategy needed to leverage their innovative dry electrode technology. We believe this technology has the potential to transform energy storage, addressing a substantial market opportunity, especially in China."
San Diego, California-headquartered Maxwell is engaged in the development and manufacture of cost-effective energy storage and power delivery solutions. Its ultracapacitor products provide safe and reliable power solutions for applications in consumer and industrial electronics, transportation, renewable energy and information technology. Its high-voltage grading and coupling capacitors help to ensure the safety and reliability of electric utility infrastructure and other applications involving transport, distribution and measurement of high-voltage electrical energy.
Established in July 2009, SDIC Fund Management is one of the largest professional private equity fund managers in China. It currently manages and advises more than RMB50 billion (US$7.4 billion) of capital with a wide range of institutional investors across China as its limited partners.