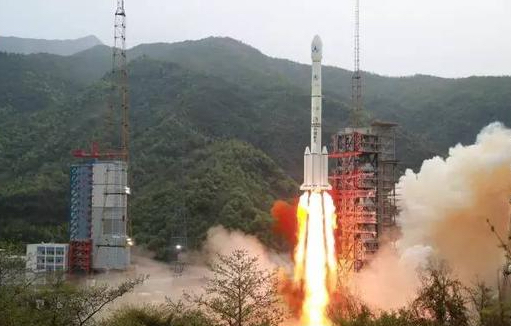 China has successfully launched a 100% self-made communications satellite named Shijian-13 that is more powerful than the combined capabilities of all of the country's previous communications satellites combined, state media reported.
The Shijian-13 will provide wifi coverage to the most remote areas in China, as well as on airplanes, high-speed rail trains and cruise ships. It will help improve the country's provision of wifi coverage and its ability to transmit data, so that users will have wifi access almost anywhere anytime.
The satellite, which is 100% made by China without importing any parts, was put into space atop the heavy-lift Long March 3B carrier rocket at 7.04 p.m. yesterday from China's Xichang Satellite Launch Center in western Sichuan province.
Shijian-13 (Shijian means "practice" in Chinese) is also China's first high-orbit satellite to use electric propulsion to maintain north-south station-keeping (NSSK) throughout its entire life-cycle without consuming any chemical propellant.
"In the past, a satellite needed around 3,000 kilograms of chemical propellants – roughly 60% of its total weight, of which more than 600 kilograms was used for north-south station-keeping," according to a specialist at China Aerospace Science and Technology Corporation. "By contrast, NSSK on Shijian-13 is completed using only 100 kg of xenon."
The satellite will feature a Ka-band broadband communications system capable of transmitting 20 gigabytes of data per second. Its predecessors use a two gigabyte per second system, allowing users to download at a speed of 150 megabytes per second and an upload speed of 12 megabytes per second.
Its signal will cover most of China's land, excluding parts of the southwest and northeast. It will also cover up to 200 kilometers of coastal waters, including places that lack wireless and optical fiber Internet services.