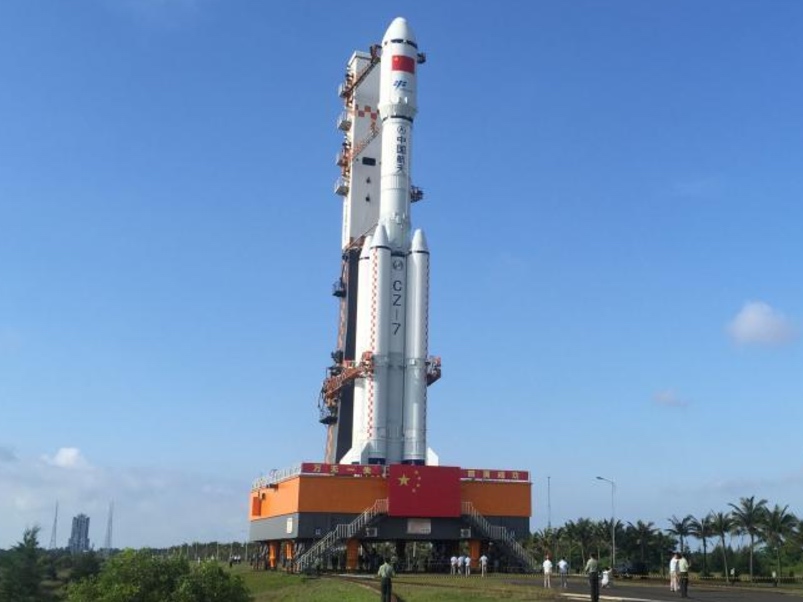 China plans to launch the country's first cargo spacecraft Tianzhou-1 between April 20 and 24, a week after it successfully launched a 100% self-made communications satellite named Shijian-13.
The Tianzhou-1 and the carrier rocket Long March-7 were transferred from the testing center to the launch pad at the Wenchang Satellite Launch Center in Hainan province yesterday.
"The completion of the transfer signals the Tianzhou-1 mission has entered its launching stage," said a statement posted on the official website of China Manned Space Program, a project directed by the China National Space Administration (CNSA) with plans to establish a permanent Chinese space station and crewed expeditions to the Moon.
Tianzhou-1 is 10.6-meter long and weights 13 ton. It can carry up to 6.5 tons of cargo. If successful, it will be the largest and heaviest spacecraft China has ever launched, even larger and heavier than the 10.4-meter long and 8.6-ton Tiangong-2 space lab launched on 15 September 2016.
The Tianzhou-1 spacecraft's main mission is to test the transfer of liquid propellant to the orbiting Tiangong-2 lab, as well as to carry out 14 experiments in space including space cold atomic clock, quantum key distribution test, and plant cultivation test.
Currently, only U.S. and Russia have the technology of liquid propellant transferring in orbit. Tianzhou-1 will test the technology and prepare China for its future space station plans. To complete the mission, Tianzhou-1 has a new supply system, similar to tubing and oil guns, with high accuracy and sealing.
China plans to develop a permanent space station by 2022, containing one core cabin and two lab cabins. With International Space Station coming out of the service in 2024, China will be the only country having a space station at that time.