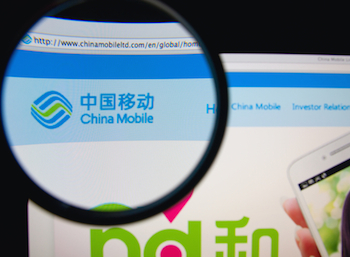 China Mobile is among a number of potential buyers seeking to acquire a combines 61% stake of Singapore based mobile services provider M1 Ltd, which is worth US$1.36 billion, from the company's three largest shareholders.
If completed, it will be China Mobile's largest overseas acquisition deal to date.
Unnamed global private equity firms, Chinese telecom companies, business groups, and Japanese tech companies are also vying for the asset, according to media reports citing insiders. Both China Mobile and M1 did not respond to an inquiry from China Money Network to confirm the news.
M1's three largest shareholders, Axiata Group Berhad, Keppel Telecommunications & Transportation Ltd. and Singapore Press Holdings Ltd, which holds 28%, 19% and 13% stake respectively, announced last month that they were undertaking a strategic review in terms of their respective shareholdings in M1.
The statement also mentioned that the review may or may not lead to a transaction. But the first round bid is expected in the next few weeks.
Founded in 1994, M1 is the second largest telecom company in Singapore, providing mobile voice, data communications, and fixed communications services in Singapore. It was the first company in Singapore to launch 3G mobile services in 2005, as well as the first operator to offer 4G services in 2012. The company was listed on the Singapore Exchange in 2002.
Its competitor, Australian telecom giant TPG Telecom, secured two lots of five megahertz spectrum in the 2.5 GHz band in Singapre earlier this month. It plans to begin its mobile business in the country in September 2018.
Chinese telecom companies including China Mobile, China Unicom and China Telecom Co Ltd. are seeking to expand overseas and eyeing potential acquisitions to facilitate the process. In 2007, China mobile bought Pakistani mobile operater's 89% stake for US$284 million, and later in 2014, it acquired an 18% stake of Thai telecoms group True Corp for US$881 million.