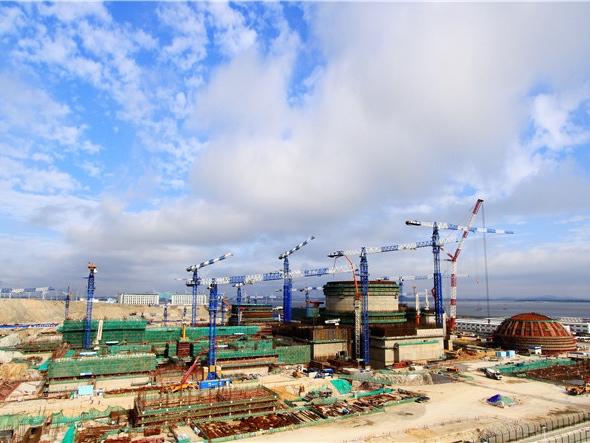 China's first nuclear power project using Hualong One technology will have its containment dome completed within the next two days, as the country continues to make breakthroughs in its state-driven innovation push.
"The installation, if successful, will mark the completion of the construction work of the pilot and the beginning of the assembling stage," said Yu Peigen, deputy general manager of China National Nuclear Corporation, during a press conference.
Located at the Fuqing Nuclear Power Station in Fujian province, Hualong One is a third-generation pressurized water reactor, generating over 1,000 megawatt. It was developed by CNNC and China Guangdong Nuclear Power Group.
Construction was launched in May 2015, with the first steel lining module for the containment building installed three months later. The project is expected to be completed within 62 months.
The Hualong One project has involved 28 provinces, including Shanghai and Sichuan, with over 5,300 enterprises engaged in related manufacturing and assembly. Over 85% of Hualong One's parts were developed and manufacture in China, including the reactor pressure vessel and vapour generator.
The successful development of Hualong One makes China the fourth country in the world with the capability to develop third generation reactor technology after the U.S., France and Russia.
The export value of a unit is expected to reach around RMB30 billion (US$4.35 billion) and each one is estimated to have a production value of RMB100 billion (US$14 billion) during its 60-year lifespan.
CNNC signed a contract with Argentina Nuclear Power Company during the One Road, One Belt Summit earlier this month to build a 700-megawatt heavy water reactor CANDU-6 next year, as well as a 1,000-megawatt Hualong One pressurized water reactor unit in 2020.
So far, China has exported eight nuclear power units, and has made cooperation intention agreements with nearly 20 countries including Argentina, the U.K., Egypt and Brazil.