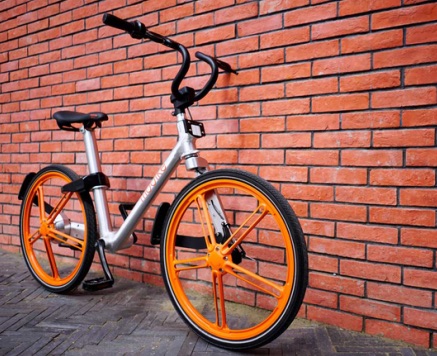 Shanghai-based smart bike rental firm Mobike today announced it will launch its service in the British cities of Manchester and Salford later this month, marking the multi-billion dollar start-up's first operation outside of Asia and the beginning of further expansion in Europe.
Starting June 29, people in Manchester and Salford will be able to download Mobike's mobile app, with which they can find a nearby Mobike bicycle and rent it by scanning its QR code.
Mobike will launch in the U.K. with an initial 1,000 bikes, with that number expected to increase to meet demand for the service. It aims to launch its service in a series of European cities over the next few months, the company said.
"We're very excited to make Manchester and Salford Mobike's first European partners. They have long been a European leader in culture, innovation and technology and were carefully selected as promising and highly-suited Mobike cities," said Hu Weiwei, founder of Mobike, in an announcement.
"We are excited that Manchester has the opportunity to be at the forefront of trialling this cutting-edge, app-based cycle hire scheme in the U.K.," said Sir Richard Leese, the Leader of Manchester City Council. "This is another way in which we can encourage residents to choose active, environmentally friendly travel and we look forward to working closely with Mobike and Transport for Greater Manchester in the coming weeks, to examine and assess how the scheme will work in practice."
Each Mobike bicycle is equipped with smart-lock technology and built-in GPS connected via Mobike's network which locates and monitors the condition of each bike, as well as location-based demand for bikes.
Mobike uses data analytics to allocate their fleet across the city depending on traffic, weather and other variables, and potentially to support city planners, local businesses and authorities in smart urban planning projects.
"As Mayor I want to see many more people swapping their cars for bikes in Greater Manchester and I will take a positive approach to promoting cycling across our city-region," said Mayor of Greater Manchester, Andy Burnham. "This scheme could help make cycling more accessible to people, but it is an untested idea in the UK and we will need to keep this under review."
Mobike was officially launched in April 2016 in Shanghai, and has since deployed across China and Singapore. Manchester and Salford are the 100th cities to host the service.
The company currently operates more than five million smart bikes used by over 20 million rides daily. Mobike's strategic investors include Tencent, Foxconn, Bertelsmann, Temasek, Warburg Pincus, Sequoia Capital, and many others.
In March, Mobike's services became available directly on Tencent's popular Wechat app.