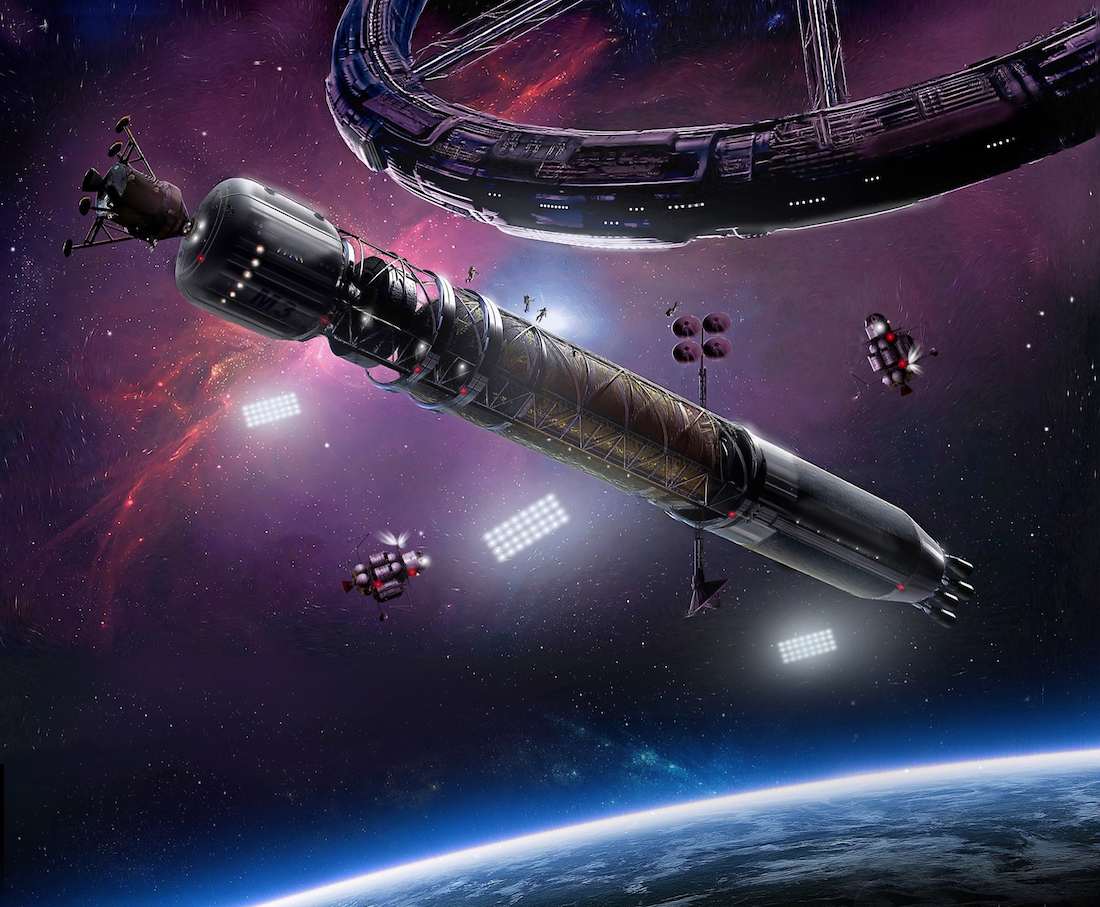 Asgardia, a non-profit organization aiming to create the world's "first space nation" announced plans in Hong Kong yesterday to launch its first physical presence into space: a tiny satellite the size of a loaf of bread that can be used by "citizens" of the currently digital nation to store private data.
Asgardia, named after a mythological Norse city in the sky, said it would launch the nano satellite (nanosat) as cargo aboard Orbital ATK's September 12 supply mission to the International Space Station (ISS), contracted by NASA. Once the spacecraft docks at the space station, the crew will pop the nanosat, named Asgardia-1, into a special nanosat dispenser and eject it into orbit.
The launch cost of around US$700,000 is being largely funded by Asgardia's founder and "Head of Nation", Dr. Igor Ashurbeyli, a wealthy Azerbaijani-born Russian scientist and businessman.
Dr. Ashurbeyli, 53, announced the establishment of Vienna, Austria-based Asgardia in October 2016. Since then, hundreds of thousands of people have registered as "citizens of Asgardia" on the organization's website. Following the launch, "citizens," with 28,828 Chinese nationals currently making up the largest group, will be able to store 100 kilobytes to 300 kilobytes of data on the nanosat with the idea to have that data safely in space forever.
"Maybe the photo of your little cat or of your neighbor, of your mother, or a child — whatever comes to your mind, this will be for as long as Asgardia exists. In other words, forever," Ashurbeyli said during a press conference yesterday at the glitzy Ritz-Carlton Hotel in Hong Kong.
Asgardia has bigger plans for the future. Once the "nation" is fully established and functional, it will tax its "citizens" and write a budget for future space establishments, including a spaceship for human habitation and a colony on the moon. Its ultimate objective, according to Asgardia's website, is to create a peaceful, space-faring nation that defends planet Earth from dangerous meteorites, space debris and other threats.
Dr. Ashurbeyli told China Money Network during an interview that he personally contributed €500,000 (US$561,000) towards the launch fee. He will, however, provide the satellite to Asgardia as a gift for free. Since Asgardia had no bank account when the contract was signed, he stands to win a Guinness world record as the first individual to launch a satellite into space.
Building space stations and putting people on them, however, is exorbitantly expensive. The football-field-sized ISS took 18 nations and about US$100 billion to build. Meanwhile, the cheapest ride to orbit today is SpaceX's Falcon 9 rocket, which costs between about US$43 million and US$65 million per launch.
Since the Asgardia-1 is expected to be in orbit for one to 2.5 years, Asgardia has plans to launch bigger and heavier satellites into space in the near future to expand its space presence. The data of its early "citizens" will be reinstalled on all future satellites.
There are currently thousands of satellites orbiting earth, but "Most of the current satellites are in their last stage of lifetime, and maybe 40% are space debris," Dr. Ashurbeyli told China Money Network. These satellites belong to 60 governments and companies, while Asgardia-1 will be the only one that belongs to the "space nation's" citizens, which is expected to grow to 1.5 million in the future.
The "space nation" founder, who holds an engineering PhD degree with specialization in computer science, founded software and consulting company Socium in 1988, and grew the startup into a large holding company with over 10,000 employees worldwide, according to Asgardia's website.
He is also one of the main shareholders of Seraphim Capital, a U.K.-based venture capital firm that last year launched a £50 million (US$64 million) space fund to focus on investing in the fusion of terrestrial technology and space applications.
Dr. Ashurbeyli has a long history of interest in space exploration, as editor-in-chief of space magazine ROOM, Space Journal, and an affiliated member of the Royal Aeronautical Society in London. In 2004, he was the chairman of the Nonprofit Non-Government Expert Society on Space Threat Defense (ESSTD), which had a special consultative status with the United Nations Economic and Social Council (ECOSOC).