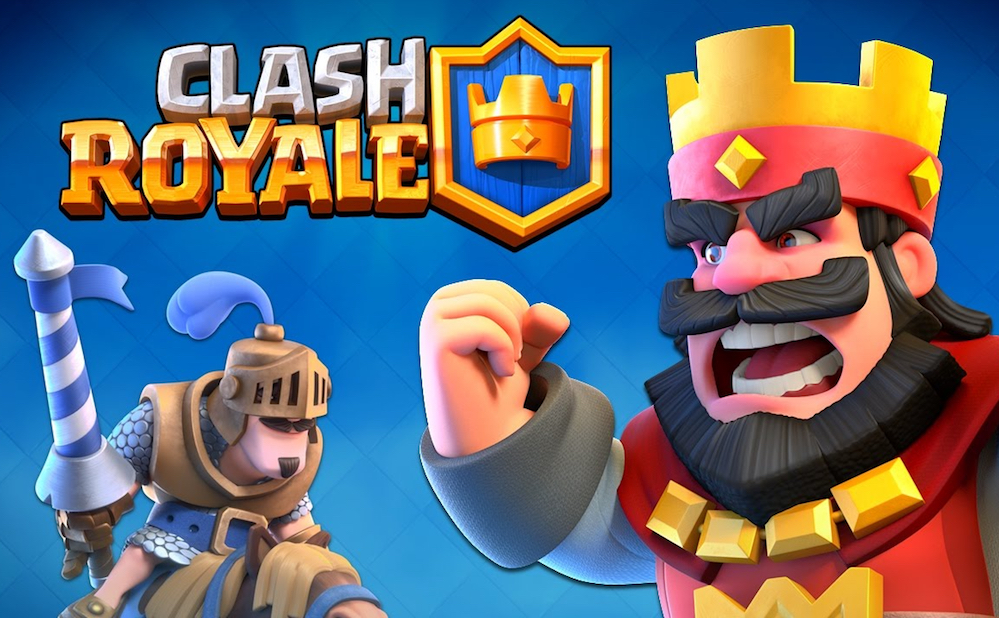 Chinese companies are behind nine of the ten most lucrative mobile games in the Apple app store globally in terms of gaming revenue in May, an unprecedented dominance of the global gaming industry, according to a new report from data tracker App Annie.
King of Glory, Fantasy Westward Journey and Clash Royale are the top three mobile games, ranked by revenue. Monster Strike, Grand Order, Ghost, Clash of Clans, Eternal Myth, Candy Crush Saga and Tianlongbabu make up the rest of the top-ten ranking. Except for Monster Strike, which is produced by Japanese firm Mixi, the other nine games all count Chinese companies as their backers.
China's predominance in mobile games comes even though Chinese players account for only one quarter of mobile gaming revenue worldwide. The global gaming market was valued at US$101.1 billion in 2016, up 10% year-on-year. Chinese players contributed US$24.6 billion in revenues, the largest share, while U.S. players came a close second with US$24.1 billion, according to investment firm Atomico.
Mobile games are the fastest growing segment of the games industry. The number of mobile game players in China reached 523 million in 2016, up 4.3% year-on-year. The number is expected to grow to 699 million in 2012, according to research firm Niko Partners. The number of players and revenue generated by mobile games will surpass those of PC online games in 2018, and account for 58% of the overall gaming market in China in 2021, according to Niko Partners.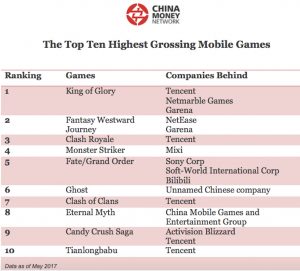 Tencent Holdings Ltd. is currently the biggest winner in the sector, backing five games among the top ten: King of Glory, Clash Royale, Clash of Clans, Candy Crush Saga and Tianlongbabu. Its ascent in the gaming sector is testament to its international merger and acquisition strategy.
Two of its games, Clash Royale and Clash of Clans, were developed by Supercell, a Finnish gaming firm acquired by Tencent last year for US$8.6 billion. Candy Crush Saga's publisher King Digital was sold to video game publisher Activision Blizzard in 2015, in which Tencent owns a 25% stake.
Over a quarter of Tencent's revenue is currently derived from online games. During the first quarter, Tencent's revenue from mobile games reached RMB12.9 billion (US$1.8 billion), up 57% year-on-year, accounting for 26% of the company's total revenue.
By comparison, NetEase, which previously dominated China's gaming sector, is behind just one top-ten mobile game: Fantasy Westward Journey. During the first quarter, NetEase's gaming revenue stood at RMB10.7 billion (US$1.6 billion), despite a 78.5% year-on-year increase. Around 78.6% of NetEase's total revenue comes from gaming.
Tencent continues to invest in gaming companies. In May, it invested US$90 million in Pocket Gems, a San Francisco-based mobile games and interactive entertainment developer, following an initial investment in 2015.