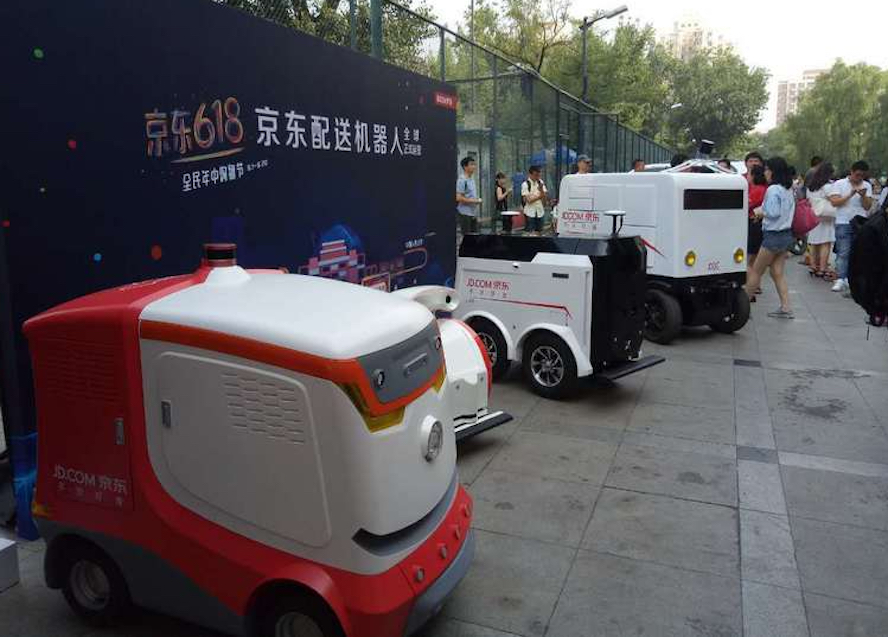 JD.com Inc. this weekend launched a robot delivery service at multiple universities across China, as the e-commerce firm continues to invest in the application of technology in its logistics and delivery services.
The delivery robots are essentially self-driving vehicles equipped with parcel storage units and smart locks that can be operated via a QR code. With different sizes, the robots are electric powered and have a range of 20 kilometers on one charge at around 15 kilometers per hour.
JD.com launched the service during the June 18 shopping festival yesterday at universities including Tsinghua University, People's University, Zhejiang University and Chang'an University. The company said it will expand on university campuses to develop its autonomous vehicle delivery capabilities, as students are more adaptive to new technology.
The launch is part of JD.com's long-term strategy to make itself a more technology-focused company. At the group's annual meeting in February, founder and CEO Liu Qiangdong said the company's next 12-year plan is: "technology, technology, technology."
JD.com says it is investing in other ways to solidify its lead in tech applications in logistics and delivery services. The company is developing a smart robot that can climb stairs to deliver heavy products such as refrigerators, as many older buildings in China are not equipped with elevators.
The company is also plans to incorporate face recognition technology in its delivery robots, so users can scan their face to unlock and take their parcels from the robot. It is also plans to launch a virtual reality services to allow users experience products in a more immersive way digitally.