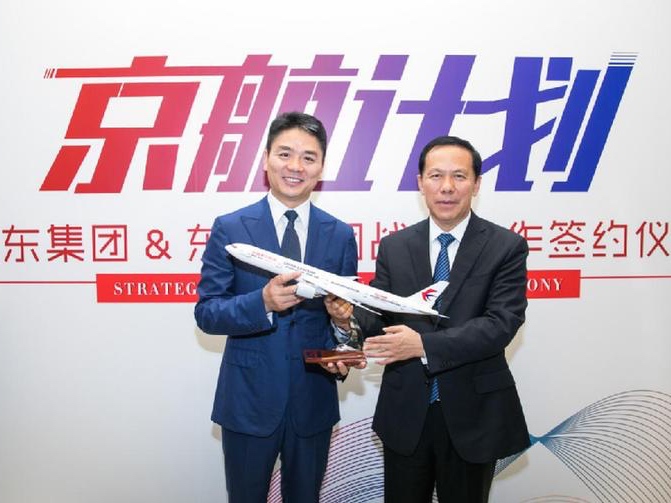 JD.com Inc. has signed a strategic partnership with China Eastern Airlines Co., Ltd. to leverage each other's resources, according to state media reports.
JD.com and Eastern Airline will cooperate in the fields of aviation logistics, passenger service, marketing, membership systems and information construction. JD.com will strengthen its logistics services, with China Eastern Airline providing services including picking up, transport and delivery of goods. The duo will share station resources, establish domestic and international air freight logistics networks to improve the air cargo logistics efficiency.
Currently, Eastern Airlines operates ten airliners for JD Logistics, and it is expected they will cooperate in over 20 airliners by the end of this year.
At the same time, Eastern Airlines will have a new sales channel, as JD.com has established an official online shop for Eastern Airlines on its e-commerce platform, where customers are able to purchase domestic and international air tickets. They will also share their membership systems, and JD.com will help optimize Eastern Airline's e-commerce system.
In addition, JD.com and Eastern Airlines will cooperate in terms of goods purchasing including fresh food, office supplies and clothes. JD.com will also provide technology support for Eastern Airline's cloud products.
Two months ago, JD.com established a new business group JD Logistcs, aiming to provide smart supply and logistics services. The new unit will partner with comprehensive supply chain solutions including warehousing, transportation, delivery, logistics services to reduce costs, enhance efficiency and improve user experience.
"The establishment of JD Logistics at the end of this April is to build a supply chain network covering logistics, e-commerce, finance, insurance, data and technology with various partners. The network will help both upstream and downstream industry companies reduce cost and improve efficiency," said Wang Zhenhui, CEO at JD.com. "Currently, Eastern Airlines is building a supply chain platform to integrate its resources and provide a better air freight logistics services. JD.com and Eastern Airlines offers complementary business, and we believe the cooperation will push the development of the whole logistics industry."
Unlike JD.com, Alibaba Group Holding Ltd. does not own a logistics unit, but the company is also trying to build up its own logistic. In 2013, the company founded Cainiao Network Technology Co., Ltd., a data platform for logistics companies, with Alibaba holding a 47% stake. Cainiao focuses on building a national warehouse network and providing an intelligent information structure to help logistics companies improve parcel delivery efficiency, and Alibaba aims to use the start-up to assemble a network of delivery firms for its own e-commerce platform Taobao.com.
Earlier this month, SF Express and Cainiao had a dispute over data sharing, as SF Express refused to provide data required by Cainiao and Cainiao removed SF Express as a shipping option on Taobao and Tmall.
In fact, Cainiao currently has a near monopoly in the upstream logistics industry. In 2016, Cainiao transported an average of 57 million parcels per day, accounting for 71% of total deliveries in the industry, according to Alibaba's data. Chinese media reported that Cainiao network's logistics companies including STO Express Co., Ltd., YTO Express Group Co., Ltd., ZTO Express and Yunda Express, are unable to leave Cainiao now, as those firms' business heavily rely on Taobao and Tmall.