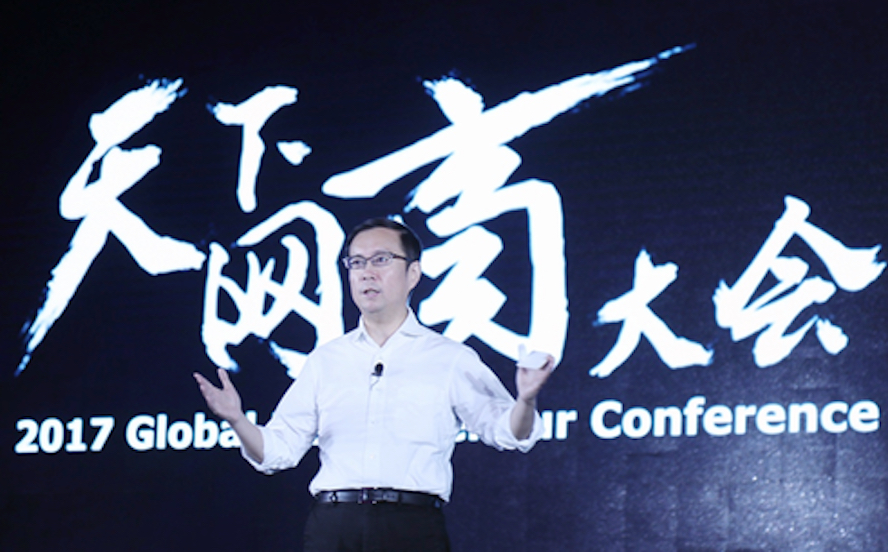 China's largest e-commerce firm Alibaba Group Holding Ltd. said it has established a new company-wide committee to implement its strategy for the future and upgrade the group's various business units.
The "Five-New" Executive Committee will lead the execution of a new strategy under the same name initially announced by company founder Jack Ma. The strategy is initiated in response to a future envisioned by Ma that will be defined by five new trends, namely new retail, new manufacturing, new finance, new technology and new energy.
The committee is headed by Alibaba chief executive Daniel Zhang, with Eric Jing, CEO of Alibaba's financial affiliate Ant Financial, serving as vice chairman. It will coordinate execution efforts across the Alibaba ecosystem including its cloud computing, Cainiao logistics and e-commerce units.
"The Internet has entered the most critical 30 years of its application, while the next three to five years will be the most critical time," Alibaba executive chairman Jack Ma wrote in a letter to staff today. "The Five-New will present challenges to all industries, enterprises and individuals. Only facing the challenges head-on can they be turned into opportunities."
Alibaba CEO Daniel Zhang echoed Ma in an event hosted by the company in Hangzhou on the same day. "This is the widest strategic implementation in the Alibaba ecosystem…to prepare for the challenges and opportunities in the next thirty years. All units across Alibaba will focus on this one direction and this one objective in the future," Zhang said during the 2017 Global Entrepreneur Summit.
The committee, named Wu Xin in Chinese, has short-term, mid-term and long-term objectives, Ma wrote in the internal letter without detailing those goals. The committee will not change any existing reporting lines and will only serve as a coordination body.
New retail refers to the idea that the retail industry of the future will combine both online and offline channels, integrated with smart logistics. New manufacturing points to the future where traditional business-to-consumer manufacturing will shift to personalized manufacturing that will follow the logic of consumer-to-business.
New finance is a data-based and credit-based system that will benefit all small businesses and individuals. New technology will be created based on the Internet and the big data generated digitally, which will become the "new energy" that will further drive innovation.
"The Internet has become an infrastructure for societal development. Cloud computing, big data and Internet-of-Things (IoT) will accelerate the arrival of a smart world. Many sectors will have to upgrade and be redefined," Ma wrote in the internal letter today.