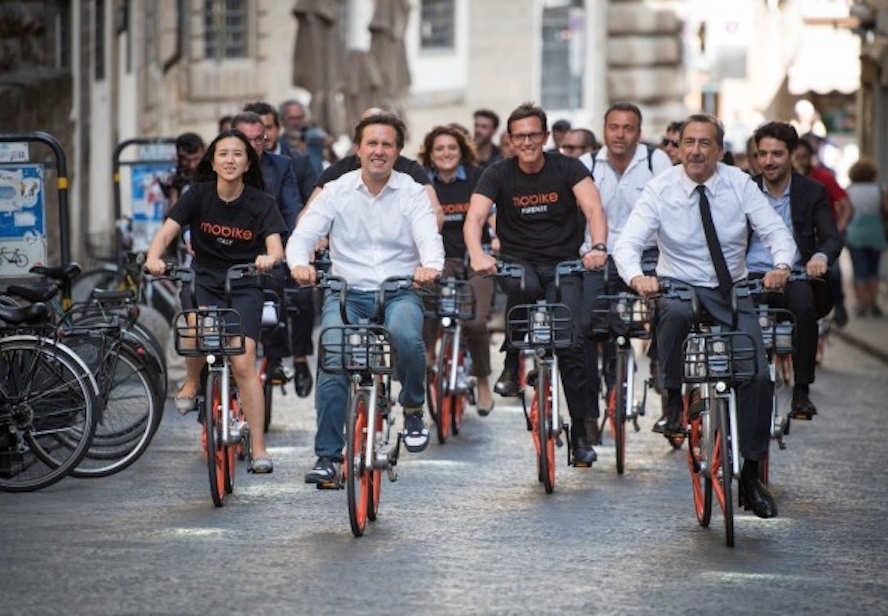 Chinese bike rental firm Mobike extended its footprint in Europe today with trial launches in the Italian cities of Florence and Milan. The move follows the Shanghai-based company's previous international expansions into Singapore, the United Kingdom and Japan.
"With the landing of Mobike in Florence today, it marks another solid step for our city toward building a sustainable mobility system for our citizens," said Dario Nardella, mayor of Florence. "Florence is a city suitable for bike riding. With Mobike, inner city bike riding will become easier and more convenient."
Mobike, currently valued at US$2 billion, is placing several hundred bikes in Florence in a trial program to gather user feedback. Users will be able to rent bikes at the price of €0.3 per half hour. Official launches in Florence and Milan will begin in August, with plans to deploy around 4,000 bikes in each city, the company said.
"After the arrival of Mobike, local residents have shown great interests in finding a bike using our mobile app and to unlock the bike via smart lock and QR code scans," said Chris Martin, vice president of international expansion at Mobike. "We hope to bring this bike sharing service that is smart, environmentally friendly, convenient and economical, to more cities in Europe."
Launches in 2016, Mobike has placed over six million bikes in over 150 cities across five countries, mostly in China. With registered users of over 100 million, Mobike provides over 25 million rides to users daily.
Last month, the company raised over US$600 million in a series E financing round led by Tencent Holdings Ltd., bringing the company's total fundraising this year to nearly US$1 billion.