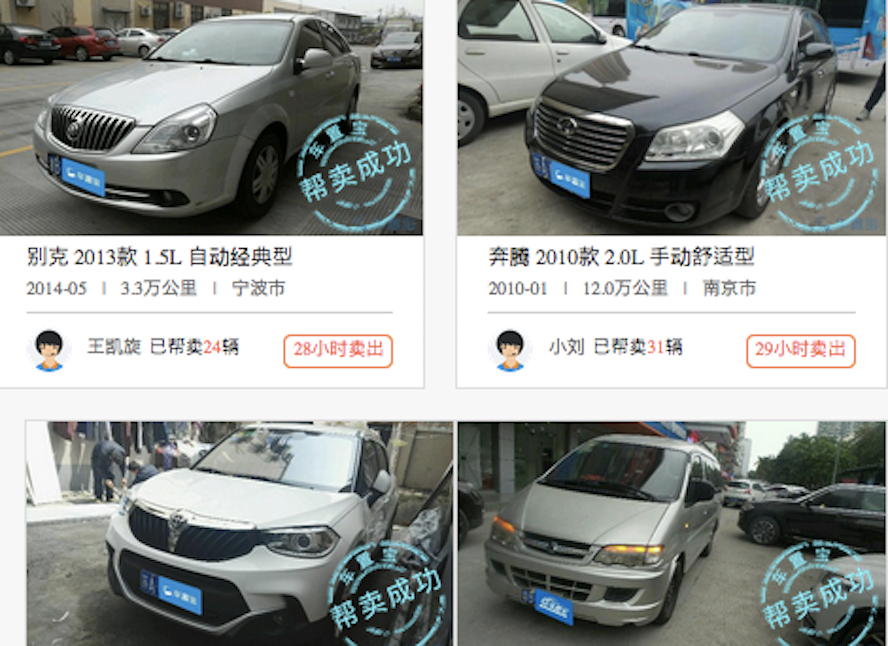 Investors are again throwing money at China's online used-car e-commerce market. After a decade of massive new car sales, the Chinese used car market is growing fast and potential profits abound. But with the market highly fragmented and rival online-to-offline players burning cash faster than buyers can drive cars off the lot, one can't help wondering if this market is about to crash, and which investors will get hurt.
There are eight major online used car buying platforms in China receiving major venture investment, plus a slew of smaller players. The eight largest players have raise US$1.89 billion in the last 12 months. Four of them, Uxin Group, Guazi.com, Souche.com and Chezhibao, have together raised US$1.1 billion since the start of 2017.
But rather than spending money on improving their product, most of the money raised is funding a marketing turf war as the lead players try to drive potential buyers to their websites. But as with other formerly hot investment sectors like business-to-customer food delivery and ride hailing, the market is unlikely to have room for more than two or three leading players. The rest will either get bought out or shut down, taking investor money with them.
"Currently, the used-car market is in a development stage, and it is facing problems including the difficulty of quality control," said Luo Lei, the deputy secretary of the China Automobile Dealers Association (CADA), during an interview with media. "For the industry to better develop in the future, increasing market share by cash burning can't be the long-term plan."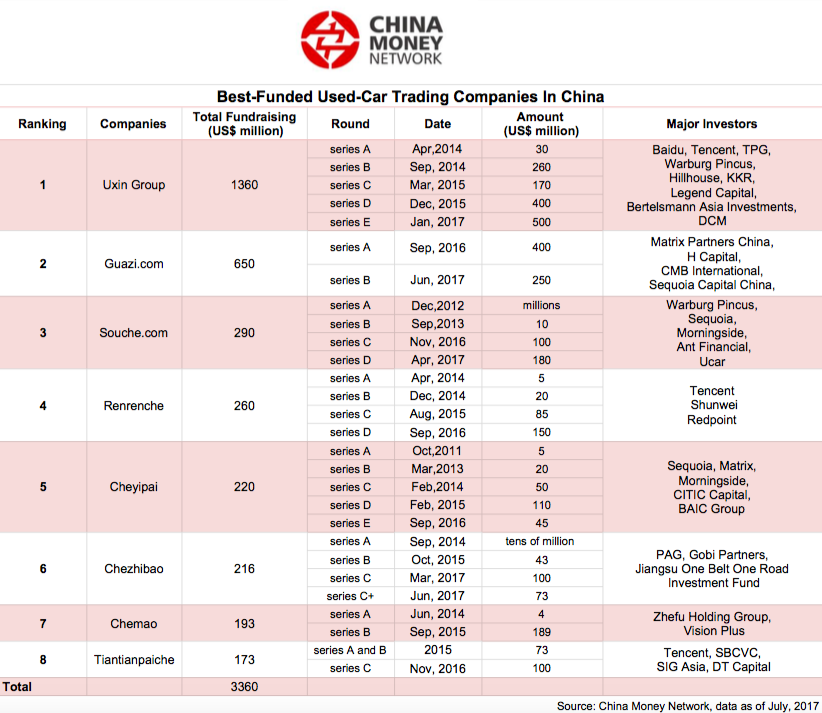 One thing is for sure, there are plenty of used cars coming on line. China's used-car market is a relatively small compared with the U.S. In 2015, 9.5 million used-car were sold in China, while the number was around 38 million in U.S. But the market is growing rapidly. Like many newly developed nations, the number of private car ownership in China has skyrocketed in recent years. Sales of new cars in China rose from 5.2 million vehicles in 2006 to 24.4 million in 2016, a 17.5% aver-age annual increase.
Millions of these aging cars are now ready for new owners. Last year, the used-car transaction volume reached 10.4 million in China, up 10.3% year-on-year, and is expected to reach 12.5 million this year, increasing 20% year-on-year, according to CADA.
China's online used-car transaction platforms still have a low penetration rate of, around 13.9%. But that number is also growing fast. Last year, 1.4 million used-cars were sold via O2O platforms, up 42.6% year-on-year. Transaction are expected to reach 2.3 million in 2017, and five million by the end of 2019, according to analysis.
Major growth has also resulted in serious challenges for used-car e-commerce platforms. First there is an issue of trust. Last year, market leader Uxin was reportedly selling damaged cars without disclosing that fact to customers. Guazi reportedly rolled back odometers, while Renrenche was reportedly completing only 2 of the 249 inspections the company claims it conducts before the transaction.
Secondly, these platforms are burning cash at unsustainable levels to attract customers. Last year, Guazi.com and Renrenche spent RMB1 billion (US$150 million) and RMB500 million (US$75 mil-lion) respectively on celebrity branding. In 2015, Uxin spent RMB30 (US$4.6 million) million for a 60-second advertisement spot during the final match of Chinese TV show The Voice of China, a figure comparable to an advertising spot during the U.S. Super Bowl. In the same year, it sponsored TV show Running Man China for RMB180 million (US$26 million).
To finance their marketing war, used-car platforms have turned to investors. This January, Uxin raised a US$500 million funding round. Later in June, the company was reported to seek a new funding round worth RMB420 million (US$62 million). Meanwhile, it burnt through US$500 million in the first six months this year, pouring around RMB600 million (US$89 million) into advertising, according to Chinese media reports.
Such spending makes profitability unlikely, and consolidation almost a certainty. The leading used-car platforms' revenue comes from commission fees of around 3% per transaction. Uxin Group, which is the biggest and arguably strongest player in the market, announced that its total transaction value reached RMB30 billion (US$4 billion) in 2016, which would generate around RMB900 mil-lion (US$133 million) in revenue, falling short of the billions of RMB the start-up spends on advertising each year.
Marketing costs have already resulted in one big money failure. Ping An Haoche, a used-car trading platform established by Ping An Group with RMB1 billion (US$140 million) in registered capital, was shut down in February after it spent RMB1.4 billion (US$200 million) on advertising.
Consolidation is almost certain to take place judging by the history of other B2C and O2O platforms such as food delivery and ride hailing.
Back in 2015, competition in the food deliver business was fierce as around 12 players vied for market share, while investors poured in billions of dollars. As of the end of last year, Ele.me, Meituan Waimai and Baidu Waimai dominanted, with 34.6%, 33.6% and 18.5% market share respectively. Even savvy investors lost out. In 2015, Alibaba and its affiliate Ant Financial together invested US$1 billion to establish an online-to-offline platform Koubei.com with Alibaba's food delivery unit Taodiandian as one of its core businesses. However, Taodiandian did not survive the shakeout and is now defunct.
The ride hailing industry saw a similar consolidation. Early in 2013, there were more than 40 ride hailing platforms in China. Later the merge of Didi Dache and Kuaidi Dache to form Didi Chuxing, and Didi Chux-ing's acquisition of Uber China's business put an end to the cash burning competition, resulting in one dominant player.
A similar round of merges and failures is likely to sweep through the used-car e-commerce market, ending the current cash burn battle, and leaving one or two survivors to dominant the sector. A few investors will be richly rewarded, while many others will be left counting their losses.