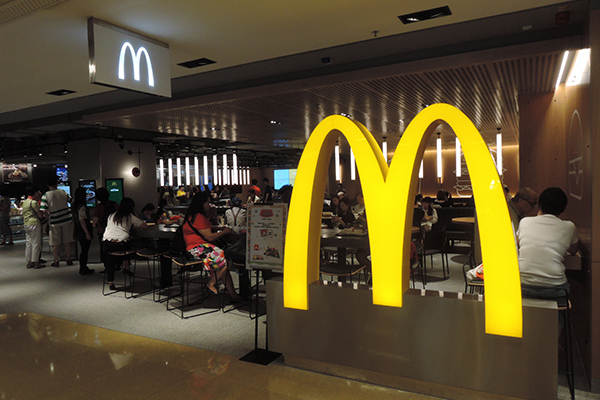 McDonald's Corporation's China business, now under new ownership of CITIC Ltd. and Carlyle Group, is planning to drive double-digit sales growth in each of the next five years and to increase the number of its restaurants to 4,500 from 2,500 currently.
Chinese financial services group CITIC Ltd. and its alternative investment unit CITIC Capital Holdings teamed up with the Carlyle Group in January to acquire McDonald's mainland China and Hong Kong business for up to US$2.08 billion. The deal was completed today.
Upon completion, CITIC and CITIC Capital would have a controlling stake of 52% of McDonald's mainland China operations, with 2,500 restaurants, and Hong Kong unit, with 240 restaurants. Carlyle and McDonald's would each own interests of 28% and 20%, respectively, according to previous disclosures.
Faced with a number of headwinds including food safety scandals, both McDonald's and Yum! Brands, the operator of KFC and Pizza Hut, have sought alternative development strategies for its businesses in China.
Yum! completed a spinoff and separate U.S. listing of its China division last November and took a total of US$460 million investment from Chinese private equity firm Primavera Capital Group and Alibaba's Ant Financial Services Group to help drive growth.
Both Yum! China and McDonald's China unit are embarking on an aggressive expansion plan and a drive toward innovation. Yum China said that it plans to triple its restaurant count to 20,000 in the next three years. It is also buying a controlling interest in online food delivery company Daojia.com.cn to better serve its Pizza Hut and KFC customers.
McDonald's China, similarly, is expecting to open 500 new restaurants in 2022, double from the 250 new restaurants being opened this year. It is planning to expand delivery hub coverage to over 75% of its restaurant network, and add digitalized and personalized dinning experience to over 90% of its locations.
"China will soon become our largest market outside of the United States. We are excited to join forces with CITIC and Carlyle for better localized decision-making to meet changing customer demands in this dynamic market," said Steve Easterbrook, McDonald's President and CEO. "Mainland China and Hong Kong are leading the global system in capturing new consumer trends such as delivery and digitalization and its driving strong performance and growth momentum."
CITIC Ltd., CITIC Capital, Carlyle Group and McDonald's have formed a partnership, which will act as the master franchisee responsible for McDonald's businesses in mainland China and Hong Kong for a term of 20 years.