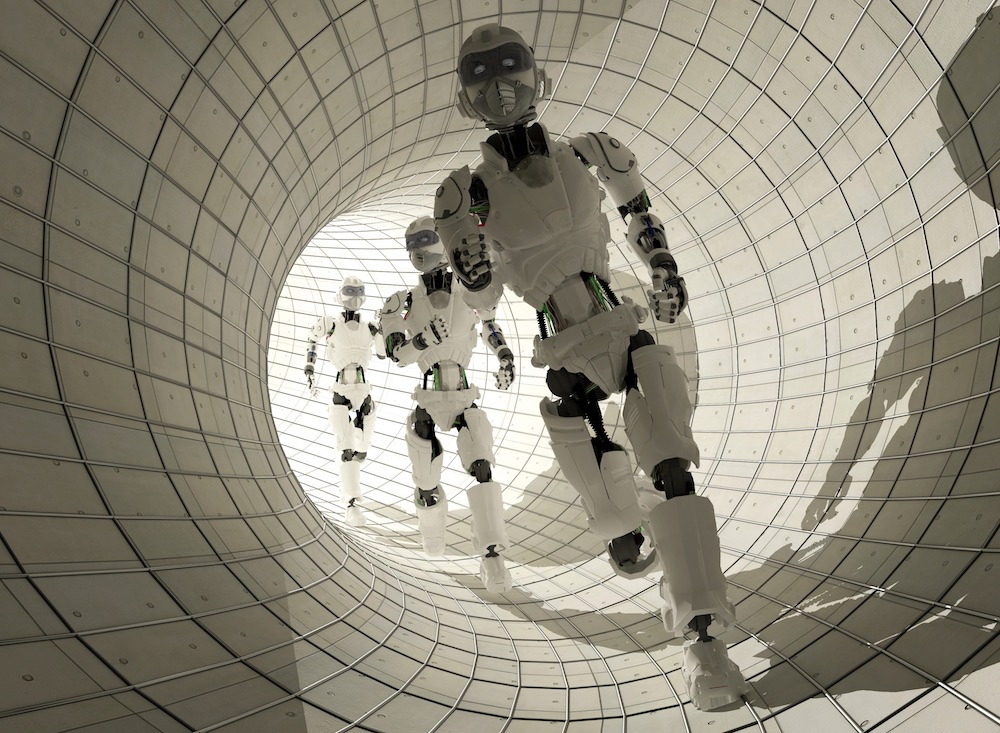 Sequoia Capital China, the venture capital firm founded by renowned investor Neil Shen has stakes in 29 Chinese artificial intelligence (AI) start-ups. But while some other investors take a laser focused approach to the sector, Sequoia's portfolio includes more broadly defined AI firms such as ride hailing giant Didi Chuxing that use AI as a key component of their business, along with pure AI tech research centered players like Mobvoi.
Sequoia partner Yue (Steve) Ji explained the logic behind the venture firm's AI investment strategy in a recent interview with the media. After screening hundreds of AI teams and start-ups, Sequoia has zeroed in on two key parameters when evaluating an AI investment's potential: application and data.
The first question is whether an AI project has a practical application that solves real-life problems. Chinese companies are not particular strong on AI infrastructure and technology, such as AI chips and algorithm platforms. But many Chinese companies applying AI as part of their enterprise have a proven business model and are more likely to achieve attractive returns for investors, he said. The second criteria is the target's ability to obtain data consistently and improve their capabilities using self-learning technology.
"It's still too early to have AI solve all of our problems, therefore focusing on applications in specific verticals such as healthcare, finance and security is easier," Ji said. "In fact, serving only one vertical could better define the boundaries of data and therefore lower the difficulty of data processing."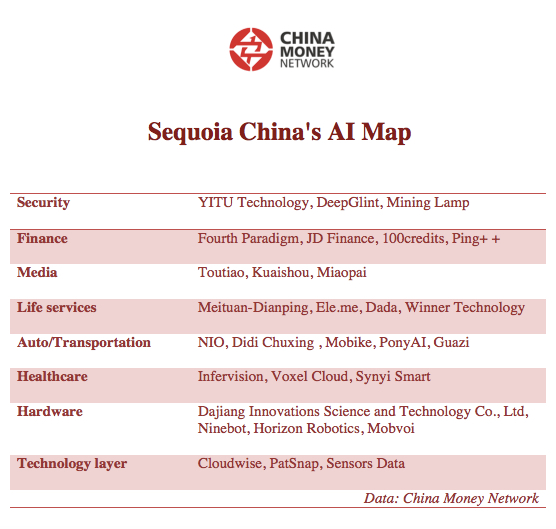 For instance, Shanghai-based Yitu Technology's core product uses machine vision technology to help improve its city security and transport management services, among other applications. China Merchants Bank utilizes Yitu's face recognition technology in 1,500 of its banking outlets. Yitu is also partnering with Alibaba's cloud computing unit to provide a cloud face recognition platform for the local police bureau of western Guiyang province.
So, Yitu's AI technology is being used in real-life situations and helps improve efficiency and reduce human error. At the same time, being deployed at bank outlets and police stations gives Yitu a consistent source of data that helps it improve its machine vision technology.
At the other end of the spectrum, companies that are aggregating huge amounts of data are increasingly utilizing AI to improve efficiency. This group of companies includes Didi Chuxing, news app Toutiao, on-demand services app Meituan-Dianping, food delivery app Ele.me, and bike sharing firm Mobike.
Didi currently handles 20 million completed ride hailing orders daily, from 20 billion inquiries. Its AI-powered platform handles 13.89 million order requests each minute on average, requiring less than one millisecond for each request. Backed by AI, Didi can also predict where users want to go within two milliseconds with 90% accuracy, according to Ji.
Bike sharing company Mobike is collecting 20 terabyte of data every day from around 25 million rides on its bikes. Using this massive amount of data, Mobike can predicate things like supply and demand and even illegal parking, improving the company's overall efficiency.
Ji is not too concerned about frothy valuations for AI companies in China, however, as he believes the right bet in this sector will achieve ultra-high returns that makes the entry price irrelevant.
"It's a rule that less than 10% of the companies always create over 90% of the value for (VC investors). In fact, 5% of the companies created 95% of returns in the TMT (Technology, Media & Telecommunications) sector," said Ji. "So at Sequoia, we don't care if it is frothy in an industry or if the average valuation seems high. We are looking for the 5%."