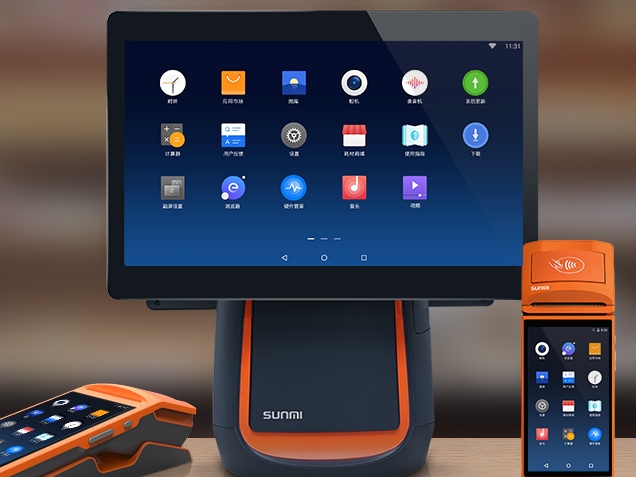 Shanghai Sunmi Technology Co., Ltd., a smart point of sale (POS) terminal developer that is in the ecosystem of Chinese smartphone maker Xiaomi Inc., has raised a series C round worth hundreds of millions of RMB from undisclosed investors.
Founded in 2014, Sunmi develops both handheld and desktop smart payment devices, using Sunmi's own Android-based payment system Sunmiui. The product supports mobile payment options such as Wechat Pay and Alipay, and can connect to a number of food delivery apps, such as Chinese on-demand local services platform Meituan-Dianping, food delivery app Ele.me and Baidu Inc's Nuomi.
In addition to food delivery and restaurants, Sunmi's POS terminals are also used by companies in the supply chain, retail, tax control and payment sectors. Its open platform Sunmiui currently has over 3,000 applications built on it.
Sunmi's combination of smart hardware and an open platform are consistent with Xiaomi's overall strategy to build an Internet of Things (IoT) ecosystem. Xiaomi previously launched smart home appliance brand Mi Home. Its IoT platform received another boost this year with the debut of Xiaomi Mi Router HD at CES 2017.
Sunmi previously raised a RMB100 million (US$14 million) series B+ round from Chinese e-commerce platform Weidian in 2015. During the same year, it completed a RMB200 million (US$29 million) series B round from Xiaomi, Meituan-Dianping and Shenzhen Capital Group Co., Ltd. In 2014, it raised a RMB80 million (US$12 million) series A round from Xiaomi, Shenzhen Capital Group and Chinese investor Hu Zemin.
Xiaomi is listed on China Money Network's China Unicorn Ranking with valuation of US$46 billion, along with three companies from its ecosystem, smart wristband maker Huami Technology, portable battery chargers developer Jiangsu Zimi Technology and air purifier firm SmartMi.