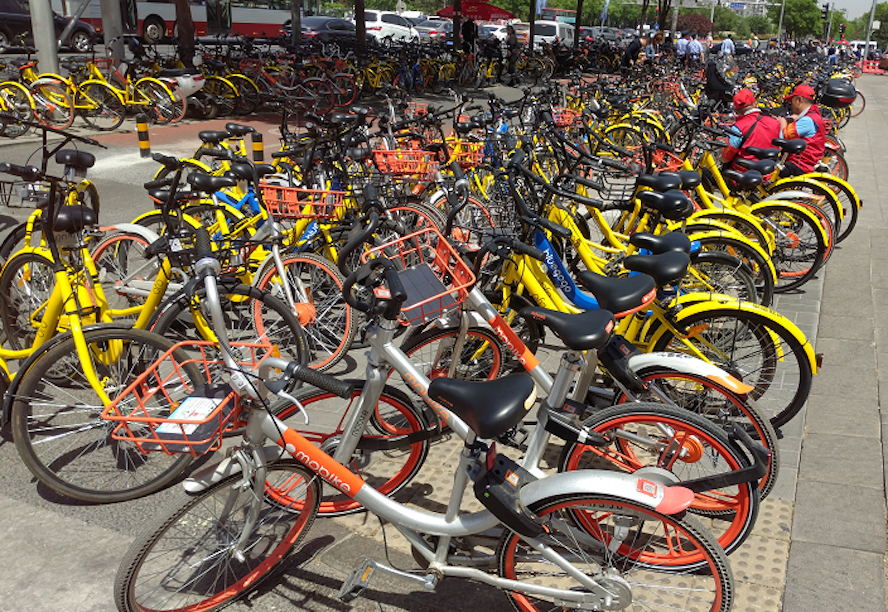 Since the first GPS-positioned, smartphone-enabled shared bikes were placed on the streets of Shanghai in December 2015, the so-called bike sharing sector has shed its training wheels and expanded with incredible speed in China.
According to a new report released by China's State Information Center, a total of 16 million shared bikes have been deployed on streets across cities in China as of July 2017. Total users of bike sharing services reached 106 million, or 14.11% of all Internet users in China, as of June 2017.
The industry has created 100,000 new jobs and has revitalized the once-sleepy bike manufacturing sector. Bike sharing now supports 80% of the jobs at bike manufacturers in China, according to the report. The new phenomenon also created new job categories. Engineers of smart locks, used for shared bikes specifically, became highly in demand, with salaries reaching RMB12,000 (US$1,837) per month.
The report also said that 22 financing deals took place during the first half of this year, raising a total of RMB10.4 billion (US$1.6 billion).
But the numbers released by the information unit under China's National Development and Reform Commission do not align with the statistics published by bike sharing companies. Shanghai-based Mobike, for example, said in June that it alone has over 100 million registered users and raised nearly US$1 billion in 2017. Beijing-based ofo, another leader in the the bike sharing industry, said it raised US$1.15 billion in 2017 as of July and that it has 20 million registered users.
China Money Network was unable to reach the State Information Center to verify the data.
Other important information released by the report include that the bike sharing economy has added about 70,000 jobs during the first half of 2017, accounting for around 1% of all new urban job creations in China. In particular, the sector is supporting employment of China's millennials, with about 77% of those employed in the sector aged under 30.
Despite bike sharing companies' contribution to job creation, local governments are finding that too many bikes on the streets are creating serious public transportation headaches. As a result, Beijing, Shanghai, Shenzhen and Hangzhou have banned new bike placements to keep sidewalks clear of clusters of colorful bikes.