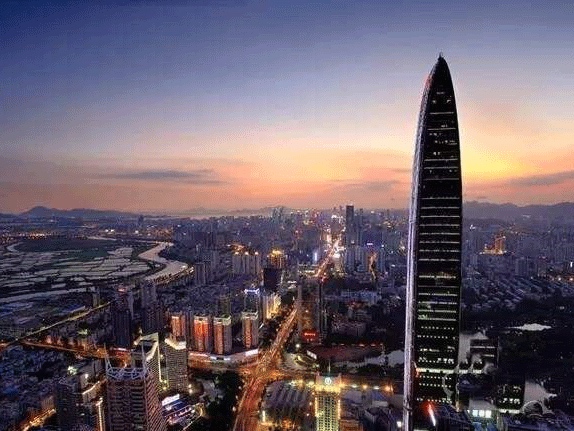 Shenzhen, once a hotbed of technology innovation and home to seven Fortune Global 500 companies, is losing out in the race to becoming China's Silicon Valley.
Between 1987 and 2006, the fishing village-turned-metropolis adjacent to Hong Kong gave rise to tech superstars Tencent Holdings, Huawei Technologies, BGI Genomics and drone-maker DJI, spurring the belief that the city of 11.9 million had established itself as the heart of China's technology industry. But in the last decade, the innovation magic seems in short supply.
Despite billions of dollars spent by the Shenzhen government to support tech research and development, since 2006 the city has failed to produce a single company on par with the powerhouses launched a decade earlier. Meanwhile, other cities have caught up and surpassed Shenzhen. Hangzhou, a smaller city that is home to the powerful Alibaba Group now has more unicorns, a term used to describe private companies valued at US$1 billion or more.
"It's hard to see which company in Shenzhen is going to become the next giant worth hundreds of billions of U.S. dollars," said an investment manager who asked to speak on condition of anonymity. "The city is in danger of lagging behind as other cities in China make great strides forward as innovation hubs. Shenzhen really risks being excluded from the top-tier cities of innovation in China."
The reality is that it takes more than money and ambition to create the critical economic mix needed to nurture technology companies. With a limited number of major universities and traditional role as a manufacturing hub, rather than an innovation hub, Shenzhen may not have the ecosystem needed to remain among China's top technology centers.
Among the 108 unicorns listed on China Money Network's China Unicorn List, Beijing dominates, with 46 unicorns boasting a combined valuation of US$212 billion. The capital, with unparalleled advantages in resources and universities, is home to 42% of all of China's unicorns and 47% of total valuation.
Shanghai and Hangzhou are the second and third largest unicorn habitats. Shanghai has 23, with a combined value of US$66 billion. Hangzhou has 12 unicorns, with a combined valuation of US$100 billion. Despite its early lead, Shenzhen is now a distant fourth with just ten unicorns at a combined US$37.4 billion valuation. For all its past tech glory, Shenzhen must contend with the embarrassing reality that it no longer competes for the top spot versus Beijing and Shanghai. Rather, it is competing, somewhat unsuccessfully, with smaller and once-thought marginal players like Hangzhou, a city of nine million people.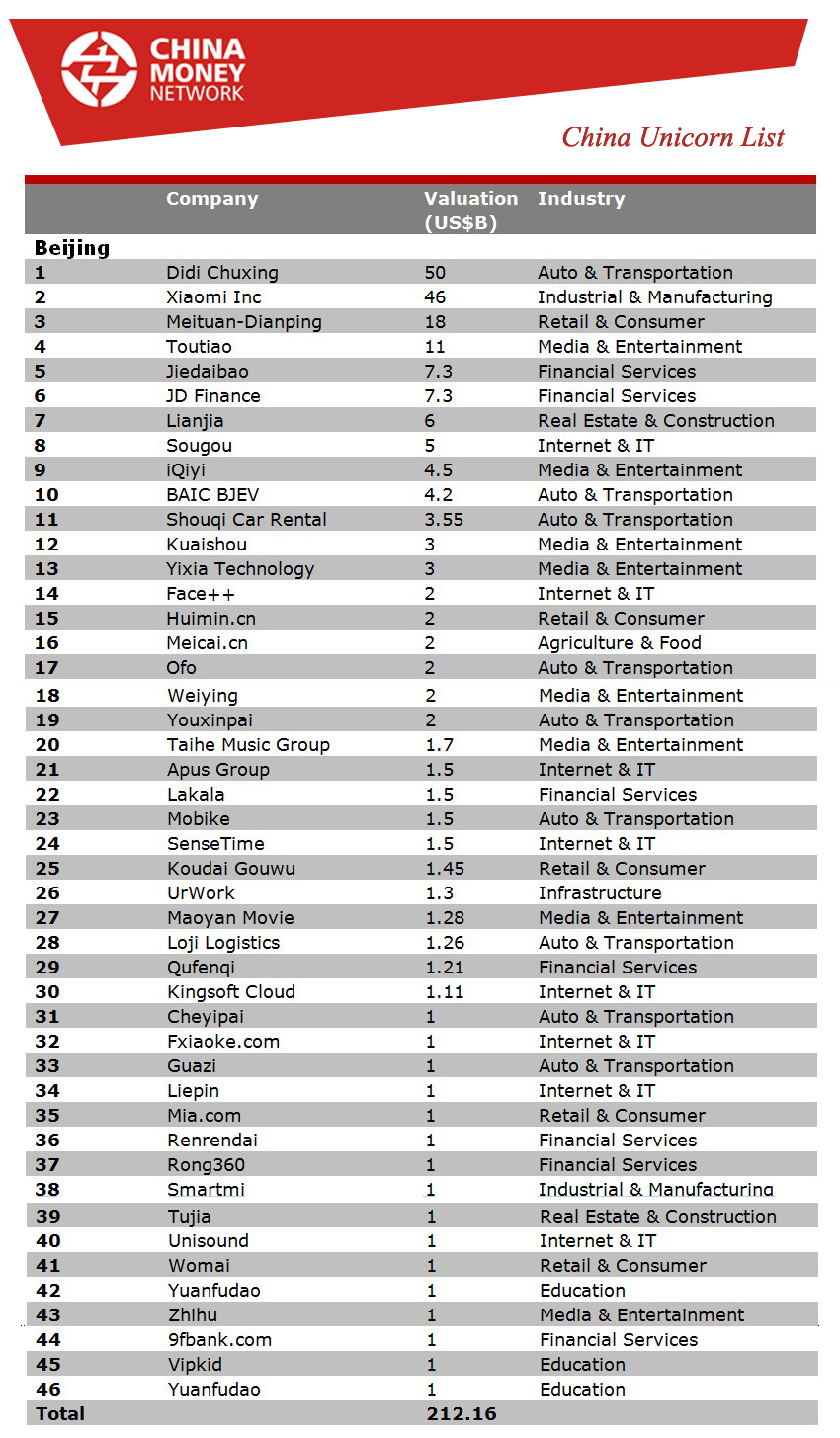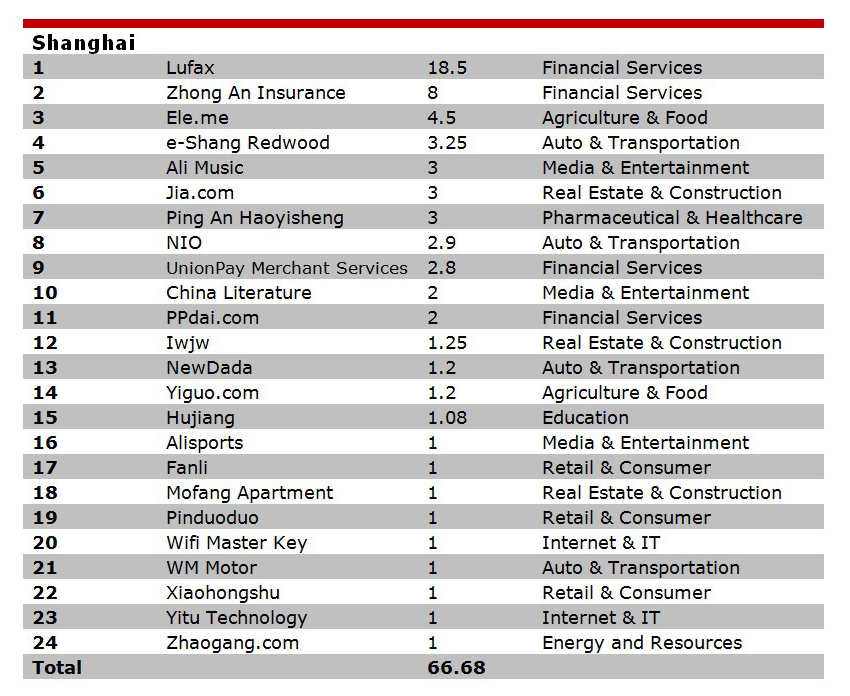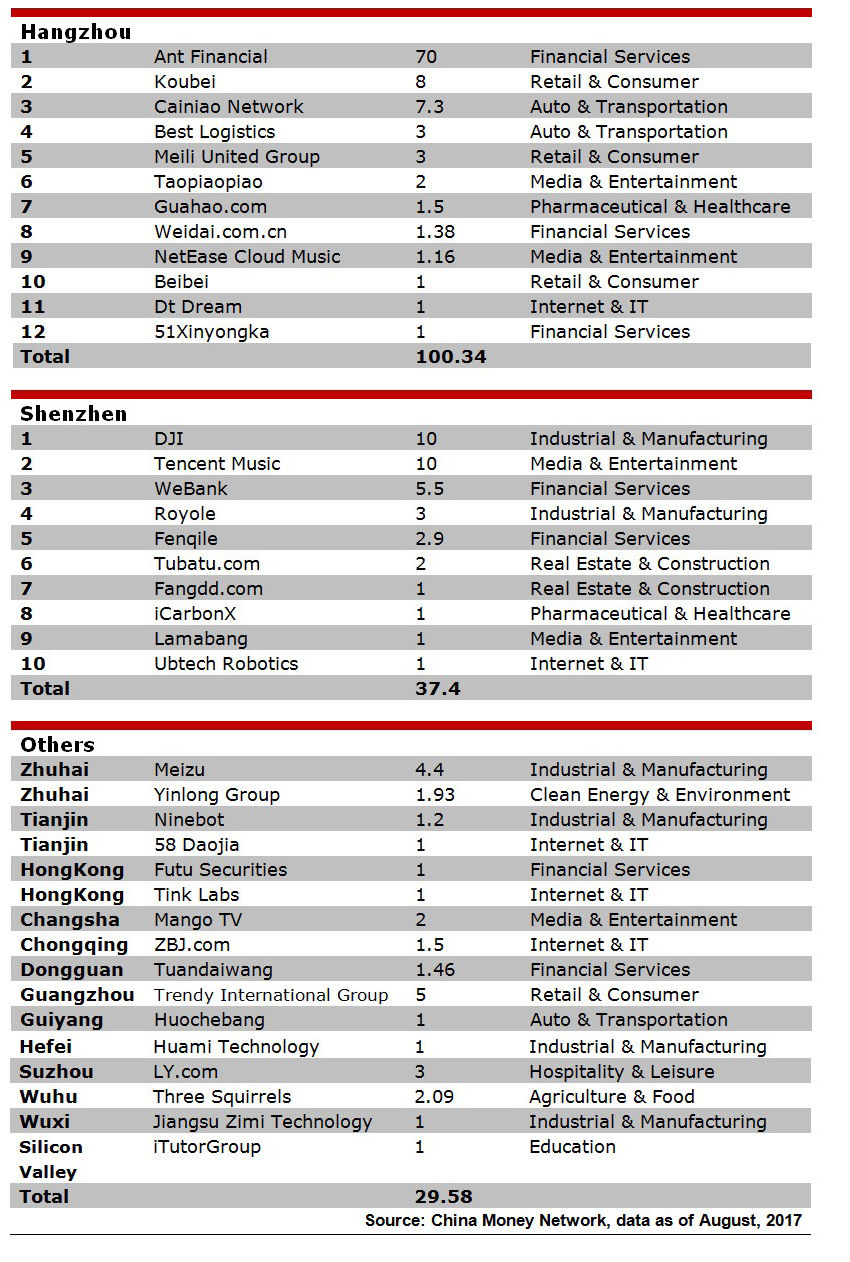 Shenzhen faces an uphill battle with Hangzhou, which is quickly establishing itself as a technology hotbed. Starting from 2010, the number of start-ups established in Hangzhou has increased at a rate of almost 100% annually, faster that Beijing, Shanghai and Shenzhen, according to a study conducted by professional services firm UHY International. A report issued last year by Chinese start-up incubator Iheima also ranked Shenzhen as the fourth city after Beijing, Shanghai and Hangzhou when considering the environment for start-up support and financing resources.
And last month, Hangzhou was chosen as the home of China's first Internet court, adding to its competitive muscles in the race to become where the Chinese tech action is. The court will handle Internet-related disputes, such as related live streaming, e-commerce, Internet service contracts and Internet copyright infringement.
Why Is Shenzhen Losing Out?
One possible reason Shenzhen is lagging behind is its traditional role as a hardware haven boasting the world's most complete manufacturing supply chain and fastest-moving factories. It's notable that Shenzhen-based unicorns DJI, rollable wearables developer Royole Corporation and UBtech Robotics are all hardware companies. But manufacturing capability doesn't place a city at the heart of the consumer and mobile Internet boom that has given birth to the majority of China's young unicorns. For example, recently founded life style and consumer Internet leaders Didi Chuxing, ofo and Meituan Dianping are all based in Beijing.
A lack of support for local startups by established technology giants has also been a factor. Shenzhen-based Tencent has not nurtured start-ups on its home turf as strongly as perhaps Alibaba has done. Where as Alibaba-affiliated financial services firm Ant Financial and online ticketing company Taopiaopiao are based Hangzhou, Tencent's online ticketing unit Weiying is based in Beijing and its online reading unit China Literature is headquartered in Shanghai.
Shenzhen's lack of prestigious universities when compared to other cities has also created a talent bottleneck. The city has only 10 universities, while Beijing has over 100, Shanghai has 62 and Hangzhou has 32. Also, as housing prices have skyrocketed in Shenzhen in recent years, its ability to lure engineers from other cities has been greatly eroded.
But not all is lost. Shenzhen still has a number of Internet rising stars that have the potential to redefine the city's corporate power map. Online real estate agency Fangdd.com is competing with top-tier housing agency Lianjia and 5i5j.com. Tencent Music, Internet bank WeBank, online-to-offline home renovation platform Tubatu.com, installment payment platform Fenqile, and e-commerce platform Lamabang are all Internet companies that have the potential to grow into much bigger companies.
Whether Shenzhen can out-compete its rivals to shine again as the birth place of great technology companies depends very much on whether these new rising stars can grow to their maximum potential while still based in what was a sleepy fishing village just 30 years ago. To achieve that success, the city needs to reinvigorate its business culture and innovation environment to become a place not just for making the latest gadgets, but for incubating ideas that will revolutionize the way people live.