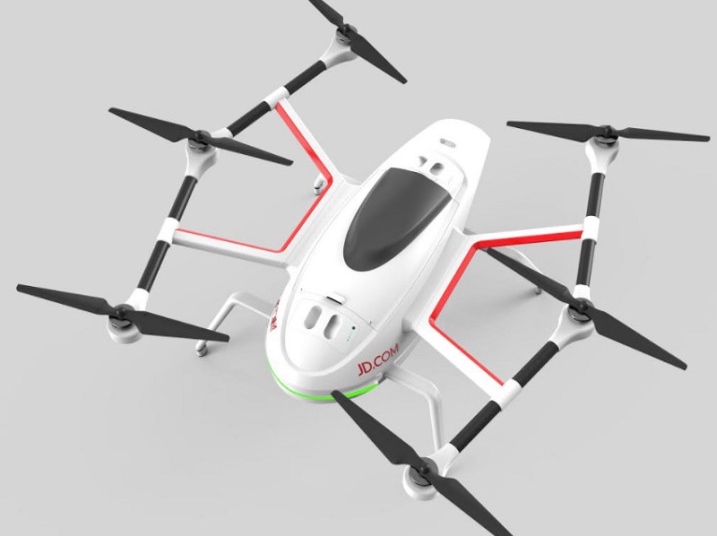 Chinese e-commerce giant JD.com Inc. is partnering with U.S. technology firm Nvidia Corp. to deploy one million logistics drones in China over the next five years.
JDrone, a logistics drone developed by JD.com's innovation lab JD X, will use Nvidia's Jetson platform for embedded artificial intelligence-based navigation intelligence, said Nvidia's CEO Jensen Huang at a conference in Beijing today. Employing Jetson's low power, small form factor and advanced vision capabilities, JDrones will be able to fly up to 100 kph and deliver packages weighing up to 30 kg, with others being tested to carry as much as 200 kg, he said.
JD.com founder and CEO Richard Liu told media earlier this year that using drones in the delivery chain could reduce logistics costs by at least 70%. In February, the company announced a partnership with the government of northwest China's Shaanxi Province to build a drone delivery network to deploy drones that can deliver multiple tonnes of cargo to a range of over 300 kilometers.
The last-mile delivery, or the shipment between the final storage hub and customers' home, is the most expensive and inefficient part of parcel delivery. Deutsche Bank AG published a note last year estimating that delivery automation, using drones and robots, can reduce 80% of the last-mile shipping cost.
A number of tech and delivery companies are developing drones to reduce logistics costs. This June Chinese delivery firm SF Express Co., Ltd. gained the first logistic drone license in China from the government of Guanzhou, a city in China's southeast Jiangxi Province.
Last December, Amazon.com Inc. successfully completed its first drone delivery in the U.K. In May, the e-commerce giant said it will open a new research facility near Paris, France, to build the company's own air traffic control system for its drone delivery operations. German logistics company Deutsche Post DHL is also working in the sector, completing 130 drone deliveries between January and March last year.
In addition to collaborate in JDrones, JD.com will also leverage Nvidia's technology to develop its ground-based logistics robot JDrover as part of the partnership. Using Jetson, the delivery robot will be able to navigate safely through crowded streets by identifying faces, pedestrians, traffic lights, signs and other indicators. As more data is collected and algorithms are optimized, JD X expects to deploy the rover in more complicated scenarios across China.
Currently the JDrover is used for last-mile deliveries on campuses, such as Renmin University of China, Tsinghua University, along with Zhejiang University. The firm plans to deploy hundreds of JDrovers across different university campuses nationwide within the next year.