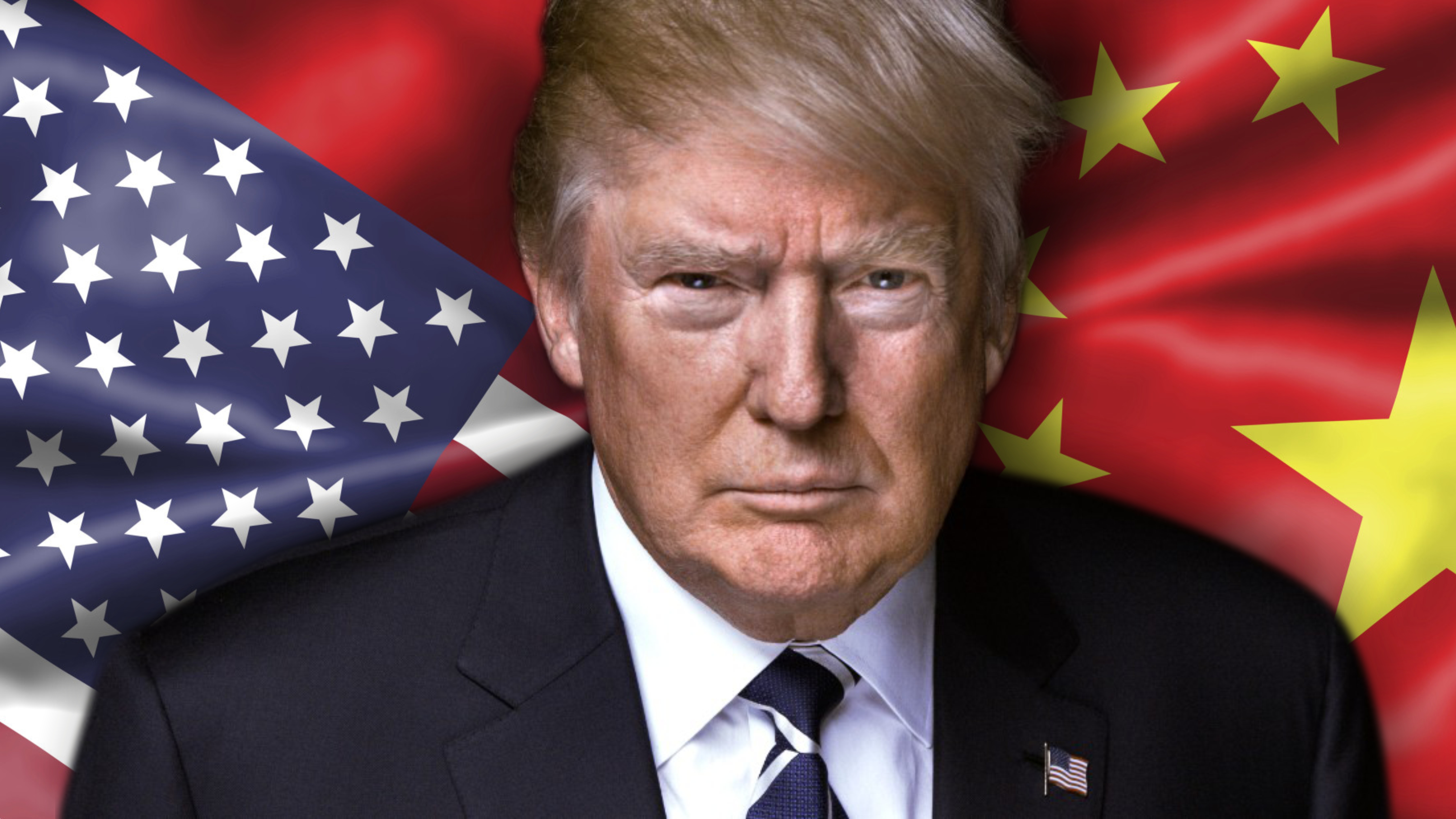 Chinese investors overseas just can't seem to get a break. First, the Chinese government strengthened its grip on overseas deals to slow capital outflows. Now, the U.S. government under president Donald Trump appears more protectionist than ever, blocking a growing list of Chinese investments in the U.S. in the name of protecting American business and security interests.
The result has been a slew of cancelled deals and increased uncertainty over nearly US$10 billion in major transactions still held in regulatory limbo in America. To get around the mounting hurdles, Chinese businesses and investors are showing both resilience and creativity, seeking out smaller deals, entering joint ventures rather than acquisitions, and increasingly looking outside the U.S. for deals.
As China Money Network reported, Chines outbound mergers and acquisitions (M&A) deal value declined to US$80.7 billion as of early September, down 43% from US$141.6 billion during the same period last year. The pullback from investment in the U.S. is also apparent in venture capital deal making. There have been 184 Chinese venture capital investments in the U.S. worth US$5.1 billion so far this year, compared with 262 deals worth US$10.2 billion last year, according to data from Preqin.
While some of that was due to Beijing limiting outgoing investments, a growing portion of the failed deals are directly linked to a more hawkish Committee on Foreign Investment in the United States (CFIUS) under the Trump administration.
In July, Beijing Xilehang Technology scrapped its US$416 million bid to acquire U.S. satellite-based connectivity and media company Global Eagle Entertainment due to failure to secure US regulatory approval. In September, U.S. energy storage company Maxwell Technologies announced the termination of a US$47 million strategic equity investment by China's SDIC Fund Management Co., Ltd., also due to failure to gain CIFIUS approval. And in the biggest blow of all, president Donald Trump stepped in to block Chinese state-backed Canyon Bridge Capital Partners' planned $1.3 billion acquisition of Lattice Semiconductor Corp.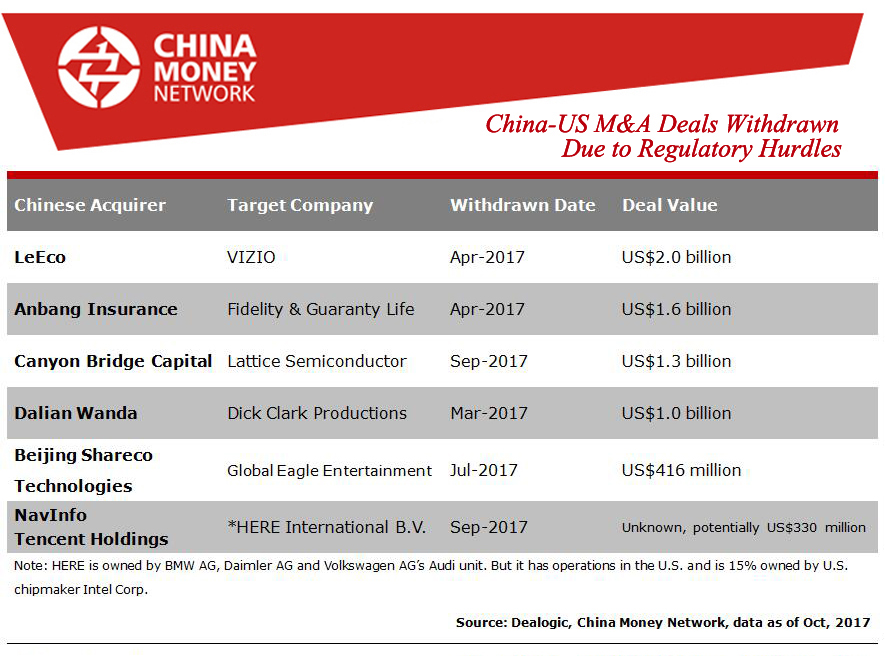 And more big-ticket deals may be it risk. Currently, there are seven pending China-U.S. M&A deals worth US$500 million, together totaling US$9.7 billion in value, according to data by Dealogic. One of those is Ant Financial's US$1.2 billion deal to buy MoneyGram International Inc., a Dallas-based money transfer company. When announced, the deal looked like a sure thing, bringing together MoneyGram's global reach with Ant's fintech expertise. But even that deal is at risk of stalling now due intense CFIUS review, with the acquirer having to submit their CFIUS application for a third time.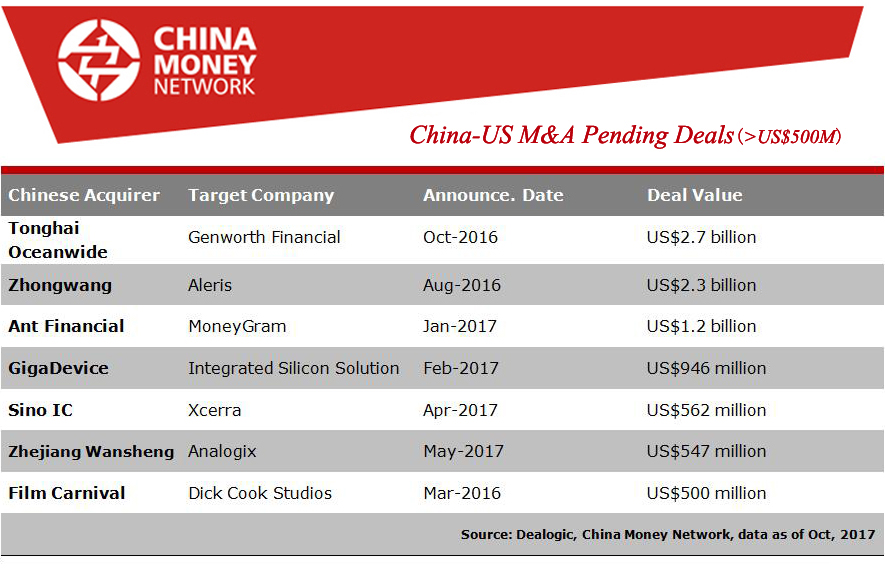 "From what we have seen, CFIUS has approved very few investments from China this year and most cases are taking a very long time," Ke Geng, a Beijing-based managing partner at American law firm O'Melveny, told China Money Network.
Smaller Deals
One way Chinese investors are adjusting to the tighter regulatory scrutiny is to make smaller deals. The value of announced outbound acquisitions by Chinese companies averaged less than US$8 billion per month in the first half of this year, compared to more than US$15 billion per month during 2016, according to a (M&A) report by Rhodium Group. This is in part due to Beijing's heightened concern for outbound mega deals. But the same logic also applies to investments in the U.S., as smaller deals, or deals in which smaller stakes are taken, are less likely to attract CFIUS scrutiny.
In the words of Paul Hoff, a trade lawyer with Garvey Schubert Barer, "A Chinese investment in a U.S. company may not be covered by the CFIUS review process if the investor is acquiring a small percentage of the company as a passive investment (10% or less) and the Chinese…does not otherwise have meaningful control of the company or its management."
However, he points out that even this rule may not hold in certain cases. Last month, CFIUS did not approve an effort by Tencent Holding Limited, NavInfo Co., Ltd., a Chinese digital map and software company, and Singapore state investment firm GIC Pte. Ltd. to jointly buy a 10% stake in U.S. digital mapping company HERE. NavInfo and HERE intended to form a 50/50 joint venture to pursue location services for Chinese and global customers. The deal was withdrawn afterward.
Hoff explains that CFIUS took action in this case because it can do so when the deal reflects some other intent, such as a foreign investor working with the company management to decide the direction of product development.
A Global Hunt
With CFIUS review making acquisitions in the U.S. appear more uncertain than anytime in the recent past, Chinese investors are increasingly looking to other countries for deal opportunities.
"Under a tougher regulatory environment, we have seen some Chinese investors shifting from the U.S. to look for targets in Europe, Israel and Japan. We expect investments in these regions will increase in the short term," said Ke Geng, managing partner at O'Melveny & Myers.
For example, while Chinese investments in the U.S. have declined, investments in the U.K. by Chinese companies have picked up. China has invested in 21 projects in the U.K., totaling US$1.6 billion this year, compared with 18 deals totaling US$0.9 billion last year.
In June, Chinese e-commerce firm JD.com Inc. invested US$397 million in a U.K. online fashion e-commerce platform Farfetch. And shortly after, being blocked from buying Lattice Semiconductor, Canyon Bridge Capital, backed by Chinese state capital, said it would acquire U.K. designer of graphics chips Imagination Technologies Group Plc for US$675 million. It's notable that part of that deal involved Imagination selling off its U.S.-based embedded processor unit, ostensibly due to fear of CFIUS review problems.
Israel is another beneficiary of China's appetite for tech investments overseas. The aggregate deal size of China-Israel venture capital investments grew to US$0.4 billion from US$0.2 billion last year, despite the total number of deals decreasing a little, according to Preqin.
Most popular are the types of technology investments that the U.S. government is preventing. China's Glory Ventures participated in a US$ 65million series B round in Innoviz Technologies, Inc., an Israeli autonomous vehicle sensing products maker in September. BOE Technology Group Co., Ltd, a Chinese supplier of display products, invested US$50 million in Israeli medical devices maker Cnoga Medical Ltd. in March.
"The uncertainty in the U.S. and the lack of similar restrictions in Israel is certainly part of the grounds that draw Chinese investor to look for alternative sources of technology and Israel is a very strong one," said Yoav Sade, a partner at international law firm Meitar Liquornik Geva Leshem Tal, in Israel.
Longer And Tougher CFIUS Review Expected
The uncertainty over investing in the U.S. is expected to be drawn out, and could even get worse. The U.S. Congress is considering CFIUS reforms to extend the review areas to tighten foreign, especially Chinese, investments in technology start-ups engaged in developing commercial technologies that may also have defense or intelligence applications. Certain areas such as robotics, artificial intelligence, automation, and semiconductors – exactly the core interests for Chinese investors – are seen as especially sensitive areas.
Both Ke Geng and Paul Hoff expect CFUIS review will take longer and be more detailed in the future, and Chinese investments will face significant challenges if the Congress passes legislation of CFIUS review standards.
Others, however, take a more constructive view. "The future trend of Chinese investors continue to diversify their portfolios globally is very certain, any short-term fluctuations will have limited impact on that long-term trend," said Zhang Jielong, managing director at CBD Capital, the international investment arm of China Development Bank. "What we can do is to actively work with regulators to improve communication and smooth out the process."
Moreover, Kunlun Hong, CEO of Chinese investment firm Arbor Lake Capital, points out that most investments do not involve critical technologies that fall under CFIUS review. "In the long-term, China-U.S. investments is win-win because many small and medium-sized enterprises in the U.S. want Chinese capital and access to China's market and China needs advanced technologies for its industrial upgrade."