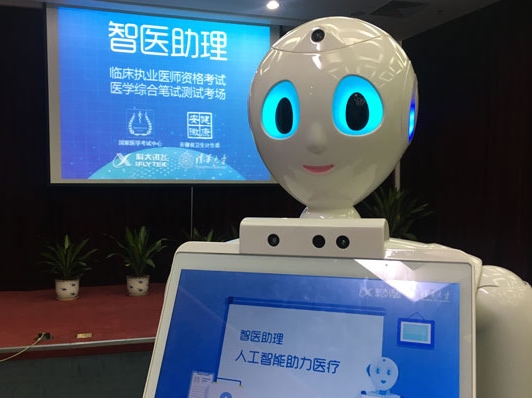 An artificial intelligence enabled robot has passed the written test of China's national medical licensing examination for the first time, marking another milestone in the quest for AI technology to match or surpass human intelligence. Named Xiaoyi, the robot developed by Tsinghua University and Chinese information technology firm iFlytek, achieved a score of 456, 96 points higher than the required mark of 360 points, according to a company announcement.
To pass the text, Xiaoyi was required to memorize and understand the contents of one million medical images, 53 medical books, two million medical records, and 400,000 pieces of medical literature and medical reports, a task which normally takes five years of study by a medical student. The robot reportedly failed an earlier attempt to pass the test.
"Xiaoyi's successful pass in the written exam represent a significant development in the field of cognitive intelligence," said iFlytek in the company announcement. "The robot's learning ability is built on the multi-semantics deep learning algorithm, allowing it to study medical concepts from textbooks, guidance and medical records to build a massive medical knowledge base. While its knowledge application ability is built on algorithms of keyword semantics reasoning and evidence chain semantics reasoning."
The company plans to commercially launch the robot next March for medical education and training. It will also be used to assist doctors in clinical diagnosis and treatment to improve diagnosis accuracy and shorten treatment time.
"It is not meant to replace doctors. Instead, it is to promote better people-machine cooperation so as to boost efficiency," Liu Qingfeng, chairman of iFlytek, told Chinese media.
The development of iFlytek's medical robot is in accordance with China's plan to become a world-leader in the AI industry by 2025. The Chinese government released a plan this July to grow the nation's AI core industry to RMB1 trillion (US$152.5 billion) by 2030.
This August, Hunan Zhichao Medical Technology Company also debuted a medical robot. It takes 4.8 seconds for that robot to scan and diagnosis 100 medical records, and only 0.05 seconds to review each medical case. The company claims its AI robot has improved diagnosis accurate rates by 20% compared with traditional methods.