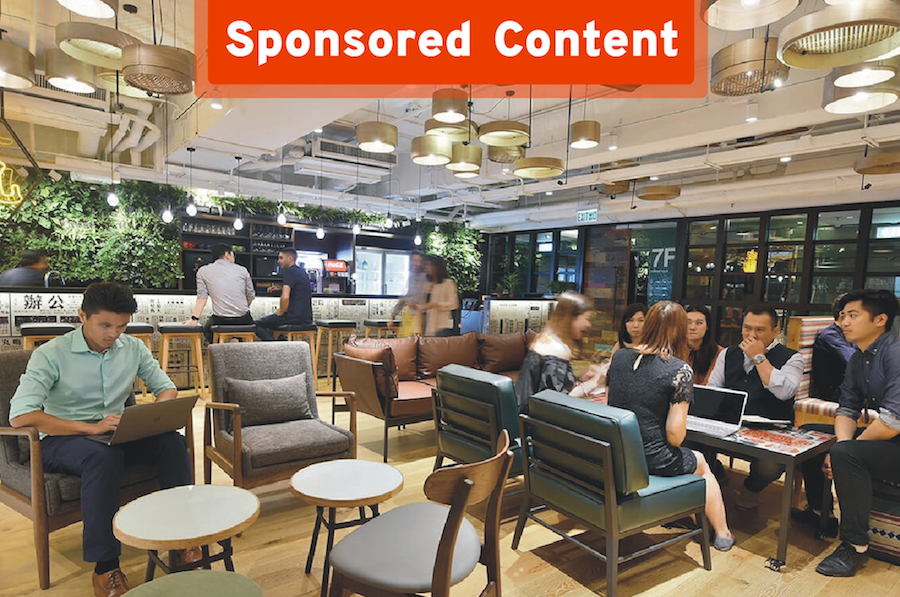 Entrepreneurs, start-ups and companies are drawn to the flexible, vibrant and energizing atmosphere at naked Hub co-working space in Hong Kong, the newest and hippest shared work place in the metropolitan. "Hubbers", what naked Hub calls its tenants, found the work environment that comes with bright yellow bean bags and unlimited free beer an ideal place for networking, business cooperation at affordable prices.
"when I introduce myself to a fellow hubber…there's a natural curiosity to dig deeper…because it was in an environment that facilitates and encourages that," said Jordan Kostelac, a senior workplace strategist of U.S.-based real estate-focused investment management company Jones Lang LaSalle Inc., who is a hubber at naked Hub's newly opened location in Sheung Wan.
Another hubber, Devin Ehrig, a partner at virtual reality agency Shadow Factory, found that working in a sharing space like naked Hub can be helpful for the company's development.
"The sharing environment in which everybody is coming in and out, working on different projects matches that sharing environment most of the creative industries have always had," Ehrig said. "And so for us, we found that to be quite helpful to which there's always been an element of sharing within that community and how you operate."
"When we want to start a studio, what we're looking for in a space is not so much about the square footage, but we also need to make sure that we have an environment that's conducive to the creative development of concepts we're building," Enrig added.
With advantages including low start-up cost, flexibility, energy saving and networking opportunities, the co-working industry is expected to continue to expand in Asia. According to Small Business Labs, an organization tracking small business trend around the world, the number of people renting at co-working spaces will grow from under one million in 2016 to nearly four million by 2020 globally. Figures from JLL indicate that co-working may account for 2% of the whole office market in the world by 2020.
Naked Hub is the co-working arm of hospitality brand naked Group. The company was founded in 2015 and currently operates 16 locations in Beijing, Shanghai and Hong Kong. Naked hub's space in Hong Kong, located in Sheung Wan and Sai Ying Pun, were officially opened in October. The Sheung Wan location takes up 16 floors in an office building once block away from the MTR station, while the Sai Ying Pun location serves 300 people across four floors of bright and artfully designed space.
"The whole idea is we create a space for everything, and in co-working I can have them, and there's a place where I can sit in an open environment and it's a place I consider the bar," Grant Horsfield, founder and chairman of naked Group, commented on the philosophy behind naked Hub.
Naked Hub is one of the newest and most noteworthy brand in the co-working space in Asia, while the rise of co-working space industry will have a significant impact on the commercial real estate industry. According to an article published by real estate servicer HFF Inc., co-working has spurred additional investments into restroom upgrade, and it is much denser in terms of employees, sometimes twice as much as a traditional office user.
However, the biggest impact on commercial real estate landlord may be the reliance on co-working operators to withstand any future economic downturn, HFF added. "Co-working and sharing is co disruptive, that's why it's going to change the whole real estate industry," said Dominic Penaloza, chief innovative officer of naked Group. "30% of the world will be flexible office space in the coming 13 years. So by 2030 imagine that one third of every office building in Hong Kong and in the world will be flexible and within flexible co-working is probably the biggest segment so we're in the just the early stage like I said stage 1 or stage 2 of a massive revolution."