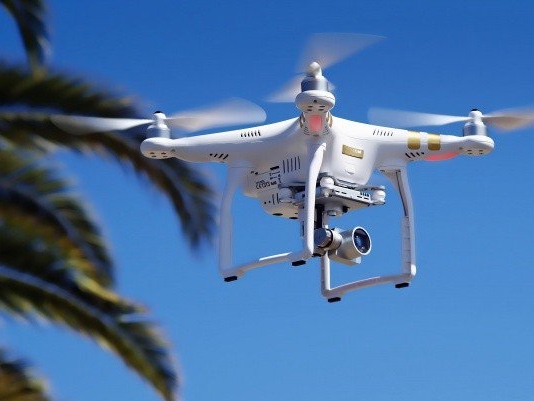 The world's largest consumer drone maker DJI has vehemently denied accusations from U.S. Immigration and Customers Enforcement (I.C.E) that the company's drones have been collecting sensitive data on American infrastructure and sending it back to the Chinese government.
"The bulletin is based on clearly false and misleading claims from an unidentified source," DJI responded to the accusation in a company statement.
I.C.E released a memo in August, which only started to circulate online recently, saying DJI's drone operating apps, named DJI Go and Sky Pixels, can automatically tag GPS imagery and locations, register facial recognition data even when the system is turned off, as well as capture information including user identification, e-mail addresses, full names and computer credentials.
The memo focused on drones used by companies and institutions instead of individual consumer users. It said DJI has targeted a number of U.S. companies in the critical infrastructure and law enforcement sectors for marketing purposes since 2015. As of July 2017, at least ten large American companies have been using its drones.
"DJI targets key federal, state, and local law enforcement entities through exhibits at trade shows across the United States," I.C.E said.
In its defense, DJI said that many of the allegations are "obviously false", and "the claims that DJI systems can register facial recognition data even while powered off, that Parrot and Yuneec have stopped manufacturing competitive products, and that DJI products have substantial price differentials between the U.S. and China can be easily disproven with a basic knowledge of technology and the drone industry, or even a simple Internet search".
"Other allegations in the report are similarly unsupported by facts or technical analysis," the company added.
In a more practical response, DJI launched last month a "local data mode" on its drone products, allowing customers to use its devices without exchanging any data with the pilot and the Internet, after the U.S. Army asked its member organizations to stop using DJI drones due to potential securities concerns in August.
It is not the first time that Chinese technology companies have been accused of stealing data overseas. In 2014, Chinese smartphone maker Huawei Technologies Co. Ltd. and ZTE Corp were banned from bidding for U.S. government contracts due to concerns over espionage.
Later in 2016, it was found that Huawei and ZTE smartphones have pre-installed apps that can collect users data every 72 hours, including the locations they visited, the person they talked to and the content they sent in messages. U.S. authorities said at that time that it was not clear whether the data collected was for the companies' marketing purposes, or for use by the Chinese government. Huawei and ZTE Smartphones have the same pre-installed apps in all their phones sold in China. It's unclear if phones sold by Huawei and ZTE in other countries have similar apps collecting user data.
Earlier this week, three hackers from Chinese Internet security firm Guangzhou Bo Yu Information Technology Co., Ltd. were accused by U.S. authorities of stealing high-tech trade secrets, including satellite systems technology.
Founded in 2006, DJI, officially known as Dajiang Innovations Science and Technology Co., Ltd., has developed both customer and enterprise drones. The company is the world's leading civilian drone maker, with a global market share of around 70%. It has also obtained a 53% market share of commercial drones worldwide, according to Interact Analysis. It is also an important player in North America with 50% of local market share, according to Skylogic Research.
DJI, a unicorn listed on China Money Network's China Unicorn List with US$10 billion valuation, previously raised two financing rounds. In 2015, it reportedly raised approximately US$500 million from investors including New China Life Insurance Co Ltd, GIC, and New Horizon Capital. Four months prior, it completed a US$75 million funding round from Accel Partners and Kleiner Perkins Caufield & Byers.