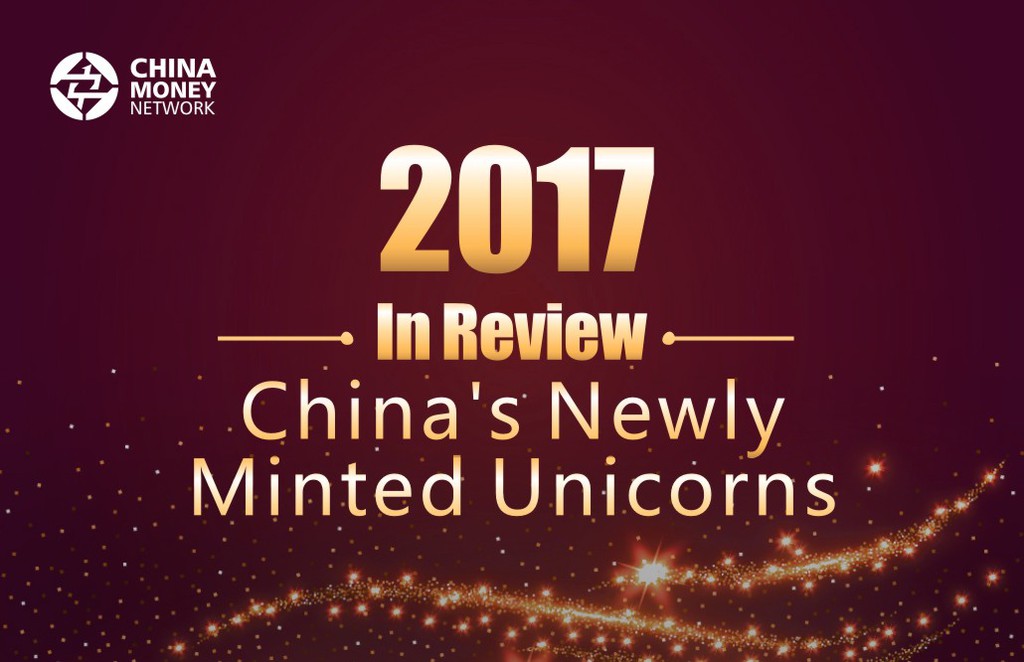 China continued to be a breeding ground for tech unicorns in 2017, with 22 private companies receiving a valuation of US$1 billion or more for the first time. The 2017 vintage unicorns boast a total valuation of US$37.3 billion, accounting for more than a third of the total newborn unicorns worldwide, and 38% in terms of valuation, China Money Network's data shows.
Even though China produced the second largest number of new unicorns – the U.S. fielded 24 new unicorns this year – new Chinese unicorns boosted the highest total valuation globally, higher than the US$34 billion total valuation for new American unicorns. The overall pace of new unicorn births, however, is slowing down in China. This year's 22 new unicorn number is lower versus 33 in 2016 and 31 in 2015.
And who is funding all these new unicorns? According the China Money Network's data, Internet giant Tencent backed six new unicorns this year, followed by Sequoia Capital China, which invested in four new unicorns. Matrix Partners, Qiming Venture Partners and IDG Capital supported three new unicorns, while Alibaba Group and Hillhouse Capital backed two new unicorns.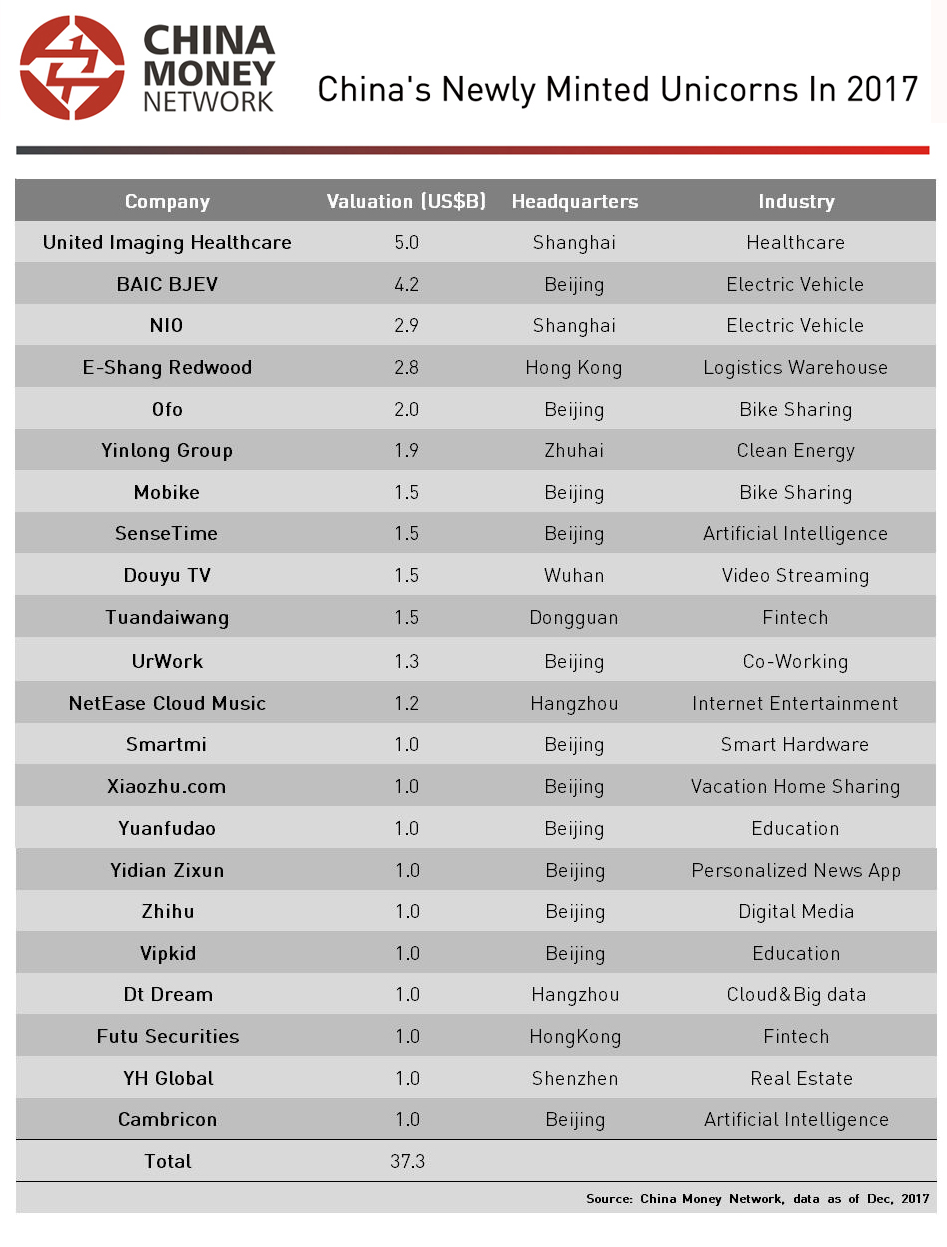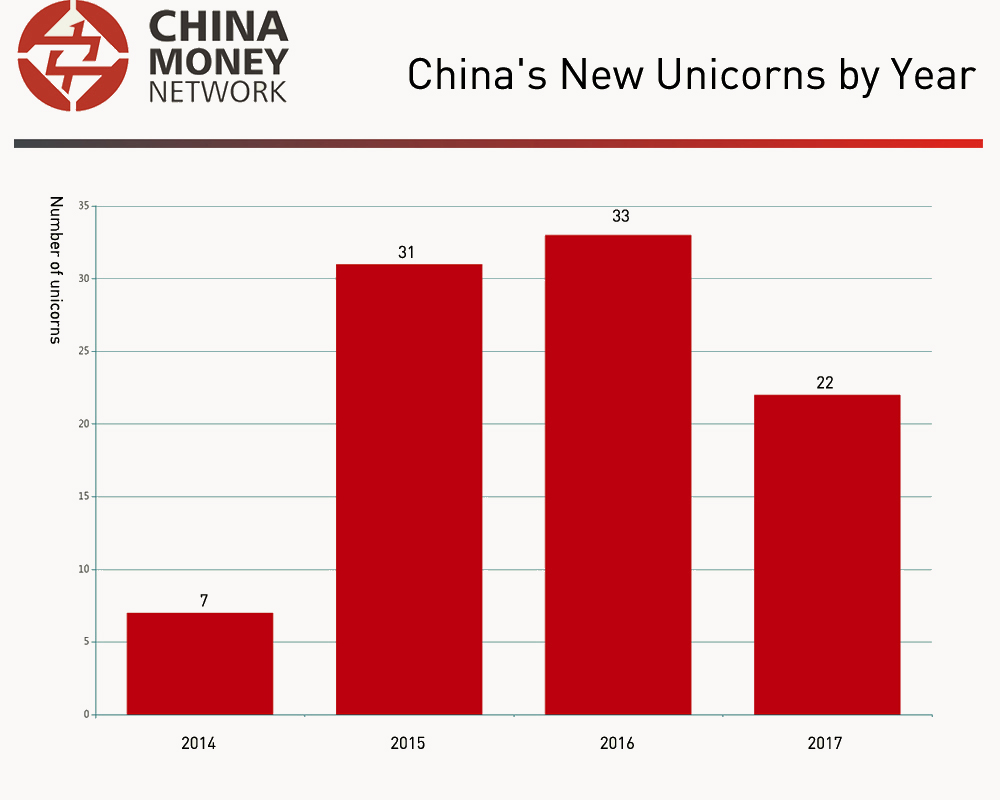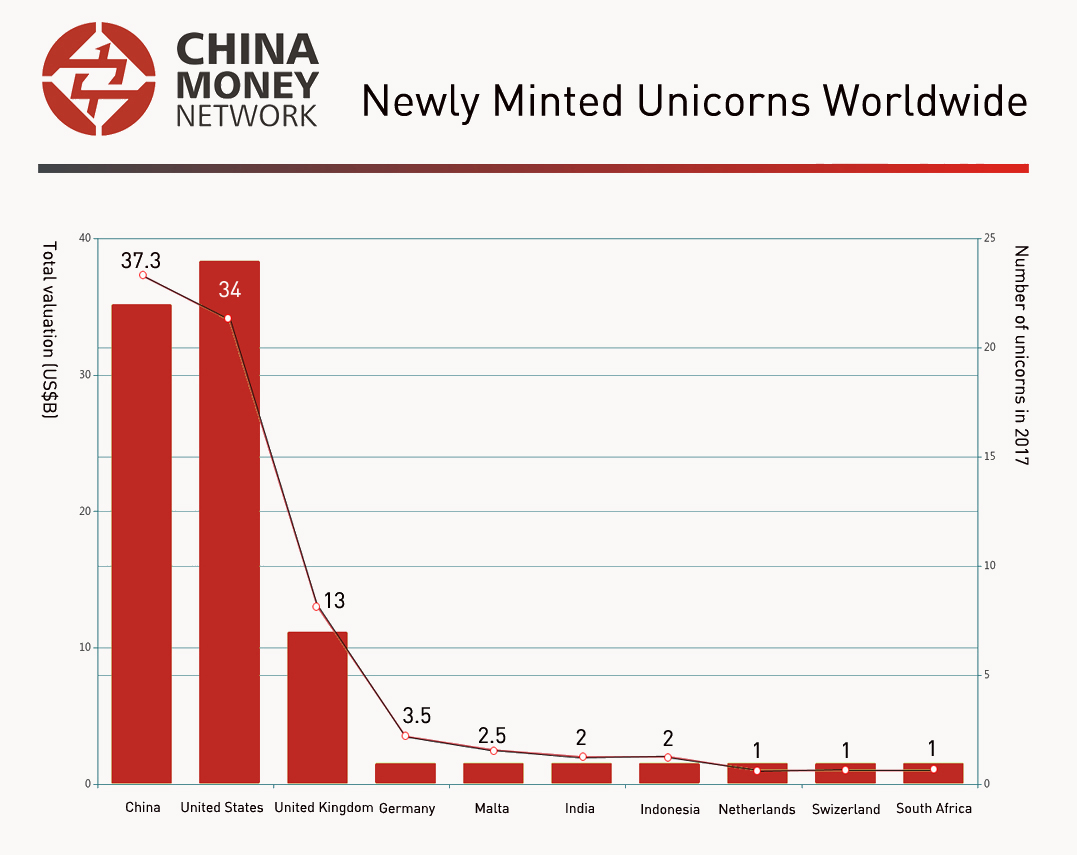 The highest valued Chinese unicorn born this year is medical imaging equipment developer United Imaging Healthcare, which is valued at US$5 billion. It is followed by two electric vehicle makers Beijing Automotive Group's (BAIC Group)'s electric vehicle business unit BAIC BJEV, and Shanghai-based NIO, valued at US$4.2 billion and US$2.9 billion, respectively.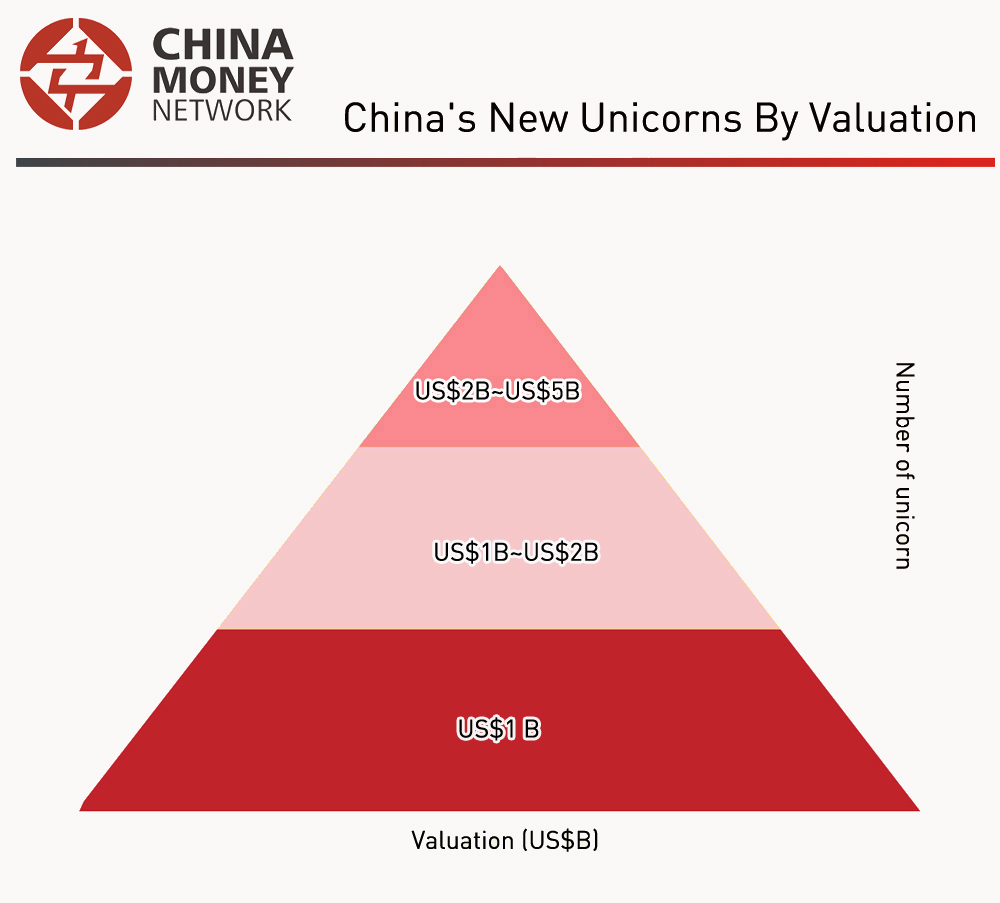 In terms of industry, auto and transportation, real estate and construction, media and entertainment are the top sectors giving birth to the most unicorns, each producing four new unicorns this year. The rise of the sharing economy, electric vehicle start-ups, video streaming and personalized news apps are also noteworthy.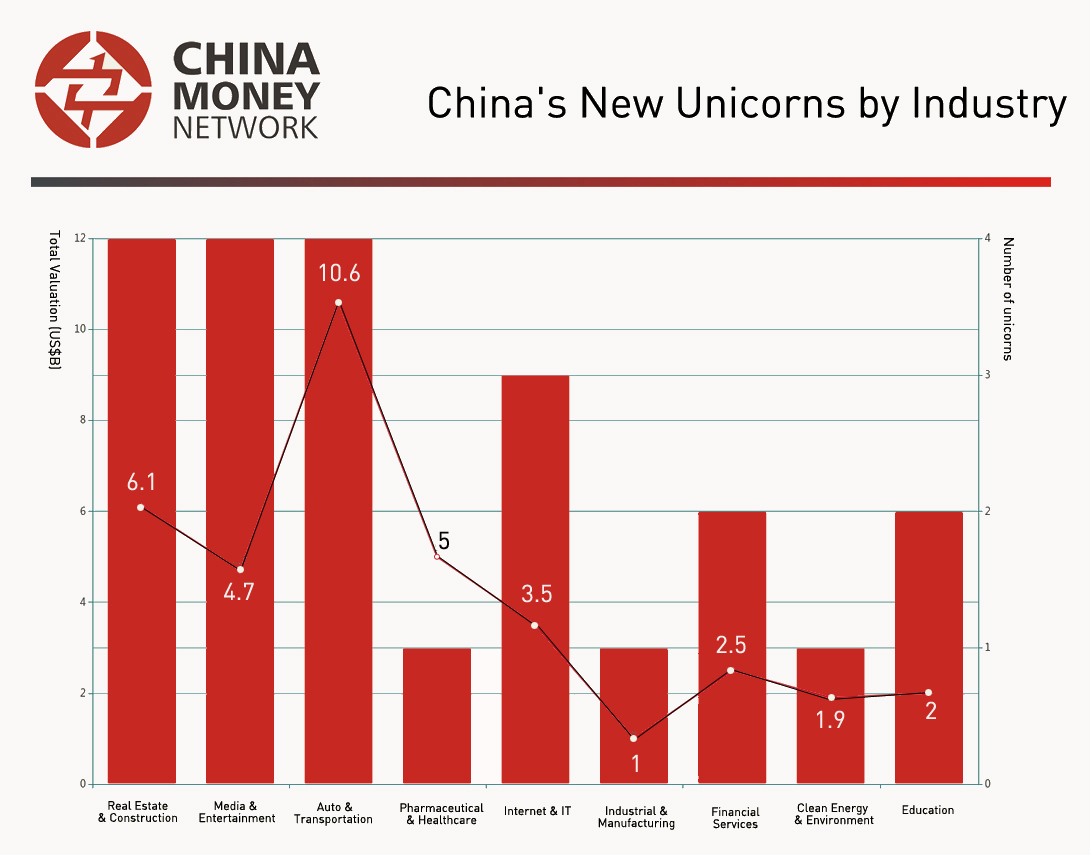 Beijing has become a hotbed for unicorns as it is home to 12 unicorns with total valuation of $17.5 billion. Shanghai, Hangzhou and Hong Kong each claimed two unicorns. Hong Kong saw the birth of its first unicorn ever, in June, when Futu Securities, an online brokerage platform serving Chinese investors trading U.S. and Hong Kong-listed stocks, reached the magical US$1 billion valuation mark.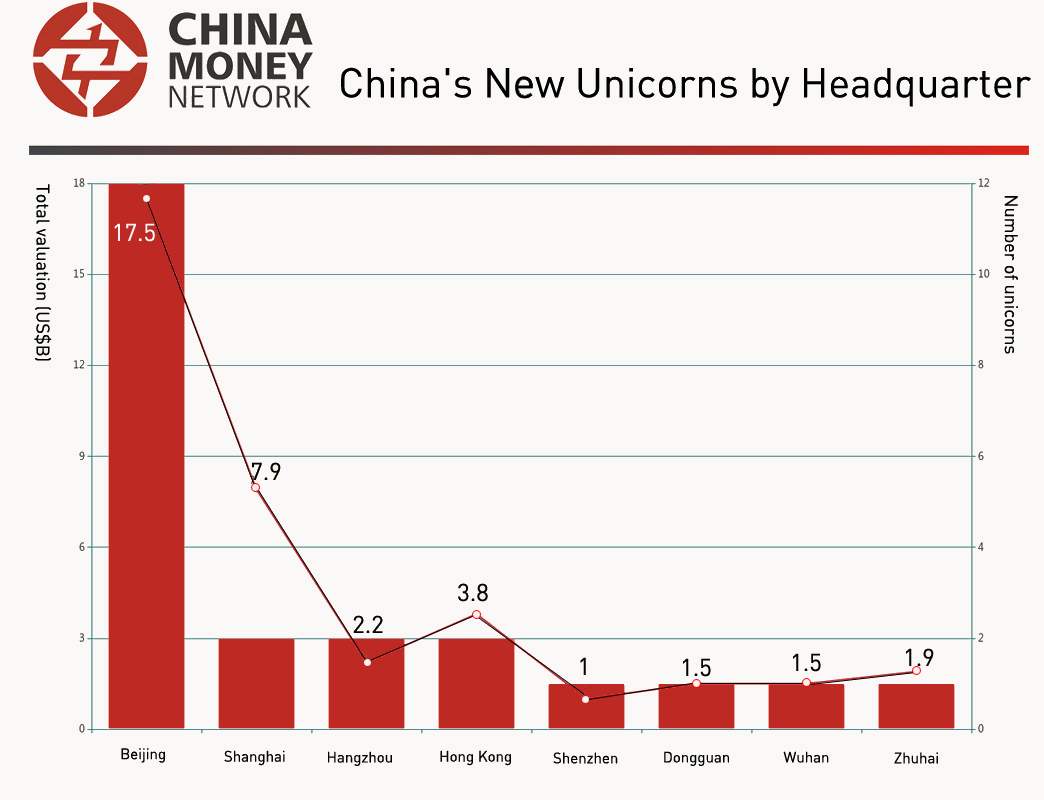 It's also noteworthy that several companies have "fallen" from unicorn status in 2017, which China Money Network has tracked throughout the year. Le Sports, the sports unit of struggling Chinese tech conglomerate LeEco, fell after a reported RMB3 billion fundraising fell through in January and the company subsequently defaulted on key business contracts.
Chinese e-book mobile app developer Zhangyue was caught lying about its financing round and valuation and was removed from China Money Network's China Unicorn Ranking. Struggling in the face of intense competition, Baidu Waimai, the food delivery arm of Baidu, was acquired by its competitor Ele.me in August for US$800 million.