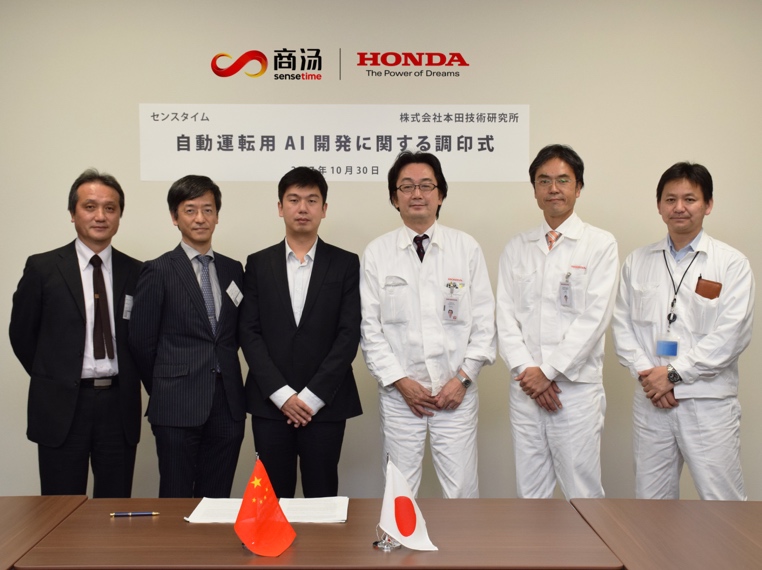 Chinese artificial intelligence start-up SenseTime has signed a long-term development agreement with Japanese car manufacturer Honda to build smart artificial intelligent cars with autonomous driving.
The partnership follows a couple of important strategic initiatives taken by SenseTime, including leading a RMB210 million series B round two days ago in 51HiTech, a Beijing-based virtual reality and augmented reality start-up. Last month, SenseTime received an undisclosed amount of investments from Qualcomm to have its AI algorithm coupled with Qualcomm's chips for applications in smartphones, cameras, robots and Internet of Things devices.
The partnership with Honda will leverage Honda's vehicle control system with SenseTime's AI algorithms to jointly create an autonomous driving solution system. The two companies also announced that they will work together to develop robot technology, according to a company announcement.
What's noteworthy of the planned autonomous driving solution systems is that they can be deployed in the absence of high-resolution maps, allowing them to cover an even wider array of driving conditions. Based on computer vision technologies, the solution allows a vehicle to self-drive without a detailed map covering its trajectory. This autonomous driving solution offers advantages to a variety of passenger vehicle scenarios and will also lower transducer manufacturing costs.
"Safety is the number one priority when it comes to driving, and it also constitutes the core of our autonomous driving solution," said SenseTime Japan CEO Lao Shihong, "By combining SenseTime's strengths in computer vision technologies with Honda's superior vehicle control technologies, we will together enable a safe and pleasant autonomous driving experience. Moreover, the fact that SenseTime provides core technology to a global enterprise like Honda marks a milestone."
SenseTime, with a set of core technologies and patents for autonomous driving, has also developed chips and embedded systems for smart AI cars. The partnership between SenseTime and Honda is expected to accelerate the research and development of smart AI cars with autonomous driving solutions.
Founded in 2014, SenseTime is a unicorn listed on China Money Network's China Unicorn List. The firm focuses on computer vision and deep learning technologies, providing applications in the field of face recognition, language recognition, vehicle recognition, object recognition and image processing.