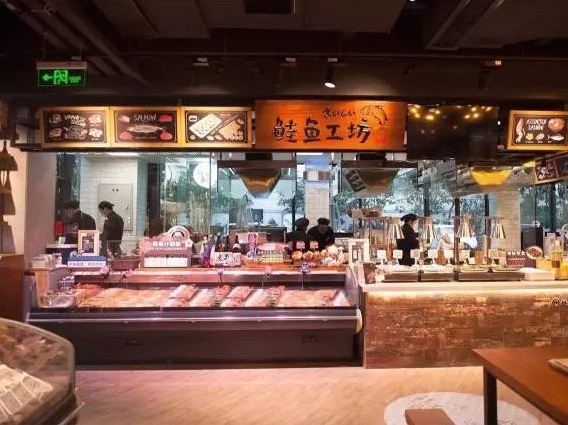 Chinese tech giant Tencent Holdings Ltd. plans to buy a 5% stake in Shanghai Stock Exchange-listed Yonghui Superstores, in a move to compete against rival Alibaba Group Holding Ltd. in the new retail space.
According to a regulatory filing by Yonghui earlier today, Tencent is making the investment via its investment management affiliate Linzhi Tencent. It also plans to acquire a 15% stake in Yonghui Yunchuang, an operator of a new concept retail store that works similarly to Alibaba's Hema Supermarket.
No financial details were disclosed in the announcement. Yonghui suspended trading of its stock last Friday. Neither Tencent or Yonghui responded immediately to an inquiry from China Money Network for comments.
Tencent's investment is seen as a bid to compete with Chinese e-commerce giant Alibaba, which is aggressively pursuing a "new retail" business model combining online and offline retail experiences. Hema Supermarket, for example, lets users purchase products online after viewing or tasting items in a brick-and-mortar store.
Tencent is expected to support the growth of Yonghui's newly established business Super Species, operated by Yonghui Yunchuang. Super Species operates small-sized supermarkets that combines online shopping and dining. Launched earlier this year in Fuzhou city, customers can buy fresh produce, like salmon and prime beef, then have them cooked in the store and order them to be delivered to their home for future consumption. Currently, Super Species operates 11 stores and aims to open over 100 stores in total next year.
Alibaba's fresh produce unit Hema Supermarket was launched last January in Shanghai, and currently operates 20 stores in cities including Beijing, Shenzhen, Hangzhou and Guiyang.
Competition in the new retail sector between the two tech firms has intensified over the past few months. In August, Alibaba unveiled its plans to transform 10,000 mom-and-pop convenience stores across China into a vast network of Tmall.com brick-and-mortar outlets, as part of its broader plan to turn six million convenience stores into smart services centers equipped with Alibaba's e-commerce infrastructure and financial technology capabilities. Last month, it formed a strategic alliance with French retailer Auchan Retail S.A. and Ruentex Group to invest a total of HK$22.4 billion (US$2.88 billion) to obtain an aggregate 36.16% stake in Sun Art Retail Group Ltd., to support its new retail push.
Tencent is also investing aggressively in the sector. In 2014, it teamed up with GX Capital to invest US$10 million in fresh produce e-commerce mobile app MissFresh, and later led a RMB200 million (US$31 million) series B round and participated in a US$100 million series C round in the company in January. In April, Tencent, together with eBay Inc. and Microsoft Co., jointly led a US$1.4 billion round in India's leading e-commerce platform Flipkart.
Tencent's previous investments into e-commerce had recorded disappointing results. Its investment in Paipai.com ended as the company shut down last year. Electronic products platform Yixun, invested by Tencent, is struggling to maintain its services. Earlier Tencent investment, Chinese shoe trading platform Haolemai, went bankrupt in 2014.

Update on Jan 31st, 2018:
Tencent Linzhi has agreed to acquire a 15% stake in Yonghui Yunchuang for RMB187.5 million (US$30 million). Once completed, Tencent will become the second largest shareholder of Yunchuang, behind Yonghui Superstore.