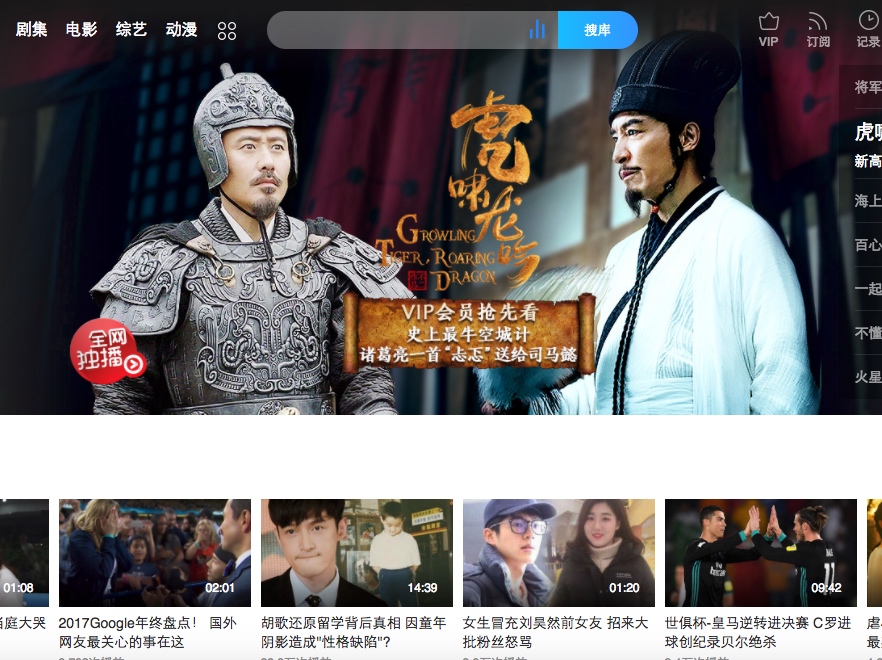 Youku Tudou, the struggling video hosting and streaming arm of China's Alibaba Group Holding Ltd, has signed two licensing deals with NBCUniversal and Sony Pictures Television. The deals comes as Youku Tudou continues to lose ground to rivals including Tencent Holding Ltd. and Baidu in the entertainment sector.
Under the agreement, Youku's subscribers will be able to watch hundreds of films from NBCUniversal and Sony Pictures for an additional fee. It enables Youku users to have faster access to new and upcoming movies from each of the two studios, which include Sony's Blade Runner 2049 and NBCUniversal's upcoming film Jurassic World 2: Fallen Kingdom.
It marks the latest move by Alibaba to revitalize its entertainment business. Last month, Youku partnered with Netflix for the U.S. entertainment firm to distribute Chinese online drama series Day and Night. Eight months prior, its strongest rival, Baidu Inc's video content platform iQiyi, also signed a contract with Netflix, obtaining the streaming rights in China to Netflix's popular dramas, cartoons, documentaries and reality shows.
"By cooperating with NBCUniversal and Sony Pictures Television to show famous Hollywood films on our platform, we can bring richer global content into Alibaba's entertainment ecosystem,"said Yang Weidong, President of Youku. "I am confident that expanding our relationships with more international studios will further enhance our platform's penetration into the home entertainment business and push the online video and OTT (over the top) businesses to greater heights."
Youku Tudou was established in 2012 by a merger between China's top two online video companies at that time, with Youku.com buying Tudou Holding Ltd for over US$1 billion. The merged company was an industry leader in 2012, holding one third of the market share in the country. Later in 2016, Alibaba completed a US$4 billion takeover of Youku Tudou, as the e-commerce giant built up its entertainment industry portfolio.
However, the unit has continued losing money due to the high cost of content. In the first quarter of Alibaba's financial year, Youku Tudou recorded operation loss of RMB3.3 billion (US$500 million), up 240% year-on-year.
In addition, Youku Tudou has lost its leading position in China. As of this January, iQiyi was the country's largest video content platform in terms of the number of monthly active devices, while Tencent Video and Youku Tudou were ranked second and third respectively with only half of the number of monthly active devices of iQiyi, according to iResearch.
On the production side, Alibaba acquired ChinaVision Media Group Ltd in 2014 for US$800 million, which is now known as Alibaba Pictures Group. Alibaba's founder Jack Ma made his movie debut last month in a 20-minute film named Gong Shou Dao, whose cast includes top action stars such as Jet Li, Donnie Yen, Wu Jing and Tony Jaa from Thailand.
However, the Hong Kong Stock Exchange-listed film company has so far not managed to produce any hit movies, and posted a loss of RMB485 million (US$73 million) in the first half this year, compared with RMB465.9 million (US$70 million) same period last year.