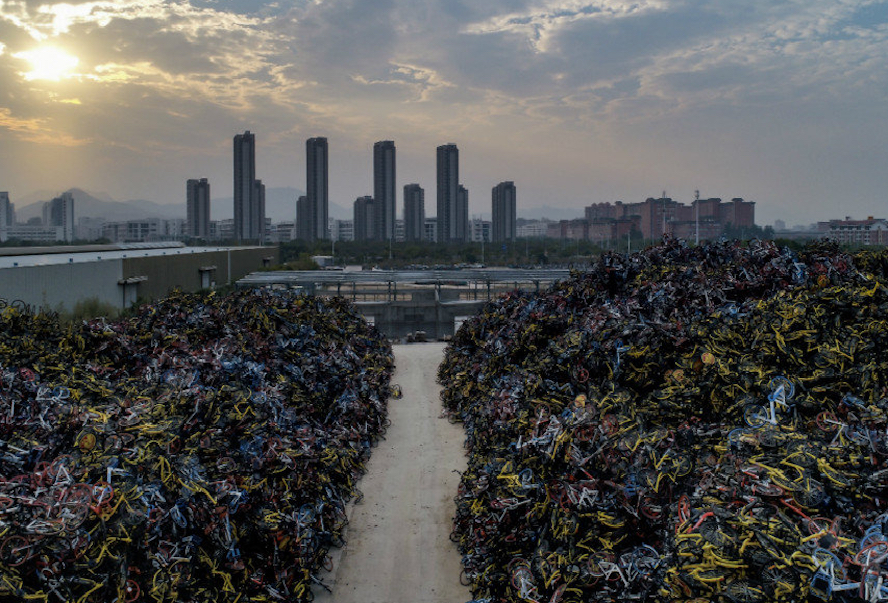 To merge or not to merge? This is a question now beyond the control of the two companies most expected to combine in China at the moment: bike sharing unicorns Mobike and ofo.
That is because their respective ultimate backers, Tencent Holdings Ltd. and Alibaba Group, both want to dominate the industry believed to shape the long-term future of urban mobility in China. Neither is willing to let the other own a larger share in the biggest Chinese bike sharing company – if the merger was to take place – which is estimated to have combined hundreds of millions of users and is expected to grow.
For Tencent and Alibaba, each with US$484 billion and US$444 billion in market capitalization, respectively, bike sharing will continue to be a critical venue for promoting mobile payment services and an important entry point to access user data.
The outcome of the merger, which appears unlikely in the near future, is particularly critical for Alibaba. It was considered a setback for Alibaba as it ended up owning fewer shares than rival Tencent in China's biggest ride sharing company Didi Chuxing after two start-ups each backed by the two technology giants merged in 2015. As of the beginning of 2017, Tencent and Alibaba were reported to own 11.4% and 9.5% of Didi Chuxing, respectively.
Investors of Mobike and ofo, a long list of 35 investment institutions of the "Who's Who" in China's venture and tech sectors including Sequoia Capital China, Hillhouse Capital, Warburg Pincus, Hony Capital, GSR Ventures and Sinovation Ventures, started deal discussions in October, according to Chinese media reports citing insiders.
Mobike's largest shareholder Tencent and ofo's biggest shareholder Didi Chuxing reportedly agreed on key merger terms. Alibaba, upon learning the news, objected, according to news reports citing insiders who have knowledge of the deal discussions.
For Alibaba, a Mobike-ofo merger led by a Tencent-Didi alliance would be deeply troubling. Mobike and ofo each register 40 and 50 million daily orders. A merged Mobike-ofo, under the control of Didi Chuxing, which records 20 million daily orders, will pose a big threat to Alibaba that sees up to 50 million daily orders on its e-commerce platforms.
In addition, ofo founder Dai Wei is unwilling to lose control of the company he founded in 2014. Another strategic investor of ofo, Chinese group-buying and on-demand services provider Meituan Dianping, is also hoping to leverage ofo's last-mile mobility solutions to its own ride sharing services.
To solidify its position in bike sharing, Alibaba is reportedly considering making another strategic investment in ofo. In April, Ant Financial, the financial services affiliate of Alibaba, already made a strategic investment in ofo but did not disclose the value of the investment.
The Chinese news reports also revealed that both Mobike and ofo have been using user deposits for other purposes, instead of putting them in third-party custodian bank accounts. As of December 1, ofo has used RMB3 billion of user deposits to pay for suppliers, while Mobike has used over RMB4 billion for other commercial purposes.