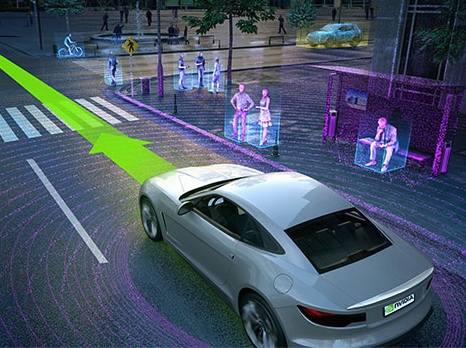 Baidu Inc. has teamed up with U.S.-based chip developer Nvidia Corp. and German car parts maker ZF Friedrichshafen AG to create a production-ready artificial intelligence autonomous vehicle platform designed for China, as the Chinese tech company continues to double down on autonomous driving businesses.
The solution can scale from Level 2 automation, where cars can automatically manage the speed and the steering under certain conditions, to Level 5 of fully automation. Production vehicles utilizing AI self-driving technologies from the system are expected to be on the roads in China starting in 2020, the company announced in a press release.
The collaboration is based on Baidu's Apollo Pilot, an autonomous driving product targeted for mass production, developed by its open-source platform Apollo, as well as Nvidia's autonomous machine DRIVE Xavier and ZF's new ProAI car computer.
Baidu launched Apollo Pilot last November. The company said that it can deal with a large amount of complex real-life traffic situations in China, and has partnered with China In-Depth Accident Study project to have its product design and function to fulfill both Chinese and European standards.
"NVIDIA's AI supercomputing architecture is ideal for our autonomous driving applications, as it can process huge amounts of data from sensors in real time, and localize the vehicle on our high-definition digital maps," said Zhenyu Li, vice president and general manager of the Intelligent Driving Group at Baidu. "We've been working with NVIDIA on developing on-vehicle chips for autonomous driving, which aims to accelerate the pace of mass production of autonomous vehicles."
At the same time, ZF will bring expertise for system integration of the car computer and the sensors. Its new Xavier-based ProAI will process inputs from multiple cameras, plus lidar and radar, paint a 360-degree view around the vehicle, locate it on a high definition map, and find a safe path through traffic.
Baidu launched its autonomous driving platform Apollo last April. So far, the platform has attracted over 70 global and Chinese partners, including Microsoft, Robert Bosch GmbH and Nvidia, Baidu said previously. Later in July, Nvidia and Baidu formed a partnership jointly developing cloud computing, self driving and AI home assistants utilizing Nvidia's DRIVE PX platform.
Last October, Baidu said that it plans to begin the mass production of a minibus in July next year, after it previously announced plans to release a driver-less car by 2018 with mass production to begin by 2021. At that time, it did not disclose any technical details of the bus or its seating capacity.
Last month, the company sent five autonomous driving vehicles powered by its Apollo platform on a four kilometer test drive in Xiongan New Area, a new economic zone in Hebei province, demonstrating the vehicle's capabilities in detecting vehicles and pedestrians on the streets, and simultaneously display road conditions in real time with different colors highlighting different objects.