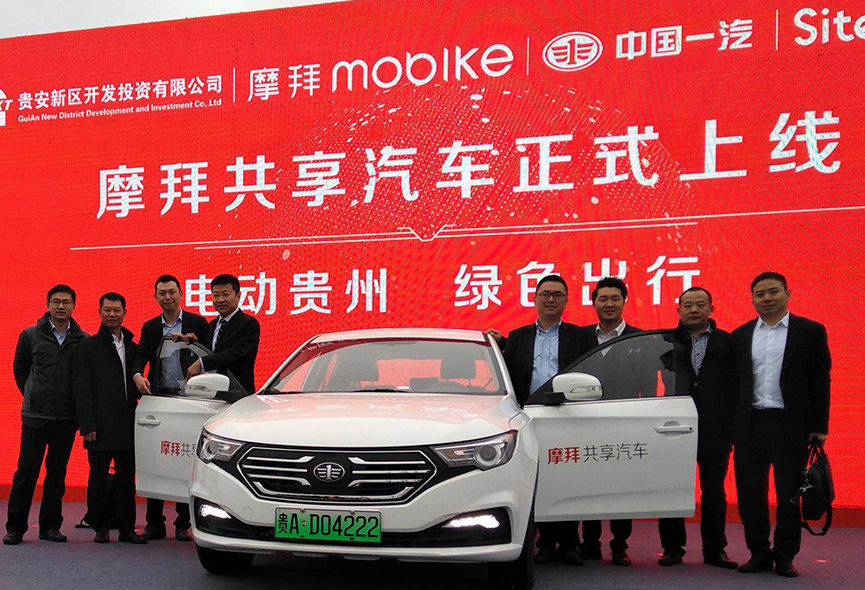 FAW Car Co Ltd., a Shenzhen Stock Exchange-listed passenger car maker will take a 10% stake in bike-sharing firm Mobike's new car-sharing unit Mobike Chuxing Technology Co, according to a  securities filing by FAW.
Mobike's venture in to car sharing could place it in direct competition with China's largest ride sharing firm Didi Chuxing.
The value of FAW's investment was not disclosed in the filing. Mobike Chuxing was launched on December 29th last year in Guizhou Province, with registered capital of RMB20 million (US$3 million). Via Mobike's bike sharing app, users can unlock, return and pay for cars.
According to the agreement between FAW and Mobike Chuxing, the two firms will work to develop new energy vehicles and rental cars and build a platform that integrates vehicles and parking lots and relevant logistics.
Didi Chuxing, meanwhile, appears to striking back by venturing into the bike sharing space, reportedly acquiring collapsed bike sharing firm Bluegogo to gain access to Bluegogo's bike sharing licenses in China's first-tier cities and more than 4.37 million registered users.
Didi is also working on developing its own new energy cars. Last October, it formed a strategic partnership with electric vehicle manufacturer National Electric Vehicle Sweden AB, or NEVS, headquartered in Trollhättan, Sweden.
In January 2017, the Chinese government approved NEVS' application to start production of electric vehicles in its Tianjin plant, the first joint venture company with foreign investors to gain such approval from NDRC.
Mobike's drive into car sharing is supported by massive venture capital investment in the two-year-old company. Last June, Mobike raised over US$600 million in a series E round led by Tencent Holdings Ltd. Its biggest competitor ofo raised more than US$700 million led by existing investors Alibaba Group Holding and CITIC Private Equity, along with new investor Hony Capital last July. Didi reportedly owns around 30% of ofo, but the Didi-ofo alliance is reportedly on the verge of collapse.