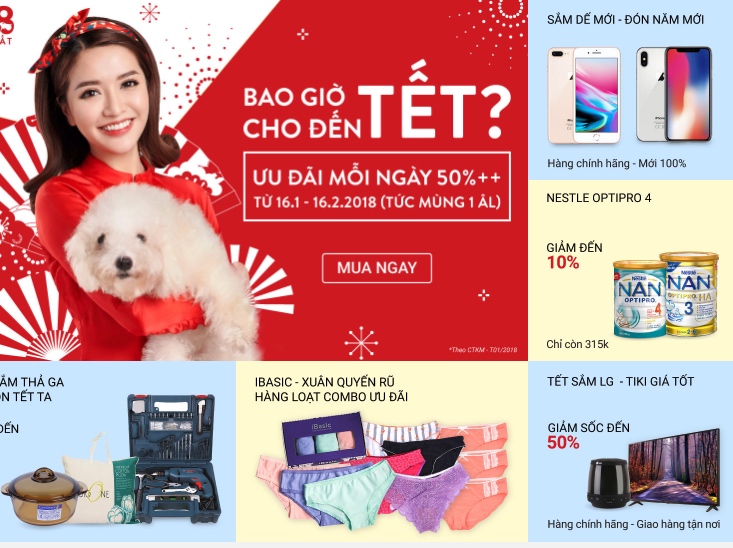 China's e-commerce platform JD.com Inc. has agreed to co-lead a series C round in Vietnam's leading business-to-customer e-commerce platform Tiki, marking JD.com's latest push in the Southeast Asian market to compete with Alibaba Group Holding Ltd and Amazon.com Inc.
No financial details were disclosed in a company announcement. Upon completion of the investment, JD.com will become one of Tiki's largest shareholders.
With the investment, JD.com will partner with Tiki a range of areas including merchandising, cross-border trade, logistics and fulfillment, technology, financing, and operational capabilities.
"We are very excited to continue our Southeast Asia expansion with Tiki, a company that has a deep understanding of Vietnam and a reputation for outstanding customer service," said Winston Cheng, president of International at JD.com. "With JD's expertise in leveraging social media for e-commerce, Tiki's partnership with VNG in social network and mobile payments is a natural fit as we aim to provide differentiated services to suppliers and consumers in Vietnam. We look forward to working with Tiki to deliver a truly world class e-commerce experience to Vietnamese consumers."
As Alibaba and Amazon are battling for the Southeast Asian market, JD.com is also trying to grasp market shares in the region. Last August, JD.com reportedly invested an undisclosed amount of money in Indonesian ride-hailing firm Go-Jek. One month later, JD.com also formed a US$500 million joint venture with Thai retailer Central Group in e-commerce and financial technology.
Later in October, JD.com also led a US$19 million round in Bangkok-based online fashion brand Pomelo.
Founded in 2010, Tiki initially sold e-books, but now it provides a number of types of good including toys, digital devices, lifestyle and beauty products.