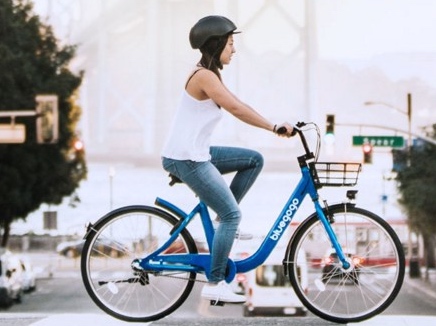 The government of Shenzhen has banned the deployment in its city of bikes by Bluegogo, the bike sharing start-up controlled by China's largest ride sharing firm Didi Chuxing, citing problems with bad debts.
The announcement comes just two weeks after Didi formed a partnership with Bluegogo and started to integrate the services of the collapsing start-up into its newly launched bike sharing platform.
Shenzhen Transportation Committee issued the announcement Friday, asking Didi to stop deploying Bluegogo's bikes in Shenzhen until the start-up's debts and operational problems were resolved. It also warned the public that Didi's deployment of Bluegogo's bikes violates the government regulations on online bike rentals, and anyone who rides Bluegogo's bikes may bear certain risks.
Cash-strapped Bluegogo ceased operations two months ago. Chinese media reported that the failed bike sharing start-up had around RMB200 million (US$31 million) in total outstanding debts owed to about 70 vendors, and was unable to pay its staff or refund users their deposits.
Earlier this month, Didi launched a comprehensive bike sharing platform, with its app integrating the services of Bluegogo, leading bike sharing player ofo and its own bike sharing business. At that time, Didi said that Bluegogo's brand name, deposits, debts and other related properties will be retained by the start-up. However users will have the option to convert Bluegogo deposits, privileges and app top-up values into DiDi bike and car ride coupons of equivalent value.
Last Thursday, Bluegogo posted on the Chinese social media platform Weibo saying the firm's services are now available in Didi's app. It also said it will first restore its services in Beijing and Shenzhen.
Founded in November 2016, Bluegogo deployed 600,000 bikes in just six months. It previously attempted to launch services in San Fransisco and Sydney. The company raised RMB400 million (US$58 million) in total venture funding at a RMB1 billion (US$140 million) valuation.