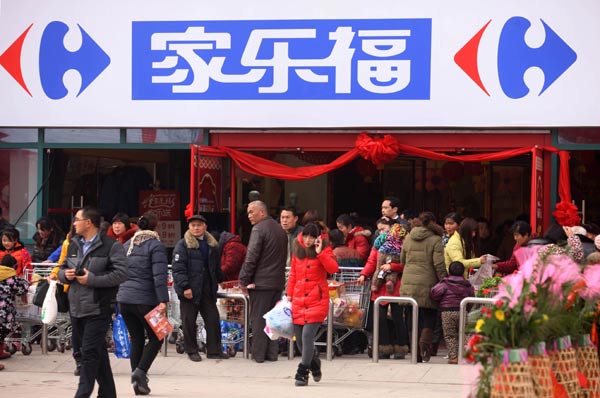 Chinese tech giant Tencent Holdings Ltd. and Shanghai Stock Exchange-listed Yonghui Superstores has signed a term sheet with Carrefour regarding a potential investment in Carrefour China, the French retailer announced today.
The investment is part of Tencent's continuous push in the retail sector in China, further intensifying its direct competition with China's largest e-commerce player Alibaba Group. Last December, Tencent bought a 5% stake in Yonghui Superstores, and made a joint investment with JD.com, Inc of approximately US$863 million in Chinese online discount retailer Vipshop Holdings Ltd. (NYSE:VIPS).
Upon completion of this investment, Carrefour will remain the largest shareholder of Carrefour China.
Carrefour and Tencent also announced they have signed a preliminary agreement regarding a strategic business cooperation in China. The scope of cooperation includes key partnership areas such as cooperation on data, smart retail, mobile payment, in-store experience and data analysis to boost Carrefour China's customer traffic.
"Tencent will further develop the retail services offered on its social platforms and promote the use of Weixin as well as Weixin Pay, cloud computing and other services within the Carrefour ecosystem," said Carrefour in the announcement.
At the same time, Carrefour said it would cut 2,400 jobs in its French headquarters in Boulogne and Billancourt. It also plans to sell 273 former Dia stores it bought from Spanish discounter Dia in 2014 as part of its "Carrefour 2022″ plan aimed at cost savings.
The move comes as Carrefour struggles globally as it booked revenue of EUR88.24 billion (US$108 billion) in 2017, a slower growth of 1.6% compared to 3% in 2016. It is expecting recurring operating income of EUR2 billion (US$2.45 billion) in 2017, a 15% drop at current exchange rates.
"We are currently grappling with a profound global movement," the company said in the announcement.
The strategic cooperation and investment are subject to further diligence and agreement of the parties on the terms of a definitive agreement.