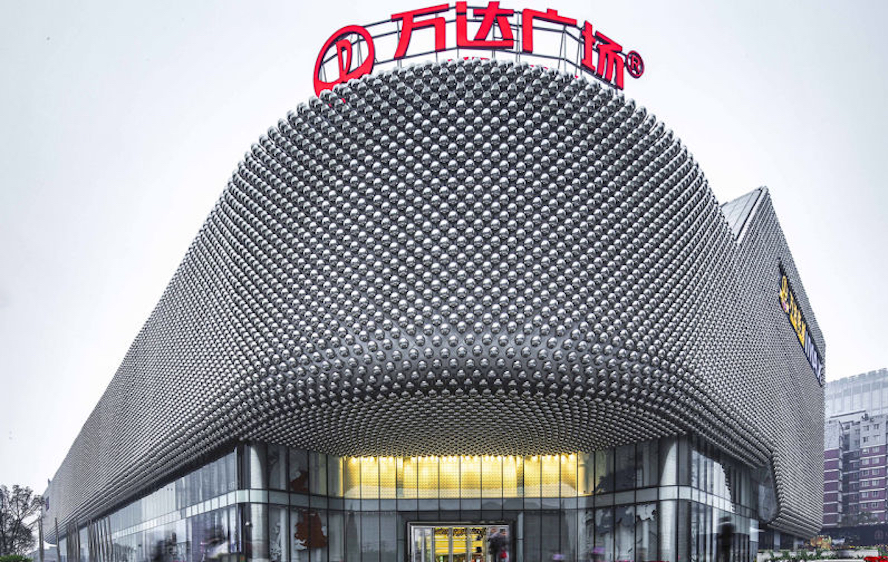 Tencent Holdings Ltd. has teamed up with investors including Suning Holdings Group, long-time partner JD.com Inc. and Chinese property developer Sunac China Holdings Group to acquire around 14% of Dalian Wanda Commercial Properties Co. for approximately RMB34 billion (US$5.4 billion), the Chinese social networking and gaming giant said today.
In an offensive move on the part of Tencent, the agreed deal would be the largest single strategic investment between new age Internet companies and brick-and-mortar retail giants. It's also the latest deal Tencent has struck after agreeing to invest in Carrefour China, buying a 5% stake in Chinese fresh produce supermarket operator Yonghui Superstores and backing online discount retailer Vipshop Holdings Ltd. All these Tencent deals in the retail space took place during the past two months.
The deal comes as Wanda attempts to shore up its balance sheet after aggressive overseas acquisitions put the debt-laden group's credit conditions in a tight spot. The company has been selling assets abroad to replay debt. Wanda is also initiating a reorganization that will transition its commercial property unit to an asset-light commercial management and services company, in order to achieve a domestic listing as Chinese regulators have appeared to turn against approving new listings of property developers.
For the latest deal, the investor group plans to invest an aggregate amount of approximately RMB34 billion (US$5.4 billion) to acquire around 14% of Wanda Commercial, the once Hong Kong-listed commercial property unit of Dalian Wanda Group. The investor group bought the interest held by other investors who purchased the stake upon Wanda Commercial's delisting from the Hong Kong Stock Exchange in 2016.
The shares acquired by new investors have a three-year lock-up period, and Wanda Commercial promised new investors that it would complete an IPO in China or elsewhere within five years, according to Chinese media reports citing insiders. These reports also said that Tencent invested RMB10 billion to acquire 4.12% of Wanda Commercial, while Suning and Sunac each invested RMB9.5 billion for 3.91%. JD.com invested RMB5 billion for a 2.06% stake.
Wanda Commercial reportedly signed share repurchase agreements with existing investors who acquired interests at the time of the company's delisting in 2016. The agreements promised an IPO for Wanda Commercial within two years, or the investors have the right to request Wanda Commercial to buy back their shares at an annual interest rate of between 8% to 10%. The introduction of new investors also frees Wanda from the previous tight IPO timetable.
As of the end of 2017, Wanda Commercial operated 235 Wanda Plazas in China, which received 3.19 billion visitors last year. It held 31.51 million square meters of operating commercial property spaces. Wanda Group also owns cultural tourism parks, hotels, cinemas, children's entertainment and other offline commercial businesses catering to various consumer needs in its other subsidiaries and affiliates.
What's noteworthy in this deal is that Suning Holdings Group, the Chinese holding company that owns around 3.33% of Suning Commerce Group Ltd., is part of the investor consortium investing with Tencent. Tencent's archi-rival, Alibaba Group Holdings Ltd., invested RMB28.3 billion (US$4.63 billion) to acquire a 19.99% stake in Suning Commerce, one of the largest consumer electronics retail chains in China, back in 2015.
After the introduction of strategic investors, Wanda Commercial will be renamed as Wanda Commercial Management Group, with existing parties aiming to take the company public as soon as possible, said the announcement. Wanda Commercial Management aims to sell off its existing for-sale properties in the next one to two years. Going forward, it will stop engaging in property development and will transform into a company solely focused on commercial management.
Wanda Commercial Management also plans to utilize the online resources owned by Tencent, Suning, and JD.com, and its own offline commercial assets to reach online and offline retail collaborations. Tencent will pursue a strategic cooperation with Wanda Group's Internet Technology Group, and Wanda Group will have primary responsibility for the online-offline integration.
Tencent, Suning and other investors also said that they will continuously support Wanda Commercial to speed up its growth, helping the company to achieve its objective of operating 1,000 Wanda Plazas in China as early as possible.