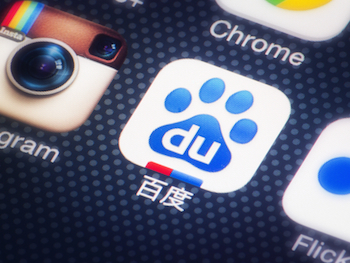 Beijing Bytedance Telecommunications Co., Ltd., the operator of personalized news app Toutiao, has sued China's largest search engine Baidu Inc. for unfair competition, claiming Baidu deliberately places negative news about Toutiao in top search results, according to a Toutiao WeChat post Monday night.
Toutiao said its users complained that when they searched "Toutiao" on Baidu, the first result was a news article from Baidu's content platform Baijiahao about Toutiao being asked by regulator to suspend its news channel for spreading pornographic information last December. The second result showed a security alert in red under Toutiao's official website address.
Toutiao said it tested its website with a third-party online security platform and Baidu's security testing platform, but both found Toutiao's website secure and stable.
"As one of the biggest Internet firms in China, Baidu is a monopoly in the online search market with more than 6 billion search requests everyday. Baidu takes the advantage to compete unfairly, which will mislead users and cause reputation damages to relevant parties," said Toutiao, "We are forced to file a lawsuit and we call for fair competition."
To respond to Toutiao's charges, Baidu claimed that its search engine considers various factors including users' needs, relevance, timing and popularity of the news. Baidu also said that Toutiao deliberately scrolled down on the search page and ignored the section that displays Toutiao's brand.
"It is not surprising to see Toutiao's news as the top result as it was a hot topic recently," said Baidu in a published statement.
Behind the fight between Toutiao and Baidu is their competition on news feeds advertising. Toutiao leverages its personalized news to push out customized ads to users. It is expected that its revenue reached RMB15 billion (US$2.3 billion) last year.
As a news app, Toutiao's competitors are not limited to news portals, but also search engines and social media. All these players profit from advertising and they are competing for traffic and contents.
Baidu booked RMB64.5 billion (US$9.3 billion) online marketing services revenue in 2016. In the past, it mainly profited from search advertising. But in 2016, it added news feeds. Within a year, its feed revenue on an annualized basis exceeded US$1 billion as of last September, almost half of Toutiao's estimated revenue of RMB15 billion (US$2.3 billion) last year.
When searching for "Toutiao" on Baidu, the results mentioned by Toutiao no longer appear to be available. Toutiao said in another post Tuesday that Baidu was discreet in choosing the time and region to display search results in order to avoid regulatory scrutiny.
Toutiao, listed on China Money Network's China Unicorn List with a US$20 billion valuation, has 120 million daily active users. The company last reportedly raised US$2 billion at US$20 billion valuation in 2017, but the company did not formally announce it.